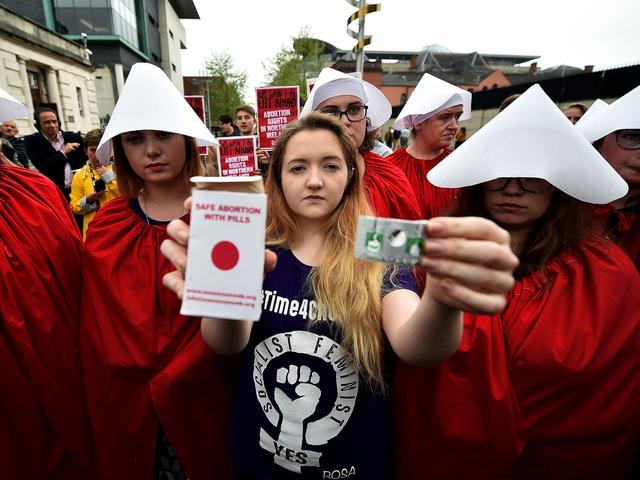 Women protesting Northern Ireland's "medieval" anti-abortion laws have taken illegal termination pills in front of police outside Belfast's main court buildings.
Officers seized the pills and attempted to remove one woman who openly took a tablet which was delivered to protestors by a tiny robot controlled from The Netherlands to circumvent the country's laws.
There is a major police presence and counter protests from pro-life campaigners at the event, launched in the wake of the historic referendum in the Republic of Ireland which voted to allow abortion in early pregnancy.
Northern Ireland is the last part of the UK where abortion is illegal, unless there are exceptional circumstances.
Police Service of Northern Ireland (PSNI) officers attempted to remove one woman who openly took a tablet.
They led her away from the centre of the event and a tense stand-off ensued, with many campaigners gathering around her, insisting that she should not be arrested.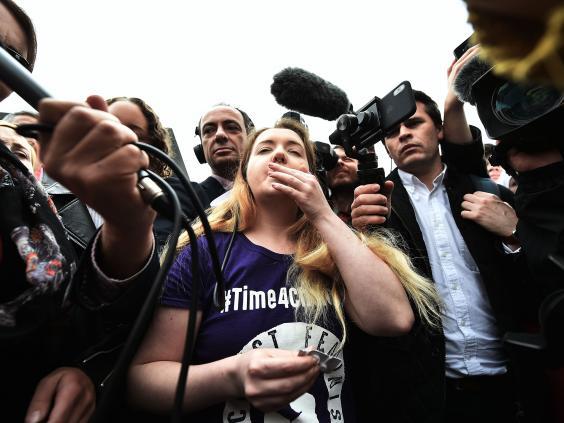 Eleanor Crossey Malone takes an abortion pill as abortion rights campaign group ROSA, Reproductive Rights Against Oppression, Sexism and Austerity distribute abortion pills (Getty)
After several minutes, the officers abandoned their attempt to speak with the woman and left the area.
The robots, which were also seized by police, are part of an collaboration between Women on Waves and Women on Web, groups who provide advice on support on accessing abortion safely, and Rosa Northern Ireland.
As well as delivering the medication, a doctor in the Netherlands was on hand to counsel the women as it is also illegal to assist in a termination though patients can be referred to England and Wales.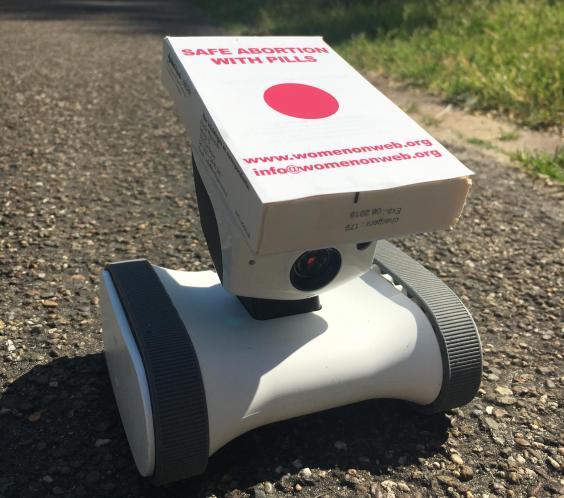 Remotely controlled robots were able to deliver illegal pills and provide advice on termination without breaching Northern Irish law (Women on Web)
In an earlier press release about the protest the charities did not disclose whether the women were pregnant at the time they took the pills, which would mean they had broken Northern Irish law. They added it would be a "severe violation" of their rights to make them take a pregnancy test.
Eleanor Crossey Malone, from socialist feminist movement Rosa, was one of those who took the pill in front of television cameras.
She said: "I have taken this in defiance of the extremely outdated, medieval, anti-choice laws that exist in Northern Ireland.
"We are not willing in the wake of the repeal referendum to be left behind any longer.
"Northern Ireland after repeal will be one of only two jurisdictions remaining in Europe to criminalise women effectively for having abortions.
"We are not willing to accept it any more."
The vote in Ireland last week marked a historic victory in the fight for women's reproductive rights as 68 per cent of voters backed the end of the eighth amendment.
Prime Minister Theresa May has come under pressure to legislate for abortion in Northern Ireland since the Stormont Assembly has been suspended for months.
At Thursday's protest there was chanting involving supporters of both sides of the emotive debate. Opponents included anti-abortion activist Bernie Smyth.
Three women gathered in a circle and others dressed as handmaidens, in reference to the Margaret Atwood novel The Handmaid's Tale about women's rights being stripped away, stood behind them.
The three women produced and took the tablets.
Ms Crossey Malone added: "Women every day in Northern Ireland are using these pills - as long as we don't talk about it, as long as we act like it is a secret, politicians are not under pressure to legislate on this.
She added that they were "willing to flout the law because we do believe it violates human rights".
Additional reporting by PA