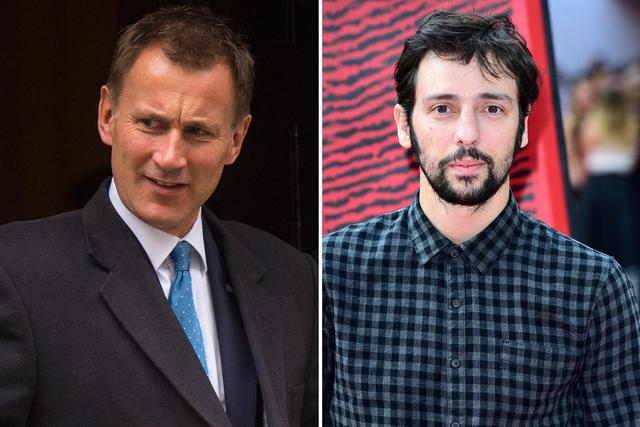 Jeremy Hunt has been invited to a demonstration demanding better funding for the National Health Service by actor Ralf Little after the pair were involved in a high-profile Twitter spat.
Anti-austerity group The People's Assembly will march on Downing Street on Saturday calling for more money for the NHS.
Little, who is best known for playing Anthony in hit sitcom The Royle Family, became embroiled in a bizarre Twitter row with health secretary Mr Hunt in November over funding for mental health care.
And he has now published an open letter to Mr Hunt inviting him to Saturday's protest to debate issues raised during the online spat.
Ralf LittleThis is what it looks like when a man goes on TV and knowingly lies to the public. If I'm wrong @jeremy_hunt, sue me. I double dare you.
"I would like to extend a sincere invitation to you to attend, and use this platform to demonstrate that you acknowledge the importance of our previous discussion regarding lack of resources, staff and funding for our health service," wrote Little.
"I can assure the right honourable gentleman that I will provide all of the evidence required when you 'double dared' me for the assertions I have made and would be grateful if he could extend the public and myself the same courtesy."
During the course of the row on Twitter, Mr Hunt made a series of assertions after he was accused by Little of "knowingly lying" during an appearance on the BBC.
A week after Little's initial tweet, Mr Hunt responded with a string of statistics, saying he "double dared" the actor to prove him wrong.
Jeremy Hunt4,300 more employed by mental health trusts, 2,700 more employed in talking therapies, 1400 more people treated every day since 2010. Isn't it ur job 2 find a major European country that's done better and faster rather than make assertions you can't support? I double dare you
Little's response, which included statistics from the Full Fact fact-checking organisation, was re-tweeted more than 15,000 times.
A Facebook event for Saturday's protest, which begins in Gower Street near the University College London Hospital in Euston at 12pm, says: "The Tories must heed the call of the public, staff and patients alike who demand that #ourNHS is not only funded properly but brought back into public hands away from the waste and demands of shareholders and bankers' bonuses.
"On the 70th year of the NHS we created - We demand that #ourNHS is given back!"
The Department for Health has been contacted for a comment.