Did you know that it's the perfect season for eggplant? If you haven't made meals with this incredible ingredient yet, grab some fresh eggplants and get ready to enjoy some amazing meals from our Food Monster App that you'll want to add to your staple recipes right away. Let's get cooking!
1. Hunan-Style Steamed Eggplant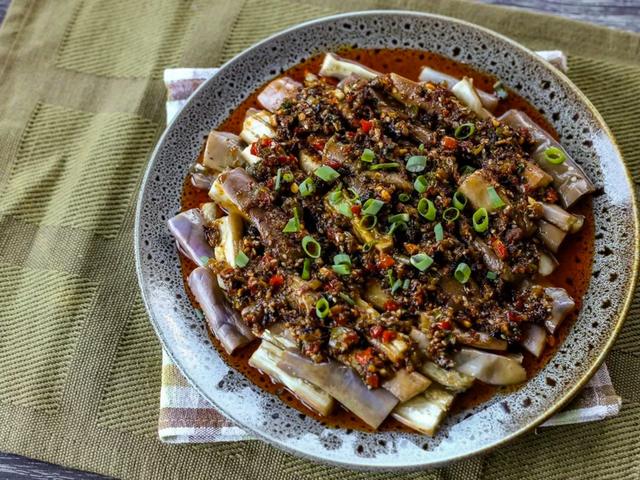 Hunan-Style Steamed Eggplant by Raymund Macaalay is a Chinese vegetarian dish prepared with steamed eggplant topped with a sauce prepared with sesame paste, fermented black beans, soy sauce, sesame oil, chili oil and Asian aromatics.
2. Miso-Glazed Eggplant
The flavor of this Miso-Glazed Eggplant by Julie Zimmer is so amazing, you'll want to eat all of it yourself! Comforting, satisfying and delicious – what could be better?
3. Caponata: Eggplant Stew With Hummus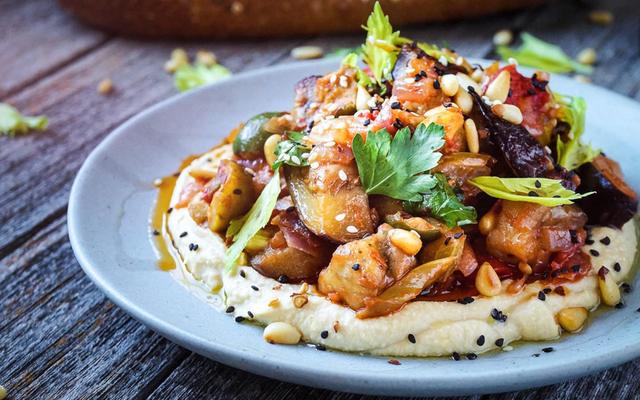 This traditionally Sicilian dish can be enjoyed many ways. As an appetizer, side dish or main dish, this beauty can be eaten hot or cold. It's super easy to make, has depth of flavor, and is on a huge dollop of HUMMUS. What could be better than this Eggplant Stew With Hummus by Plant Tribe?
4. Eggplant Dip
Image Source: Eggplant Dip
Eggplant Dip by Viktoria Radichkova – with only 4 ingredients, this dip is an easy and impressive appetizer! Serve with all your favorite veggies and crackers.
5. Moussaka and Tzatziki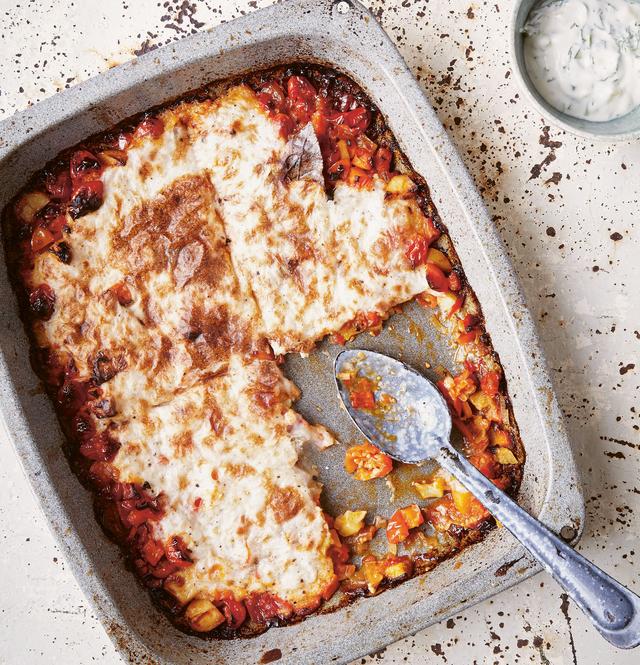 A dish that deserves the time that it takes to prepare, and is reminiscent of holidays in Bulgaria – you'll love this Moussaka and Tzatziki from Happy Food by Bettina Campolucci Bordi!
6. Egyptian Eggplant Moussaka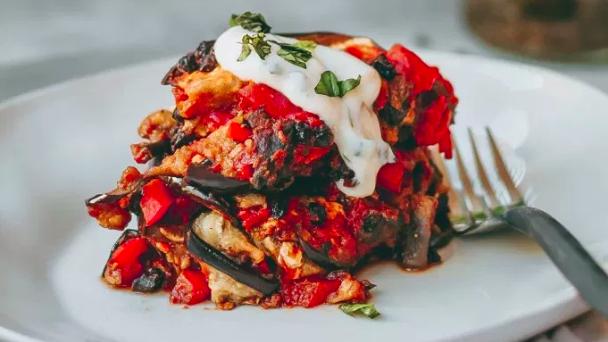 Egyptian Moussaka is traditionally made with ground meat, so this Egyptian Eggplant Moussaka recipe by Taavi Moore substitutes it with diced mushrooms. Hidden in the delicate eggplant layers are currants which add a touch of sweetness. You could also add some sliced toasted almonds which would create a great crunch pairing perfectly with the cooked soft veggies.
7. Rich Sicilian Caponata and Gnocchi
This Rich Sicilian Caponata and Gnocchi by Julia Shannahan is a wonderful gluten-free, vegan meal to share. The Caponata is slightly acidic from the vinegar which cuts through the richness of the sauce and plump vegetables. Rich Sicilian Caponata and Gnocchi is very versatile: the Caponata is equally good served with pasta or as a dip and gnocchi, well gnocchi goes with everything. Divine!
8. Di San Xian: Fried Potato, Eggplant and Pepper in Garlic Sauce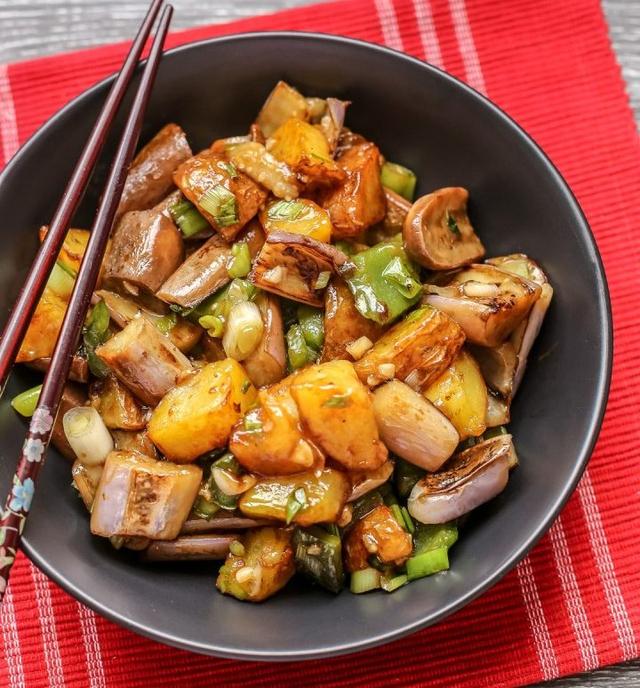 Di San Xian is a very popular Shandong dish prepared with of stir-fried eggplant, potatoes, and peppers. It roughly translates to "Three Earthly Bounties" which is its main ingredients. Check out this Di San Xian: Fried Potato, Eggplant and Pepper in Garlic Sauce by Raymund Macaalay!
9. Smoky Eggplant Bean Ragout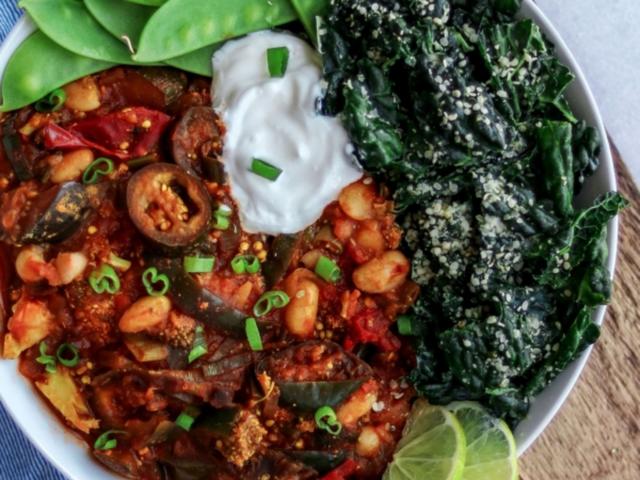 10. Save The Veggies Ratatouille
No more wasting produce, all your about-to-spoil vegetables now end up in this easy and delicious Save The Veggies Ratatouille by Laura Nockett! It's made with eggplant, yellow squash, zucchini, mushrooms, red pepper, onions and cherry tomatoes, all baked together in the oven.
11. Gaucho Grain Bowl
This Gaucho Grain Bowl from Gluten-Free Grains by Quelcy Kogel is inspired by the smoky, meaty flavors of the countryside, of the traditions of the gaucho. It's an oxymoron with smoky eggplant, meaty mushrooms and a variation on the traditional chimichurri sauce, which you'll want to scoop onto everything.
12. Eggplant Roll Ups With Hemp Basil Pesto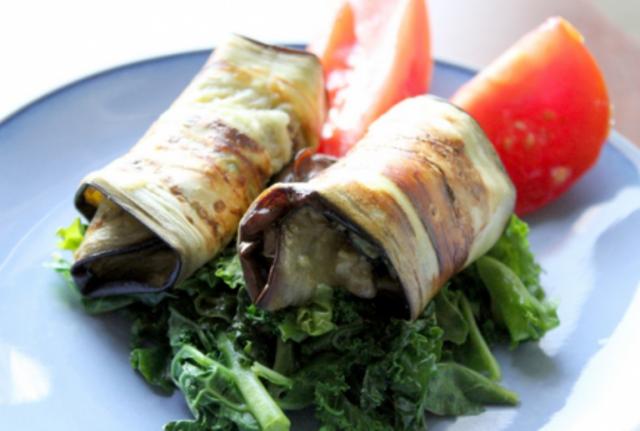 These Eggplant Roll Ups With Hemp Basil Pesto and Balsamic Shiitake Mushrooms from Amy Height are an excellent way to use any leftover pesto! They are so yummy!
13. Bulgur With Eggplant and Porcini
This is a pilaf with flavorful eggplant and porcini. You will love it! It is a filling, dynamic meal that can be had for lunch or dinner. You can even make it and take it to school or work. Make sure to try out this Bulgur With Eggplant and Porcini by Lenia Patsi!
14. Portobello Eggplant Stacks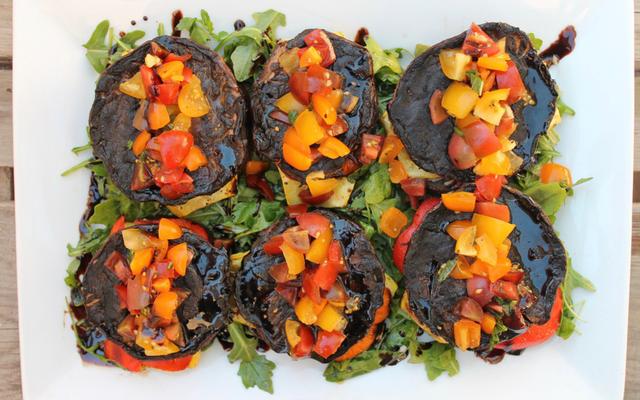 These Portobello Eggplant Stacks by Ashley Hankins are served on a bed of arugula and topped them with a tomato salad and balsamic glaze. The sweetness from the balsamic glaze pairs perfectly with the bitterness of the arugula – we are getting hunger just thinking about it.
15. Oil-Free Baba Ganoush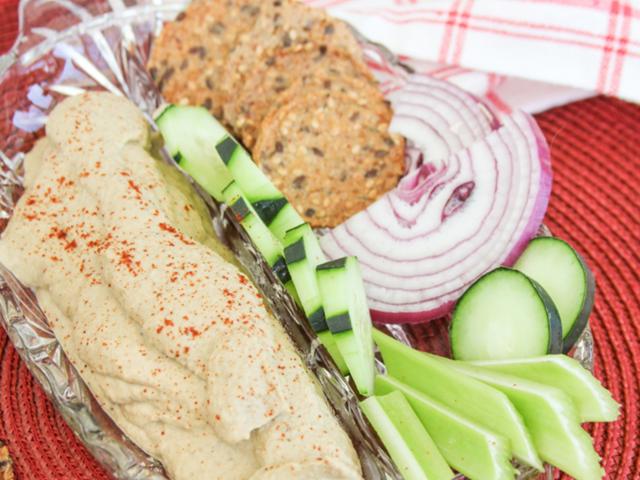 Baba ganoush is such a rich and delicious dip. It goes well with vegetables, with bread, with literally anything! And this Oil-Free Baba Ganoush recipe by Molly Patrick is oil free too!
Looking for more tasty eggplant recipes? Try 15 Easy Eggplant Dishes For The Summer and 10 Ways To Cook Eggplant With Global Flavors! We also highly recommend downloading our Food Monster App, which is available for both Android and iPhone, and can also be found on Instagram and Facebook. The app has more than 15,000 plant-based, allergy-friendly recipes, and subscribers gain access to new recipes every day. Check it out!
For more Vegan Food, Health, Recipe, Animal and Life content published daily, don't forget to subscribe to the One Green Planet Newsletter.
Being publicly funded means that we get to continue to provide you with quality content. Please support us!