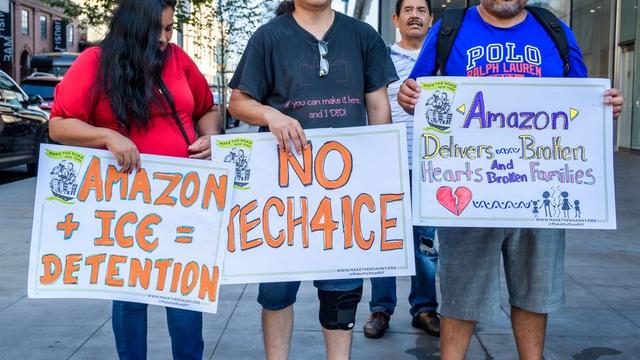 Image: Pacific Press / Contributor / Getty images
Amazon is under fire once again. On Monday, employees from Whole Foods (which Amazon purchased in 2017) issued a statement expressing their displeasure with their parent company's ties to ICE.
The group behind the letter, comprised of both current and former employees, is called Whole Worker.
The statement demands that Amazon cut ties to the technology company Palantir, and any other company that oppresses marginalized groups.
Amazon does not directly work with ICE, but does provide web services technology to Palantir, which provides ICE with software.
"Palantir provides software that helps ICE in the deportation of undocumented people. Undocumented people must be welcomed with compassion and treated like the political and economic asylum seekers they are," the statement explains.
The group also takes issue with Amazon's facial recognition software, Rekognition, which a recent ACLU study found to be racially biased. and also attempted to sell it to ICE last year.
Whole WorkerWe're Whole Foods aka Amazon Employees: Amazon's Collaboration with ICE Must Be Stopped https://docs.google.com/document/d/1V-uKklBicBgY-TCKPkWY9dJ_iZDWU93G_frsR6yzv3M/mobilebasic …
In the letter, the group calls on its collective power writing, "We recognize that expecting a company built on the exploitation of marginalized people and the working class to cease its collaboration with ICE's deportation machine by way of moral condemnations isn't enough ... Workers that control the levers inside Amazon must make this machine stop and turn in another direction."
Mashable has reached out to both Whole Worker and Amazon for comment and will update the article if we hear back.