Are you sure you want to remove this item from your Recipe Box?
Forgot your password?
Enter your registered email below!
Thanks for Sharing!
Now like us on Facebook
No, thanksI'm already a PureWow fan.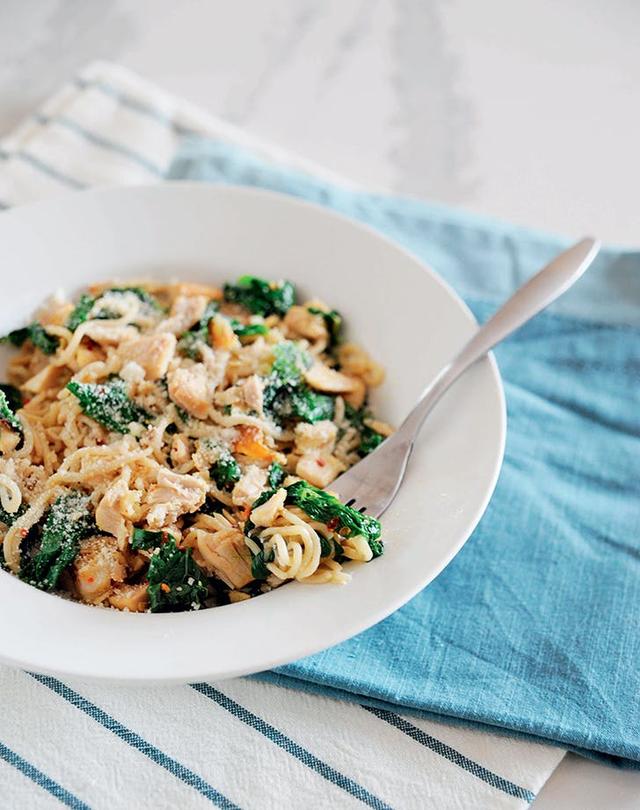 Dana Carpender/Keto For One
It's a weeknight and you really want pasta. Ordinarily, you'd boil a package of spaghetti, dump some tomato sauce on top and call it a night, but you're eating keto. Luckily, Dana Carpender, author of The Keto for One Cookbook, is saving the day with her quick and tasty recipe for keto pasta with lemon-kale chicken.
The secret to making the meal extra easy? "I buy just enough kale for the recipe from the grocery-store salad bar—no leftovers," Carpender says. And if you're not into chicken thighs, you can use boneless, skinless chicken breast too.
Ingredients Directions Nutrition Ratings
Makes 1 serving
One 8-ounce (225g) package tofu shirataki noodles (spaghetti, fettucine or angel hair)
6 ounces (170g) boneless, skinless dark-meat chicken (from 1 or 2 thighs)
3 tablespoons (45ml) extra-virgin olive oil
1 teaspoon minced garlic
⅛ teaspoon red-pepper flakes
1 cup (67g) lightly packed stemmed and chopped kale
1½ teaspoons lemon juice
½ teaspoon finely grated lemon zest
Salt and freshly ground black pepper
2 tablespoons (10g) grated or shredded Parmesan cheese
1. Prepare the shirataki noodles according to the package instructions. While the noodles are cooking, cut the chicken into bite-size cubes.
2. Heat a large, heavy skillet over medium-high heat, then add the olive oil. Toss in the chicken, garlic and red-pepper flakes, and sauté for about 5 minutes, stirring often.
3. When the chicken is no longer pink, toss in the kale and sauté until just wilted, 1 to 2 minutes.
4. Stir in the lemon juice and zest, then add the shirataki noodles and toss until combined. Add salt and pepper to taste.
5. Pile the noodles on a plate or in a bowl, top with the Parmesan and dig in.
625 calories
53g fat
31g protein
9g carbs
Powered By
Note: The information shown is Edamam's estimate based on available ingredients and preparation. It should not be considered a substitute for a professional nutritionist's advice.
My Rating:
Didn't like it Needs improvement It's ok I liked it I loved it!