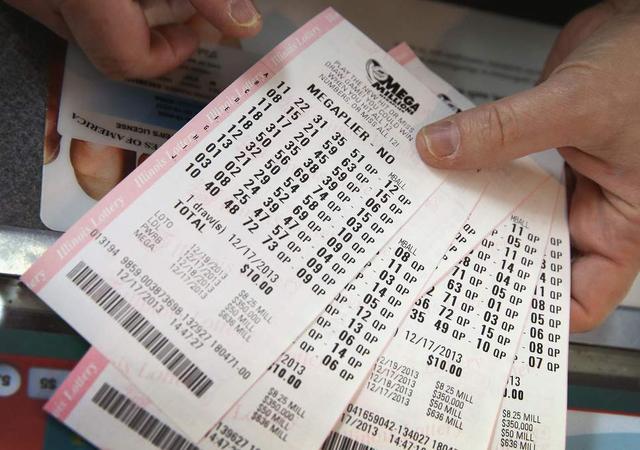 A customer holds a stack of Mega Millions lottery tickets which he purchased for his office pool at a convenience store on December 17, 2013 in Chicago, Illinois. ( Scott Olson/Getty Images )
There was no winner for the biggest Christmas Day Mega Millions jackpot on Tuesday - so the pot has swelled to $348m.
Mega Millions is a multi-state lottery that increases in payout whenever there is no winner. On Christmas, the winning numbers were 2, 8, 42, 43, 50 and Mega Ball 6. If someone had won that ticket, they would have received a prize of $321m, either in the form of a 29-year-payout, or in a lump sum of $210.2m, Reuters reports.
Because no one won Tuesday's prize, the next Mega Millions jackpot will be $348m, and it will continue to grow until someone wins.
In October, Mega Millions offered its biggest payout ever. Someone in South Carolina bought a ticket that won $1.5bn, which was nearly the biggest lottery win ever. However, the person who has the winning ticket has not yet come forward to claim their prize, and only has 180 days left to do so, The State reported. If the winner does not claim their money, the prize will be divided among the 44 states that participate in the lotto.
Tuesday was the fifth time a Mega Millions jackpot has been drawn on Christmas, and none of them have resulted in a winner. The next drawing will be held on Friday.
Statistically, each ticket has a one in 24 chance of winning some sort of prize, as low as $2. However, the chance of winning the Mega Millions jackpot are one in 302.6 million. Considering the lottery's extremely low odds and its popularity among low-income populations, some call state lotteries a tax on the poor.