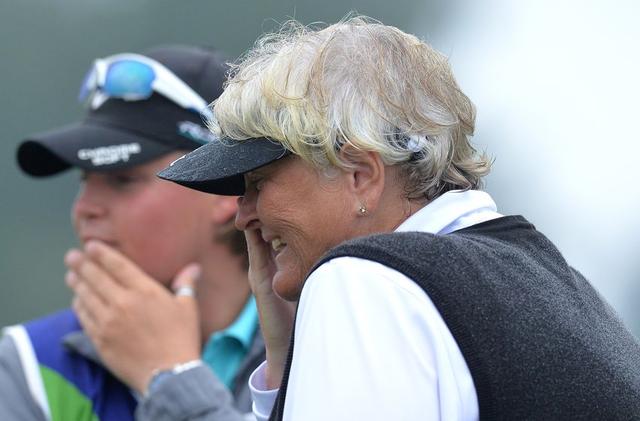 Dame Laura Davies has gleefully signed on to Catriona Matthew's Solheim Cup management team
Dame Laura Davies was a fixture on the European Solheim Cup teams from 1990 through 2011 – 12 playings in all.
Then she took a break. She's been providing broadcast commentary for Sky Sports for the last three Cups.
And now, although she's said she just doesn't have any interest in fetching "bananas and towels" for the players – apparently her version of the role of a Solheim Cup captain – Dame Laura has signed on at Catriona Matthew's third vice-captain.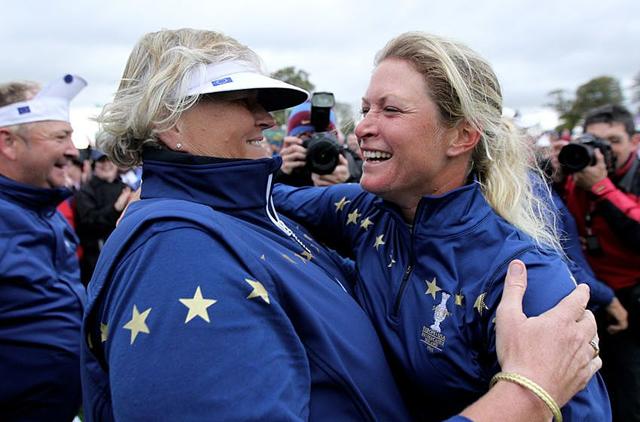 One can only imagine the back room negotiations that must have preceded the public announcement!
However, Dame Laura seems ready to take one for the team:
I'm delighted and honoured to have been asked to be a vice captain for the first time by Catriona. She sent me a text message when I was doing commentary at The Ryder Cup and I thought, 'Ah, I wonder what this will be about.' Sure enough, she asked me if I would do it and I didn't even have to think about it. I want to be part of the team and I hope that I can make a positive contribution and help in any way that I can.
Davies is by far the most experienced member of Team Europe's management team. She joins vice-captains Suzann Pettersen and Kathryn Imrie. The three vice captains have made a combined 21 Solheim Cup appearances – 11 for Davies, 8 for Pettersen, 3 for Imrie – and have together amassed a total of 45 ½ points for Europe. Davies contributed almost half – 22 points.
If you're thinking this means Dame Laura will be edging out Suzann Pettersen for the 2021 or 2023 European team, think again. She doesn't want to be a captain, and she's at a point in her career where she doesn't care who knows how she feels about it.
The captain is going to be the one cheering everyone on and that's not my personality.
She sees her vice-captain role as the best of both worlds – all the fun and excitement and camaraderie of the Solheim Cup with none of the drudgery or responsibility that rides of Catriona Mathew's shoulders.
LPGA Tour
Paid Contributor, ForeGals
Our contributors are tasked with helping FanSided provide the best content on the Internet for their respective fandoms. In this independent contractor role, we are looking for contributors that can express their knowledge on specific topics and take the conversation further. In exchange, these contributors will be compensated for their work based on the performance of their articles.
With the addition of Dame Laura to the mix, Gleneagles is going to be incredibly fun as well as downright exciting. Who else is getting an early case of Solheim Cup fever?