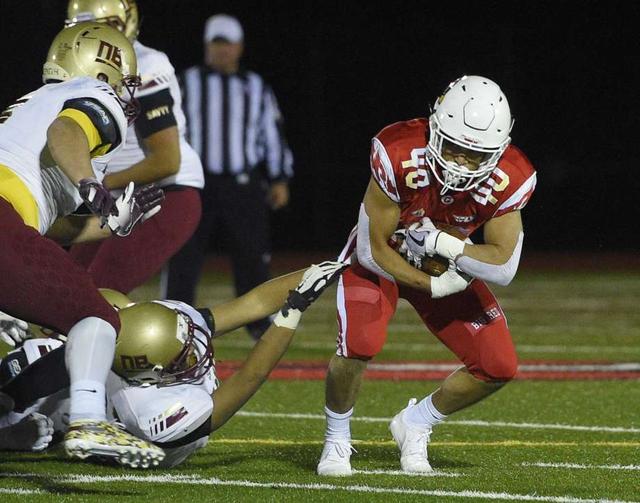 Greenwich running back Tysen Comizio (40) sheds a tackle in the CIAC Class LL high school football quarterfinal game between No. 2 Greenwich and No. 7 New Britain at Greenwich High School in Greenwich, Conn. Tuesday, Nov. 27, 2018.
Photo: Tyler Sizemore / Hearst Connecticut Media
Photo: Tyler Sizemore / Hearst Connecticut Media
Muir, defense lead Greenwich into CLass LL football semifinals
GREENWICH — Despite the bit of uncertainty that comes with playing an unfamiliar opponent, one of the aspects Greenwich took some comfort in heading into Tuesday's Class LL quarterfinal-round game against New Britain was the fact the game was being held at Cardinal Stadium — a venue it hadn't lost at since 2015.
Senior quarterback Gavin Muir and the Cardinals' dynamic defense made sure they kept their home dominance and perfect season going.
Sparking Greenwich with his arm and legs, Muir threw three touchdown passes and ran for a score in the second-seeded Cardinals' resounding 49-13 win over seventh-seeded New Britain.
Greenwich — the No. 1 team in the GameTimeCT poll — advances to the semifinals to face No. 3 Newtown, a 25-15 winner over Darien on Tuesday night, on Sunday at 12:30 p.m. at Cardinal Stadium. The Cards made it to the championship game of the state tournament last year, where they lost to Darien.
The Golden Hurricanes, who played the Cardinals for the first time since the 2004 season, finished their season at 9-2. Shawn Robinson had a touchdown run for New Britain, which saw quarterback Tahje Yopp face a lot of pressure throughout.
The Cardinals took the lead for good at 14-7 on Muir's 25-yard dash to the end zone off a well-executed quarterback keeper with 9:46 remaining in the second quarter. Greenwich got the ball at the Golden Hurricanes' 25-yard line following a short punt into the wind.
Following a New Britain three-and-out, Greenwich quickly padded its lead, once again capitalizing on a short field.
Taking over at New Britain's 31-yard line, the Cards scored four plays later, with Muir rifling a pass over the middle that was snared by senior wide receiver Lance Large for a 28-yard touchdown. Toby Turnbull kicked the extra point and Greenwich put New Britain in a 21-7 hole with 7:17 to go in the second quarter.
Emilio Camou and Joe Kraninger combined to sack Yopp, halting New Britain's ensuing drive and GHS methodically drove 77 yards on its next drive — a march capped by senior Stephen Bennett's 27-yard touchdown reception with 10 seconds left in the second quarter. On a screen pass, Muir connected with Bennett, who had blockers in front of him on his way to reaching the end zone and giving Greenwich a 28-7 advantage.
New Britain struck first, driving 53 yards on only four plays for a score on its opening possession. Yopp's 46-yard pass to senior wide receiver Dashawn Clark put the ball on the Greenwich 1-yard line. The next play, Robinson ran it in from a yard out, giving the Golden Hurricanes a 7-0 lead.
Muir completed 8 of 15 passes for 127 yards in the first half and gained 59 yards on the ground in the opening half. Trailing 7-0 — one of the few times they were behind this season, Greenwich knotted the score, courtesy of its opportunistic defense and a New Britain turnover.
Backed up to its 2-yard line, New Britain fumbled and GHS senior linebacker Larry DeLuca alertly pounced on the ball in the end zone, making it 7-7 at the 6:46 mark of the first quarter.
Senior linebacker Jack Feda registered a sack in the first half for Greenwich's defense, which was also sparked by senior defensive lineman Mozi Bici and junior linebacker Evan Weigold.
New Britain's first drive of the second half stalled at Greenwich's 32-yard line. Clark's impressive catch near the left sideline for 25 yards gave the visitors the ball at the GHS 47-yard line. Kaiyon Gunn's 15-yard run brought the ball to the 32, but Feda and Bici combined to tackle Gunn for an 8-yard loss on the ensuing play.
Stephen Bennett caught a 4-yard scoring strike from Muir, senior running back Tysen Comizio had a 2-yard touchdown run and Chris Wint hauled in a touchdown pass for the victors.
Comizio and Muir paced the ground attack for the Cardinals. Muir passed for 272 yards, completing 13 of his 22 attempts.
dfierro@greenwichtime.com