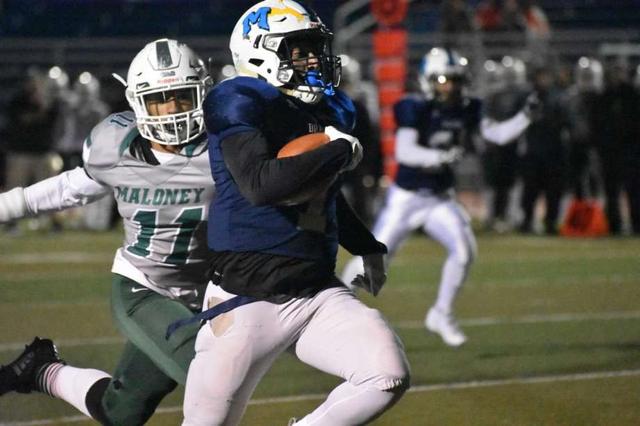 Middletown's Xzavier Reyes rushes for a touchdown against Maloney in the Class L quarterfinals at Middletown on Tuesday, November 27, 2018.
Photo: Petet Paguaga / Hearst Connecticut Media
Photo: Petet Paguaga / Hearst Connecticut Media
Maloney capitalizes on Middletown turnovers, tops Dragons in Class L quarterfinals
MIDDLETOWN — Both Middletown and Maloney stumbled their way into the CIAC Class L playoffs after being "outplayed" — the assessment of each team's head coach — in their regular-season finales.
The question, then, was this: Which team would regain its footing and play well enough the longest Tuesday night to advance to semifinals?
Answer: Maloney — by a whisker.
The seventh-seeded Spartans turned three Middletown turnovers into scoring drives and held the second-seeded Blue Dragons scoreless over the final three quarters for a 20-14 quarterfinal victory at Rosek-Skubel Stadium.
Maloney (9-2) will meet crosstown rival Platt, a 12-6 winner over No. 3 Naugatuck, for the second time in as many weeks. Platt pulled away to beat Maloney 26-20 Thanksgiving Day in their annual Stoddard Bowl game.
Maloney's three scoring drives came from Middletown turnovers. The Blue Dragons, who led 14-0 after the first quarter, turned it over four times in the game and had two touchdowns called back because of penalties.
Maloney scored the deciding touchdown on its first possession of the second half after recovering a fumble by Middletown quarterback Jonta'e Dempsey-Brown. Victor Marquez caught a 6-yard pass from Elliot Good with 7:20 left in the third quarter for the go-ahead score.
Middletown (9-2) got off to the fast start Coach Sal Morello wanted to see — his team scored on its third play from scrimmage.
Senior running back Xzavier Reyes, whose effectiveness was limited in the final three games of the regular season, partly because of injury, ate up 53 yards on three runs, the latter a 37-yard burst up the middle for a touchdown less than three minutes in. Matt Aresco's kick made it 7-0.
The Blue Dragons would have had a two-touchdown lead on their next possession, but DaJuan Lomotey's 15-yard run was called back because of a holding penalty. Two plays later, Dempsey-Brown's pass intended for Tyron Scharborough was picked off by Maloney's Vincent Martinez.
The Dragons recovered from the setback on their next possession, after a Maloney punt. On the fourth play of the drive, Dempsey-Brown's play-action pass found the arms of an open Stephen Hill Jr. over the middle for a 34-yard score and a 14-0 lead with 1:21 left in the first quarter.
Dempsey-Brown was intercepted twice more in the half, and the turnovers led to Maloney's two first-half scores.
The first drive took 11 plays and ended with a 6-yard scoring pass from Elliot Good to Victor Marquez. The second drive began after
Off Dempsey-Brown's ensuing interception, the Spartans moved the ball 48 yards in seven plays and were helped along by a Middletown facemask penalty. Good found Maurice Brackett open over the middle on a slant pattern for a 14-yard score with 1.3 seconds left in the half. Marquez caught the two-point conversion pass to tie the game at intermission.
Maloney 20, Middletown 14
Maloney 0 14 6 0 —20
Middletown 14 0 0 0 — 14
Mid: Xzavier Reyes 37-yard run (Matthew Aresco kick)
Mid: Stephen Hill Jr. 34-yard pass from Jonta'e Dempsey-Brown (Aresco kick)
Mal: Victor Marquez 6-yard pass from Elliot Good (run failed)
Mal: Maurice Brackett 14-yard pass from Good (Marquez run)
Mal: Marquez 5-yard pass from Good (pass failed)