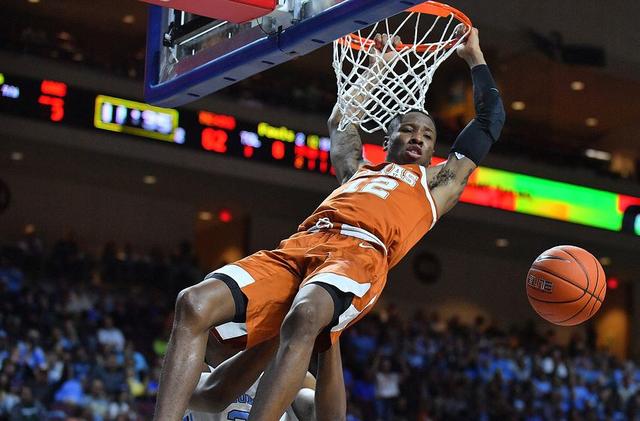 A very deserving team that broke into both major college hoops polls on the week of Nov. 26 was Texas basketball, with a record of 5-1.
For the first time this season, Texas basketball earned itself a spot in the AP Poll. The Nov. 26 release of the AP Poll put Texas basketball at No. 17 in the nation after holding votes outside the top 25 in every set of rankings previous. Both the AP Poll and the Coaches Poll brought the Texas Longhorns up to the No. 17 team in the nation.
Texas basketball got its large rise in the rankings largely thanks to its performance in the Continental Tire Las Vegas Invitational. The entirety of the Big 12 had a good showing during Thanksgiving Week. There's not a single team that made a more significant jump in the rankings than Texas basketball, though.
In the Las Vegas Invitational, the Horns nearly claimed two victories over top teams ranked inside the top 11 in the Michigan State Spartans and the North Carolina Tar Heels. The No. 7 ranked UNC Tar Heels went down thanks to Texas in the first round of the invitational by the final score of 92-89.
Texas fell short of winning the Las Vegas Invitational in a 78-68 loss to No. 11 Michigan State. The Horns controlled that game for the entire first half, owning a double digit lead for a good portion of it. Michigan State did enough, especially on the boards, to down the Horns thanks to a big second half run.
Head Texas basketball coach Shaka Smart does have a team that can contend in the Big 12 this season. Texas might not be on par with the Kansas Jayhawks, but it does have the opportunity to get the upper hand on every other team in the Big 12 standings.
The Horns aren't back in action until it faces the Radford Highlanders on Nov. 30. Radford recently knocked off a good major conference team in the Notre Dame Fighting Irish. This is a team that the Horns need to take seriously. A win over Radford would bolster the resume and backing to a top 20 ranking.
Texas has the offensive star power in the back court that it was lacking last season. Senior shooting guard Kerwin Roach II is among the Big 12 leaders in scoring this season, with 18.6 points per game. The presence of Roach II helps the national image of the Horns with his volume scoring ability.
There's four teams from the Big 12 ranked in the AP Poll and the Coaches Poll. The Iowa State Cyclones, TCU Horned Frogs, and West Virginia Mountaineers encompass the teams getting votes in either poll outside the top 25. Texas is in a group with the Texas Tech Red Raiders, Kansas State Wildcats, and Kansas, inside the top 25.