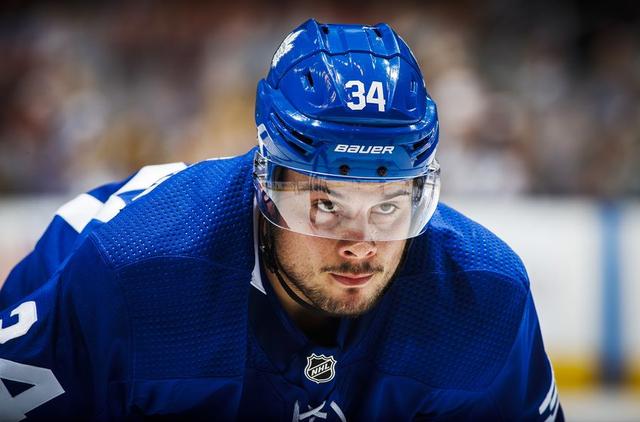 The Toronto Maple Leafs will be getting an early Christmas present Wednesday night when they face the San Jose Sharks.
Fresh off a win vs arch rival the Boston Bruins, the Toronto Maple Leafs should have Auston Matthews back in the lineup, according to Chris Johnston.
Matthews has an insane 10 goals and 16 points in just 11 games so far this year.
Although he was scoring on almost every other shot, and the Leafs power-play was living up to expectations, Matthews was paired with Marleau, Ennis/Kapanen and they were getting out played, for the most part, at even strength.
Now, I don't normally think Plus/Minus is a very good stat, but for a player with 10 goals in 11 games to be a -1 is pretty unusual. The Leafs will need to give Matthews some better help when he returns in order to fully take advantage of what he can bring to the lineup.
Optimal Lineup
With Auston Matthews back in the lineup (he still needs to be medically cleared, apparently) the Leafs, who are one point back of both the Lightning and the Predators for first place in their division, will be getting a huge boost. That said, they still won't have their best lineup.
William Nylander has been on the sidelines all season, and his return is thought to be imminent as well. Rumours of a Nylander signing have been so omnipresent that it's impossible to know what is and isn't true, but it doesn't really matter because it will all be sorted out one way or the other by December 1st.
While the Leafs aren't winning in a sustainable way (being outshot and relying on goaltending is a terrible strategy) it is still scary to think that a team at the top of the standings is doing it without Auston Matthews and William Nylander.
Once the Leafs have those guys back, they can start thinking about how to spend their remaining cap money, maybe fix up the blue line. Reinforcements are definitely coming, one way or the other.
Matthews, even though he's missed over half the season so far, is 37th in the NHL in goal scoring. That doesn't sound like much, but for context, a hattrick tomorrow would put him him only one goal outside the top ten.
Patrick Laine leads the NHL with 19 goals, but it took him a pathetic 22 games to get there, and Matthews will most likely catch him by next week!
Kidding aside, it's great that Matthews is (probably) back. Now we just need to wait for Nylander.
stats from NHL.com