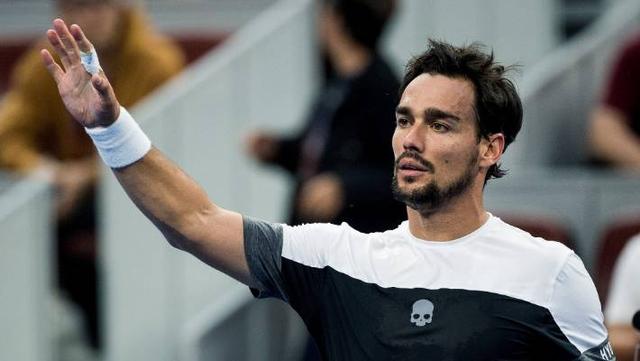 If there's a theme to the men's tournament at January's ASB Classic, it's that it will be the year of the great entertainers.
The main draw full field was released on Wednesday, with the announcement that world No 13, Fabio Fognini would be playing at the tournament.
The flamboyant Italian joins the likes of Gael Monfils, Denis Shapovalov and Hyeon Chung in the draw, who are all thrilling to watch.
There are still the big hitters like top seed John Isner and former world No 4 Tomas Berdych, but there should be more thrilling shots and less aces this summer and that's what tournament director Karl Budge targeted.
"That's what we really tried to go for," Budge said.
"We've had some really big names over the last couple of years and their style has been consistent.
"We've had your Kevin Andersons, John Isners and Juan Martin del Potros.
"They are wonderful players, but they brought a similar style and it got a bit repetitive.
"If you sat on centre court and watched three matches in a row, you'd seen the same thing happen for the last five hours.
"So we wanted to switch it up and really focused on trying to bring out some of those entertainers.
"The way it's panned out, it couldn't have worked out any better for us.
"I didn't expect the season Fognini had and finish where he did, but it meant for us we're able to put on a product that will really entertain the crowds and give them something different."
As well as Fognini, one of the other stand out names from the main draw announcement was fellow Italian Marco Cecchinato, the world No 20.
He may not be the most recognisable face at January's Classic, but this year he has defeated the likes of David Goffin, Pablo Carreno Busta, Fognini and of most interest, Novak Djokovic at the French Open.
However, it will be his first time in New Zealand and Budge knows they do need to educate the public about him.
"You're always going to have some of those guys and for everyone who's well known, there are going to be some who are coming through," he said.
"All you need to say about his credentials is that to beat Novak Djokovic in a quarterfinal of a grand slam you've got to be doing something right.
"Cecchinato won that match on his merits, I don't think anyone tipped him to win it, but he played at an incredibly high level and he backed that up with two tournament wins, following his Roland Garros success.
"He is much more suited to clay, but he had proven all year that he's got some decent credentials."
Last year's trop seed, Jack Sock, won't be back. His ranking has plummeted to 107 and hasn't asked for a wildcard and it could also be the first year in a while when there aren't any New Zealand players given main draw wildcards.
Michael Venus has been given one the last few years and has played well, but is clearly just a doubles specialist these days, with any aspirations about being a singles player long gone.
"Mike is firmly entrenched as one of the world's best doubles players now," Budge said.
"So we'll have that conversation with Mike, but I want Mike to make sure he's showing up and putting his best foot forward to win the doubles title.
"If singles is a burden on that, then it's something we'll have to look at."
AT A GLANCE
Main draw:
John Isner (10)
Fabio Fognini (13)
Marco Cecchinato (20)
Pablo Carreno Busta (23)
Roberto Bautista Agut (24)
Hyeon Chung (25)
Denis Shapolvalov (27)
Gael Monfils (29)
Steve Johnson (33)
Philipp Kohlschreiber (34)
Joao Sousa (44)
Taylor Fritz (49)
Robin Hasse (50)
Benoit Paire (52)
Matteo Berrettini (54)
Pierre-Hugues Herbert (55)
Leonardo Mayer (56)
Jan-Lennard Struff (57)
Guido Pella (58)