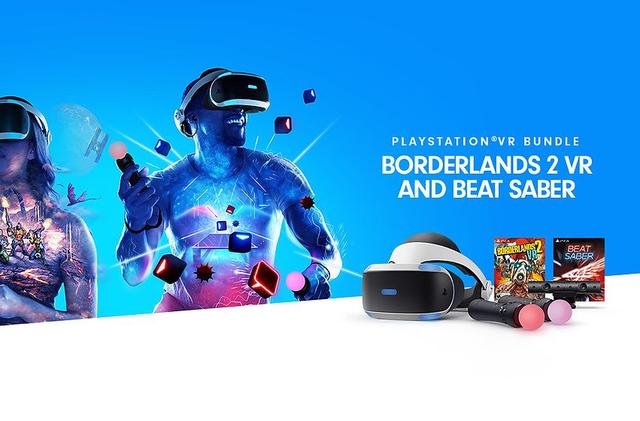 Though Black Friday has come and passed, Sony isn't letting up for the rest of the holidays. The company just announced a new PSVR bundle offer.
PlayStation VR has been something of an interesting product for Sony. The company continues to push it forward as a secondary PlayStation product behind the PS4, showing the will to move on from the PlayStation Vita by showering the middling hardware product with love. Now we're starting to see game bundles made available on release dates of top new products.
As announced on the PlayStation Blog, the latest PSVR bundle comes packed with two games; Beat Saber and Borderlands 2 VR. The latter is set to be released on December 14, 2018, which just so happens to be the release date for this bundle, retailing at $349.99 USD and $449.99 CAD.
This new bundle comes packaged with a PSVR system, a PlayStation Camera, a Demo Disc 2.0 containing demos for other VR games, two PlayStation Move Motion controllers and digital game vouchers to download Beat Saber and Borderlands 2 VR with.
The PlayStation Move Motion controllers are imperative for Beat Saber, which is one of the greater virtual reality games on the market. It combines the necessity of matching the beat and rhythm seen in Rock Band with the physicality of a DDR game, but you're swinging sabers at red and blue boxes flying towards your face. You also need to move out of the way of oncoming beams at times.
You might not need motion controls for Borderlands 2 VR, which looks to combine the shooter-RPG mechanics of the original game and expand the moveable world with your interactions within a 3D space. It will be interesting to see the scope of handling your weapons and shooting gigantic enemies when hunting for treasures in vaults. You will really see the differences in weapon upgrades now.