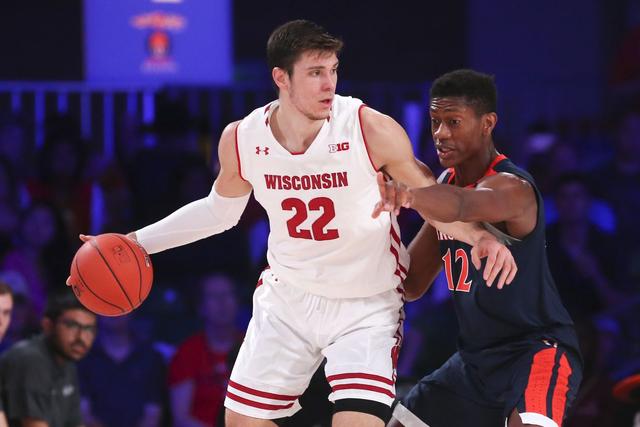 Eh, I'm not that sorry.
We hear all the time in college sports about how so-and-so program is back after a year or three or 30 of not being as good as it was that one time for a year or three or 30. If a program is not back, then it must still be some form of dead. I reject this nonsense. We can be more particular about these things.
For example: last season, Wisconsin had a losing record. It is more than three seasons removed from a trip to the Final Four. Wisconsin is much better this year, but is Wisconsin back? Well, no, but it is around. I think you can definitely say that Wisconsin is around.
The Badgers' problems in 2018 were not as pronounced as their 15-18 record might have implied—going 7-11 in the Big Ten ain't that bad, for one thing, and the team finished at No. 70 in the Pomeroy Ratings. That was no collapse.
The Badgers lost no one of note to graduation during the offseason, and while this group might lack some of the obvious star talent of those recent Final Four teams, it is really good. The Badgers took a year off, but they're ready for another run at a league title.
Bo Ryan retired after the 2015 season, but you can still see his fingerprints on Wisconsin's style. The Badgers remain one of the most deliberate half-court teams in the country. They take great care of the basketball, and they don't put a lot of emphasis on offensive rebounds.
The Wisconsin of recent memory also tended to be three-point oriented, but this year has been a departure. The Badgers rank only 312th in three-point attempt rate, making them the most three-averse Wisconsin team since 2008. Maybe that will change, but there's value in discretion—the Badgers are hitting 42.1% of their threes with this more selective approach.
And they still have Ethan Happ, who figures to be in the mix for first-team All-America this season. You don't hear a ton about Happ because, for one, he plays for Wisconsin, which plays super slow, which suppresses per-game statistics. You also don't hear a lot about him because he's been so good for so long that his efforts get taken for granted. There are worse fates. Hopefully NC State's defense can find one.
Starters
D'Mitrik Trice (6-0, 187) — Here's some straightforward scouting: over the course of his career, Trice is 69-183 (.377) from two and 70-166 (.422) from three. Guess which one of those two shots you'd rather him take. Trice, who is averaging 16.8 PPG this year, is 20-35 from three so far.
Brad Davison (6-3, 206) — Limited player, but a pretty good jump shooter.
Khalil Iverson (6-5, 217) — Iverson has one of the more diverse skill sets on the team—he's a pretty good rebounder at both ends, he'll block some shots and otherwise play disruptive defense, and as a secondary option he's not bad scoring inside the arc. He's also 6-51 from three in his career.
Ethan Happ (6-10, 237) — Happ assumes an enormous part of Wisconsin's offense, and he's a highly efficient scorer despite this, but let me set that aside for a sec. Happ's assist rate (44.0) currently ranks eighth in the country! Wisconsin has the luxury of feeding him the ball wherever and letting the offense revolve around him, knowing full well that he'll make the right decision more often than not. Great, great player.
Nate Reuvers (6-11, 240) — I don't know what to make of his career up to this point—he's a sophomore—but he'll definitely be willing to shoot threes. How that will go, I have no idea.
Bench
Kobe King (6-4, 203), Brevin Pritzl (6-3, 198), Charles Thomas (6-8, 250), Trevor Anderson (6-2, 201). King, a sophomore, missed the bulk of his freshman year because of an injury, so he's still a bit of an unknown. So far this season he's the leading scorer off the bench at 6.3 PPG. King is 5-12 from three.
Pritzl made 35.6% of his threes as a secondary option last season and figures to continue in a light role that is jumper-heavy.
Wisconsin is one of those teams that doesn't worry about forcing turnovers so much as forcing bad shots and then cleaning up the glass. That strategy can work really well, too! Especially if you can scare opponents off of the three-point line and into a strong interior defense. The Badgers were brilliant at doing that under Bo Ryan, and while they've been less consistent there under Greg Gard, that's still part of what makes them tough.
The Pomeroy Predictor likes Wisconsin by eight.