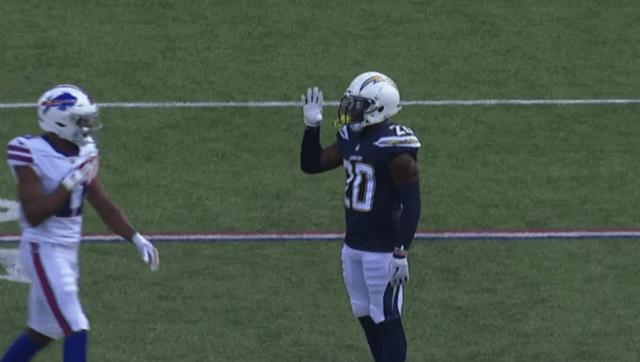 We've seen some hilarious penalties in the NFL but this one ​might take the cake. Desmond King waved goodbye to ​Zay Jones and was slapped with a flag in doing so. But let's be real, his taunting is worth all the yardage from the penalty.
That's just classic comedy.
The Buffalo Bills are getting absolutely routed by the Chargers right now. It hasn't even hit the half yet and it's already 21-3. Makes sense that King is getting a little cocky with a lead like that. ​​
Eric WilliamsRefs give Bills a free set of downs, calling an unsportsmanlike penalty on Chargers CB Desmond King for waving goodbye and simulating kicking Buffalo WR Zay Jones off the field after third down play. Bills had 4th and 17. Ticky-tack call.
​​Luckily for the Chargers, the Bills were unable to convert a TD on the drive and had to settle for just a field goal.
It costs the Chargers some yardage and a turnover on downs, but that doesn't mean it wasn't hilarious to see. I'm sure King will be a little more wary about his taunting as the game continues, but it may not matter that much if the Chargers continue to dominate ​Josh Allen and the Bills.