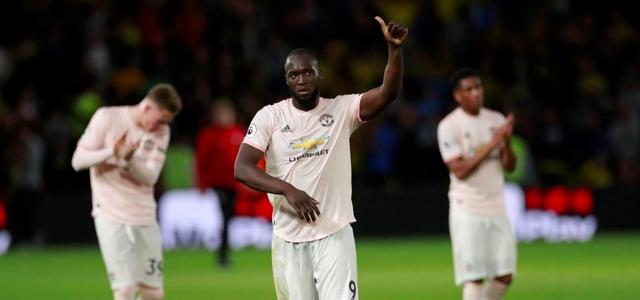 Against Watford on Saturday, Romelu Lukaku put in a consummate centre-forward's performance to ensure that Manchester United came away from Vicarage Road with all three points. The powerful Belgian hitman was a constant menace to the Hornets' defence, and worked tirelessly all game to aid his side's cause.
Lukaku's goal, which put the Red Devils ahead, also took the Belgium international past his one-time Chelsea teammate, Didier Drogba, in the all-time Premier League goals chart. Lukaku's tally in the English top flight now stands at 105 strikes.
Beyond finding the back of the net, it was the 6'3" man's all round display which made this performance really stand out. This endeavour was best encapsulated when, late into the game, with United under pressure from a resurgent Watford side, Lukaku tracked back over half the length of the pitch in order to make a perfectly timed tackle just when his team looked to be in trouble.
After the match, many United fans took to Twitter to praise Lukaku's all-action performance…
Anna_MUFCI said a few months ago I felt Lukaku was the hardest working striker in the league and I got abused for it but I would like to know what other striker would sprint 50 yards in the 89th minute to make a tackle for their team. Love the guy.
Farid MuhideenLukaku is the best striker in Epl
DeanLukaku reminded me so much of Rooney's defensive work back in the day yesterday the guy gave us everything he had .
Utd fan who reps the Greatest One. #LUHG/LUHW/LUHMAnyone notice Lukaku's tackle late on and how he sprinted back. Can see he wants to give his all for Mourinho.
The Man Utd WayLook at that tracking back from Lukaku when his teammates were out of position. Absolutely brilliant from the big man!
BLOODYou can call Romelu Lukaku whatever you'd like. A donkey, a meme, a bum or a joke fact is he has more PL goals than Drogba.