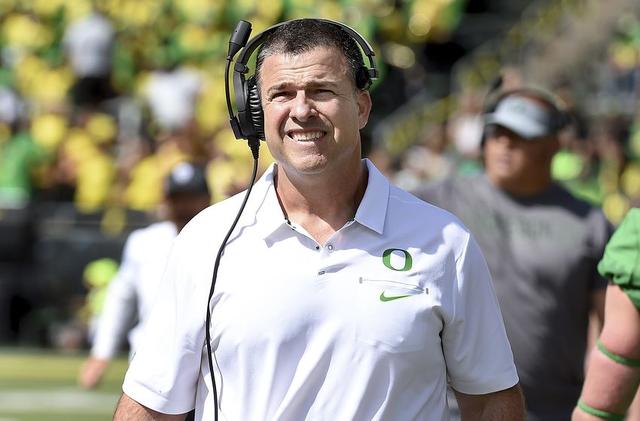 After College Football's most exciting week yet, the Associated Press' Top 25 changed up quite a bit. That change din not, however, impact the Oregon Football team, as they remain steady at number 20. Headed into a matchup with the seventh rated Stanford Cardinal, the Ducks will surely move quite a bit based on this weekend's result. Presumably, if Oregon defeats the nation's seventh ranked team, they could see a jump all the way into the top 10 — a place Oregon's no stranger to.
Here's how Oregon and the 24 other programs stack up heading into week 4:
Alabama
Georgia
Clemson
Ohio State
Oklahoma
LSU
Stanford
Notre Dame
Auburn
Washington
Penn State
West Virginia
Virginia Tech
Mississippi State
Oklahoma State
UCF
TCU
Wisconsin
Michigan
Oregon
Miami
Texas A&M
Boston College
Michigan State
BYU
Others Receiving Votes: Iowa 64, Boise St. 62, Duke 61, Colorado 49, California 40, Kentucky 38, South Florida 14, Texas 12, NC State 10, Arizona St. 9, Missouri 8, Utah 6, San Diego St. 5, North Texas 4, South Carolina 4, Washington St. 2, Syracuse 2
Well, things change quickly — something I've noted many a time. After three conferences were tied for having the most teams ranked, that narrative was laughed at and corrected by football's best conference — the SEC. They lead the way with 6 ranked teams. And listen to these numbers: they have both numbers 1 and 2; they have 4 of the top 10; and they have 5 of the top 15. My God, we're lucky to be on the west coast.
The Pac-12 has just 3 teams featured in the Top 25: Stanford, Washington and your Oregon Ducks.
Of course, this week's "College Gameday" is heading to Eugene for the 20th ranked Ducks' primetime matchup with the 7th ranked Stanford Cardinal. I can't wait. Finally, we get to see whether or not our team is top-10 caliber, or still a work in progress.
Saturday's game against Stanford will kick off at 8PM EST, 5PM PST at, for the fourth straight week, Autzen Stadium.