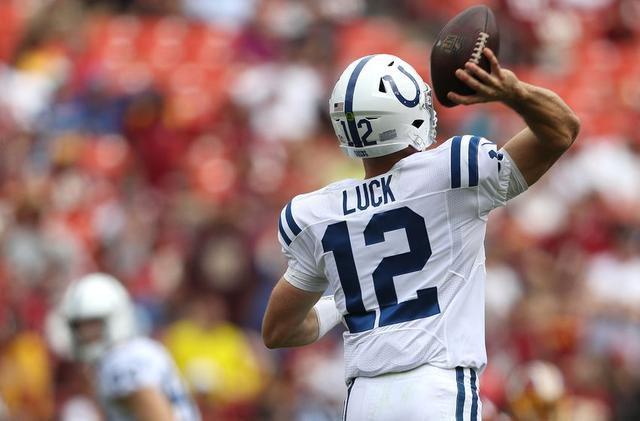 The Redskins lost their home opener to the Colts, by a score of 21-9.
Hopes grew dangerously high for the Washington Redskins 2018 season after a Week 1 shellacking of the lowly Arizona Cardinals. Washington's complete win was a refreshing change last Sunday, but a question lingered in the aftermath.
Have we seen everything?
Today's game against the Indianapolis Colts, a game that was expected to be a winnable affair for Washington, and a relatively easy matchup, proved that there is another side to this Redskins squad: A sloppy, inconsistent shell of a unit. And that team showed up, rather unceremoniously, for Washington's 2018 home opener.
Many of the issues that plagued Washington in past years came back to haunt them against their AFC South opponents. The Colts moved the ball at will on third down, and Andrew Luck was a clear test when juxtaposed with last week's enemy signal caller, Sam Bradford. The Colts' young running backs proved to be problems for Washington as well, and their offensive line won the battle in the trenches.
The Redskins' own offense didn't have the same fortunes. Jay Gruden hamstrung the team with his play calling on more than one occasion, calling runs too often on first down and being too conservative in long down situations where forward movement was needed. Alex Smith didn't get consistent help from his receivers, and the running game failed to gain any momentum.
In the end, Washington predictably lost by a score of 21-9, and the result is a reflection of the performance. While Gruden engineered a masterful game last week, it was clear that Frank Reich out-coached Gruden on offense and Greg Manusky on defense. Gruden was too reliant on a running game that wasn't there today.
It's important to note that this is only one game, and it's early. But Washington showed enough stagnation on offense for onlookers to be concerned. The defense brought its normal energy, but there were times when Frank Reich's offensive knowledge bested them entirely, and with the lack of Redskins offensive success, the defense's stamina could only hold them up so long.
Washington will have to work out the kinks ahead of their next game, against a Packers defense that has plenty of strength on the defensive line. In our Ingredients for Improvement, we said Gruden needed to be flexible with his offense. He wasn't today. That sentiment will hold true until further notice. For now, Washington is 1-1, and the outlook for the rest of the season is very much up in the air.