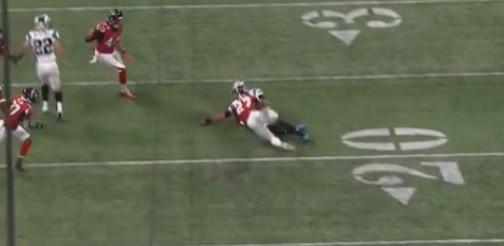 During the offseaso the NFL came up with a new college style targeting rule that allowed refs to eject players in an effort to make the game safer and to prevent head injuries.
Rule 12, section 2, Article 8 in the 2018 NFL rulebook, or Rule 12-2-8. Here's the wording:

ARTICLE 8. USE OF THE HELMET. It is a foul if a player lowers his head to initiate and make contact with his helmet against an opponent.

Penalty: Loss of 15 yards. If the foul is by the defense, it is also an automatic first down. The player may be disqualified.
In the second quarter of today's Falcons-Panthers game, Atlanta safety Damontae Kazee was ejected for targeting when he drilled Cam Newton with a late helmet-to-helmet hit after Newton had already given himself up
Here's a closer look on the play.
The Internet agreed that Kazee had to be ejected on the play.
ATLSceneKazee is eject…they gonna tax him and probably suspend him.

steroid juicing pussyEject 27 on the falcons man that was dirty as fuck
Terry P. JohnsonGreat call by the refs to eject No. 27... That was a dirty hit
Dr. Derwin L. GrayThat was dirty. Eject him. That doesn't belong in the game of football.
corey seeleyThat hit on Cam Newton was absolutely frightening and absurd. Eject the player and hope Cam is alright.
JJThat is horrific. Eject that bum.