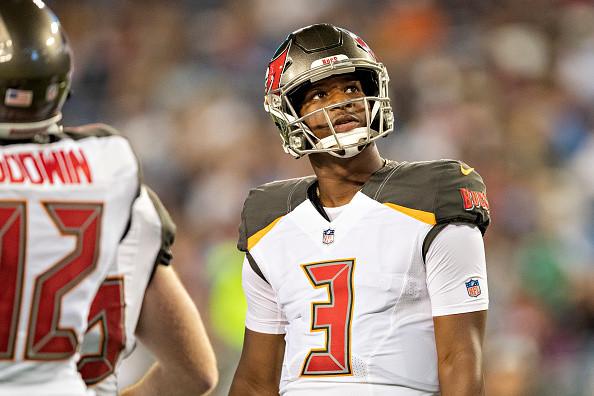 Ryan Fitzpatrick has been absolutely crushing at QB for the Bucs with Jameis Winston being out via suspension. Through three quarters against the Eagles Fitzpatrick has four touchdowns which puts him at eight passing touchdowns this season.
Bucs CommunicationsWith that touchdown pass, QB Ryan Fitzpatrick is the first player in Buccaneers history to throw at least four touchdowns in consecutive games.

JzoSportsJameis Winston gonna have to find another job, Ryan Fitzpatrick is balling (Via @Buccaneers)
Bleacher ReportRyan Fitzpatrick hits O.J. Howard for 75 more yards. Bucs have been explosive (Via @Buccaneers)
According to NFL.com's Ian Rapoport the Bucs are going to stay with Fitzpatrick as long as he stays hot.
Sources say the Bucs might hold off installing Winston as the starter when he returns from suspension for violating the NFL's personal conduct policy in Week 4. With a short week after playing on Monday night in Week 3, Ryan Fitzpatrick could remain the starter for at least another week.

Both Winston and Tampa Bay are committed to doing what's in the best interest of the team. If that means riding the hot hand, that will be OK. Winston has told the team as much, while also noting that he expected Fitz to play well.
The Internet had some jokes for Jameis Winston during Fitzpatrick's hot start.
NOTSportsCenterHey Jameis Winston: are you getting your job back from Ryan Fitzpatrick?
gifdsportsThe Bucs when Jameis Winston comes back from suspension
í ℍ Jameis at home like...
Terrence GarrettI know Jameis Winston is happy his team is winning but I think he's starting to realize his starting spot is gone after Fitzpatrick's fourth TD pass
LeBron FlamesJameis Winston right now #PHIvsTB #TBvsPHI #NFLSunday #PhillyPhilly #FlyEaglesFly #GoBucs⁠ #TampaBay #Philadelphia @Buccaneers @Eagles
Kyle SeeleyJameis Winston checking in on Ryan Fitzmagic #PHIvsTB
Alexander WienJameis Winston right now