Nearly 250,000 activists descended on the streets of central London today to protest Donald Trump's visit to the UK, organisers said.
Protesters marched through the capital carrying placards reading "Dump Trump" and "Star Spangled Gobs***".
Aerial images showed the streets of central London from Portland Place to Trafalgar Square packed with tens of thousands of people taking part.
Stop Trump, the group which organised the biggest march, said that there were 250,000 people taking part.
Stop Trump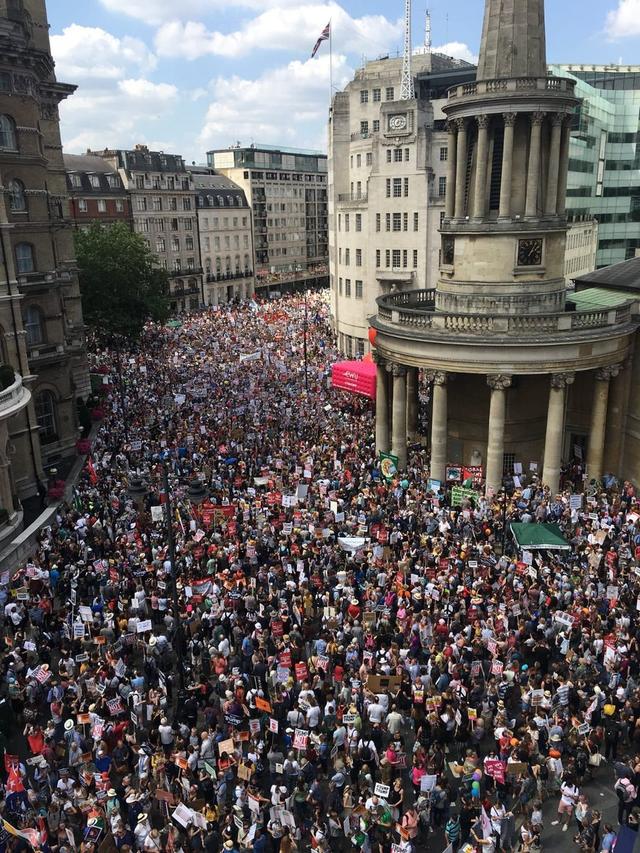 250,000 people are protesting #togetheragainsttrump in central London right now! #resist #carnivalofresistance #UKtrumpvisit
The day began with the unveiling of the Trump baby blimp in Parliament Square, which was crowdfunded by campaigners furious that Mr Trump was being welcomed to the UK.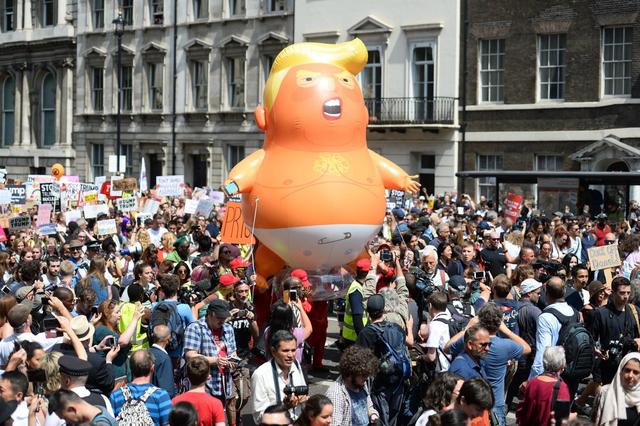 The baby Trump balloon was seen among the crowds (PA)
The balloon, which depicts Mr Trump wearing a nappy and carrying a mobile phone, was later pictured among the marching crowds.
While activists were marching in central London, the President was meeting with Theresa May at Chequers for talks on trade, Brexit and Nato.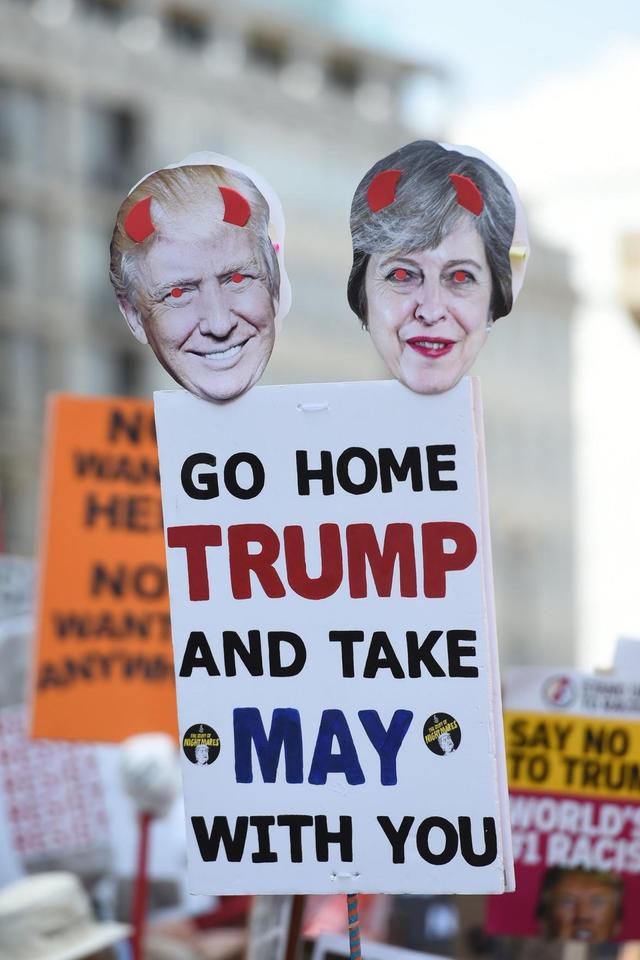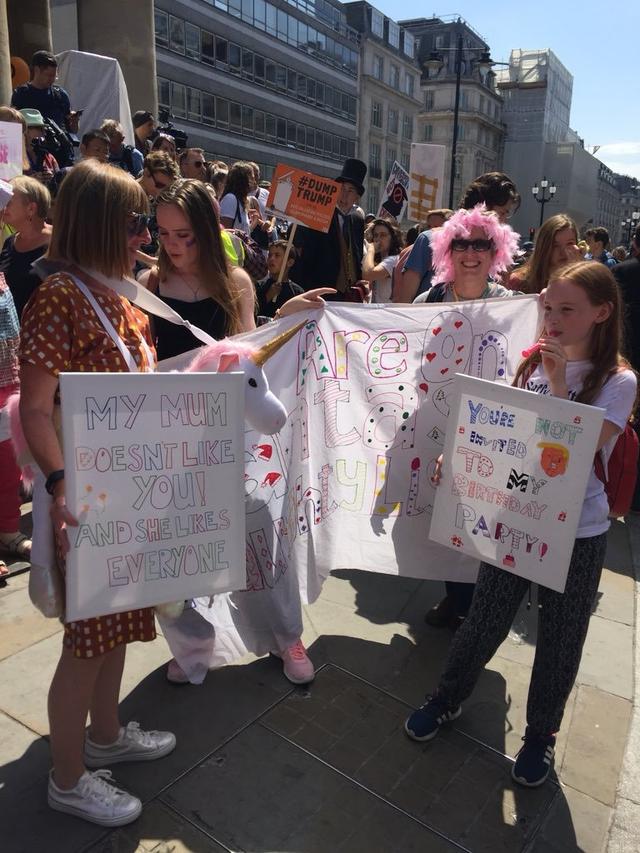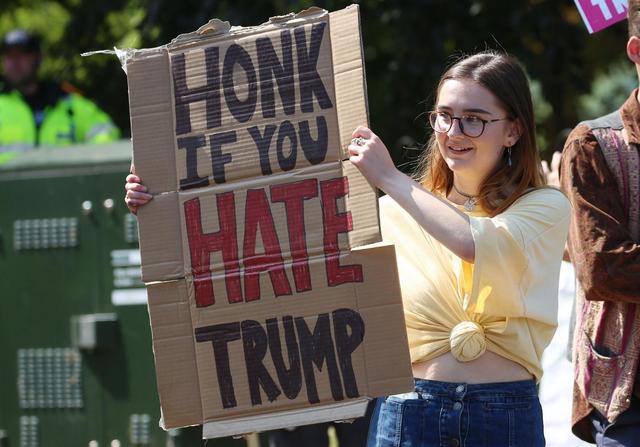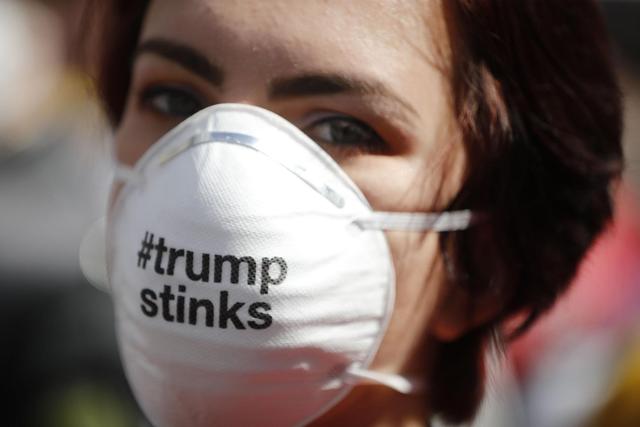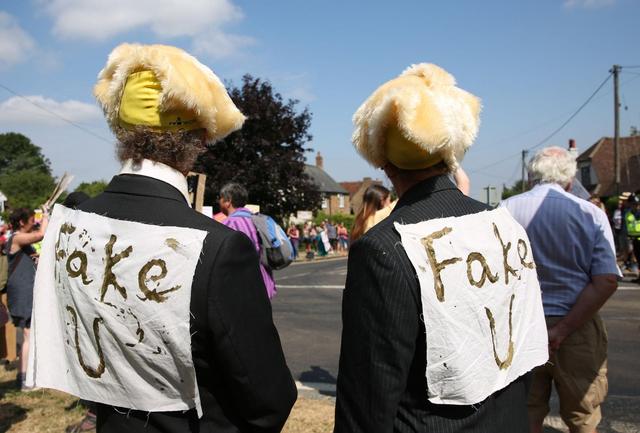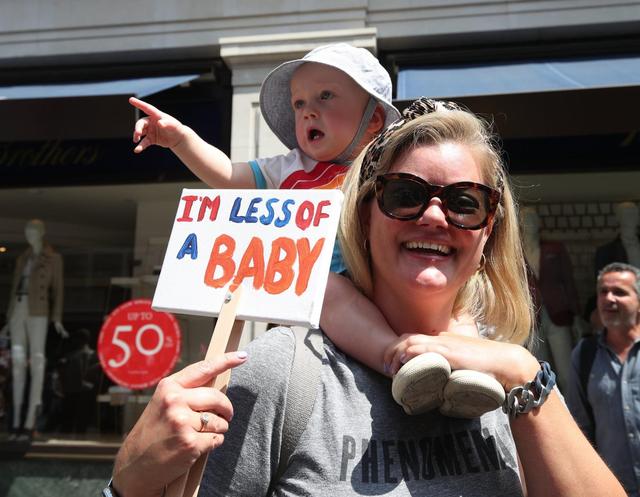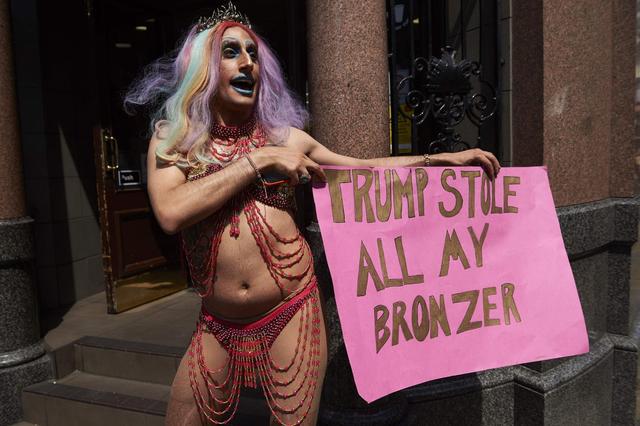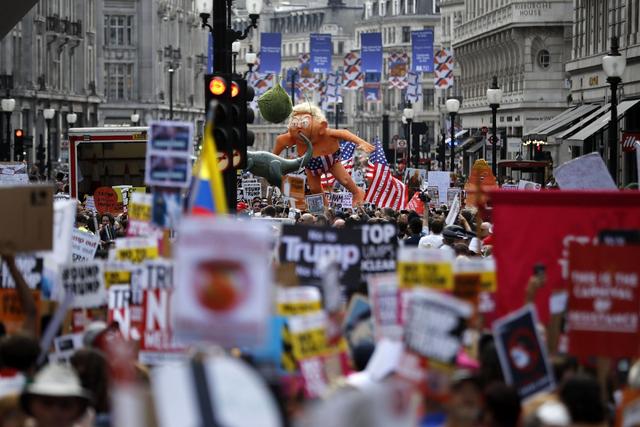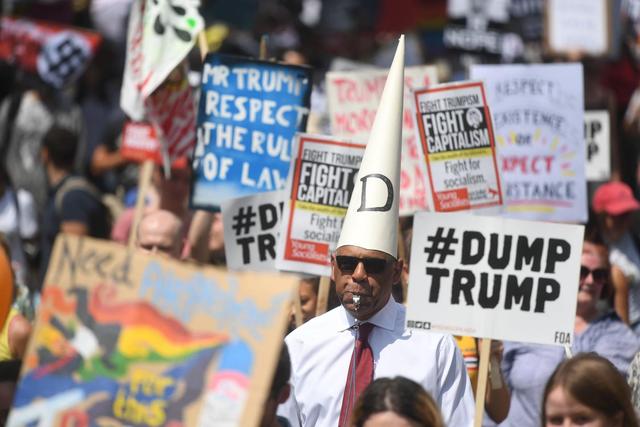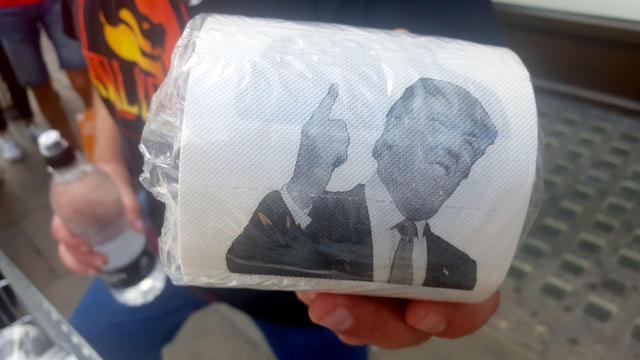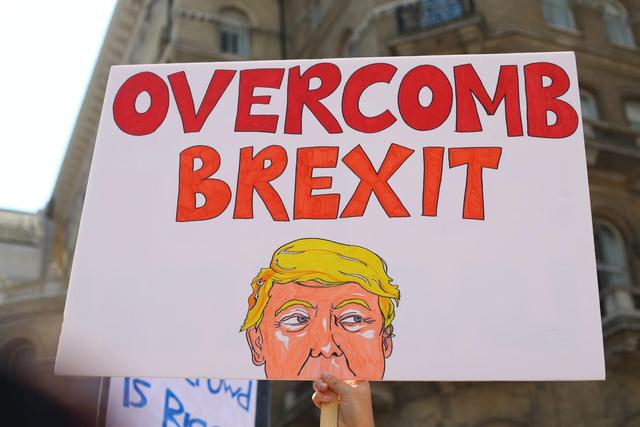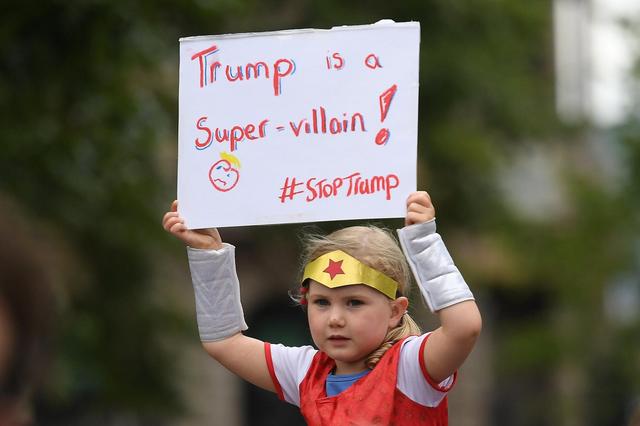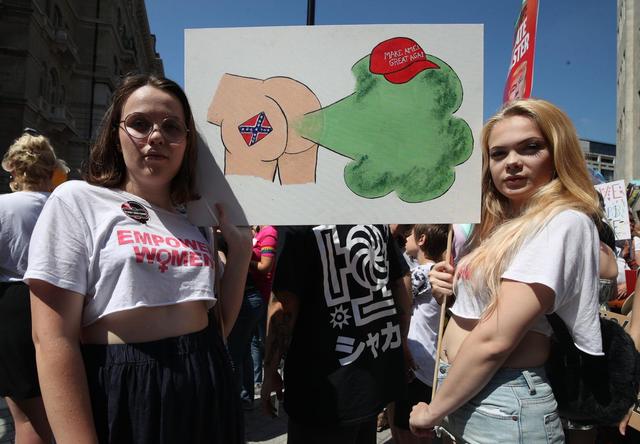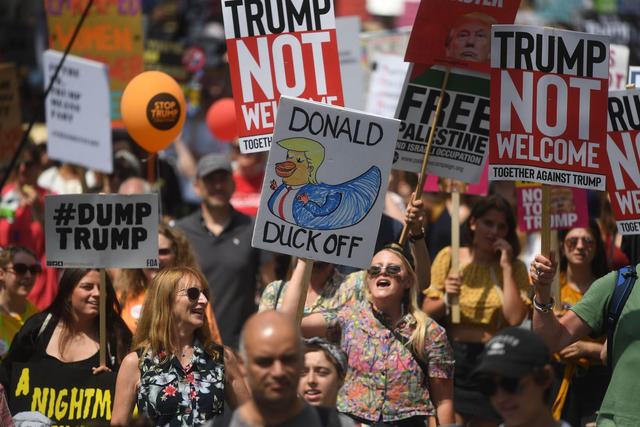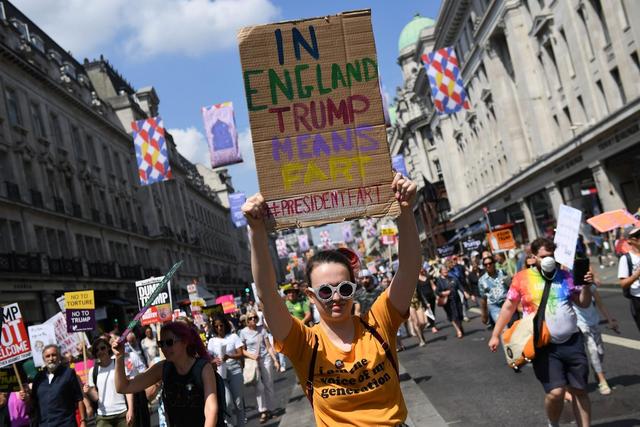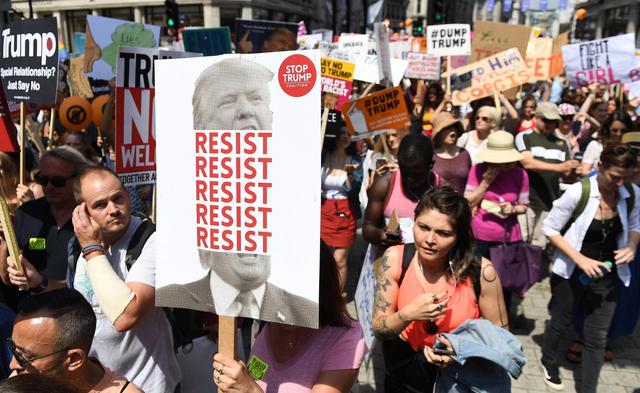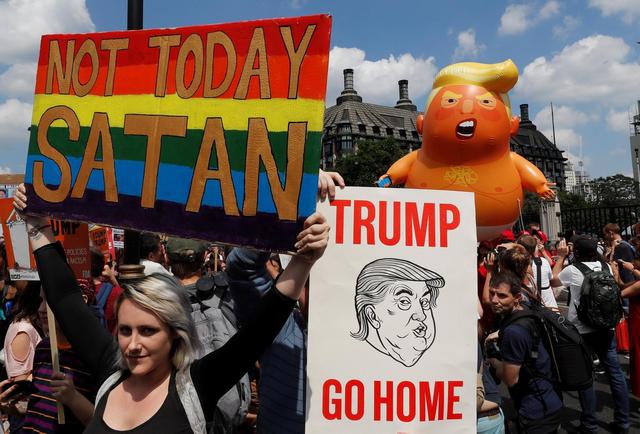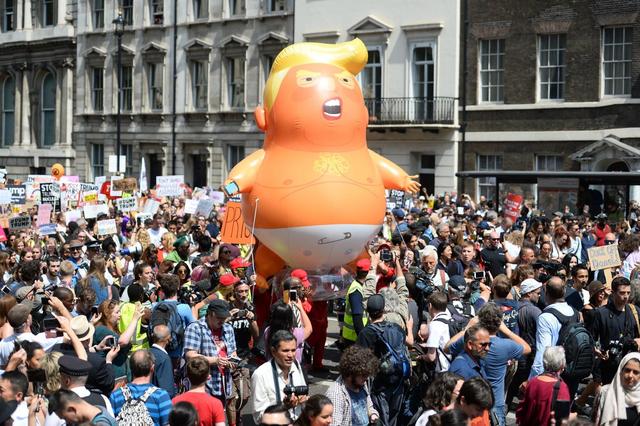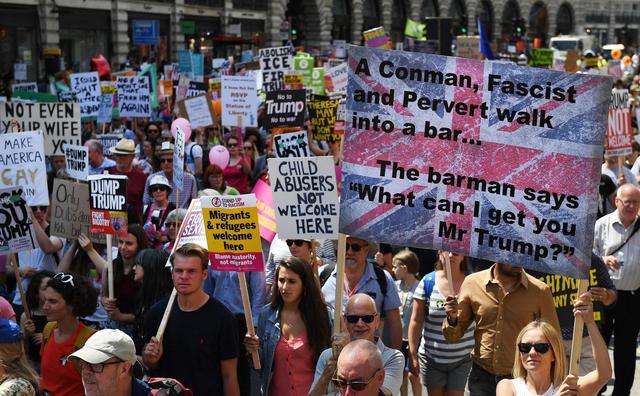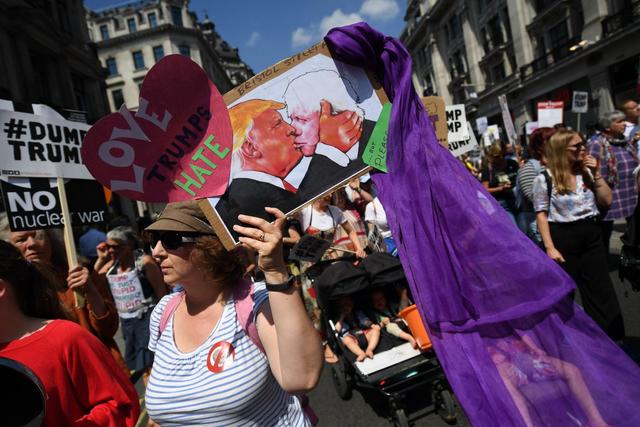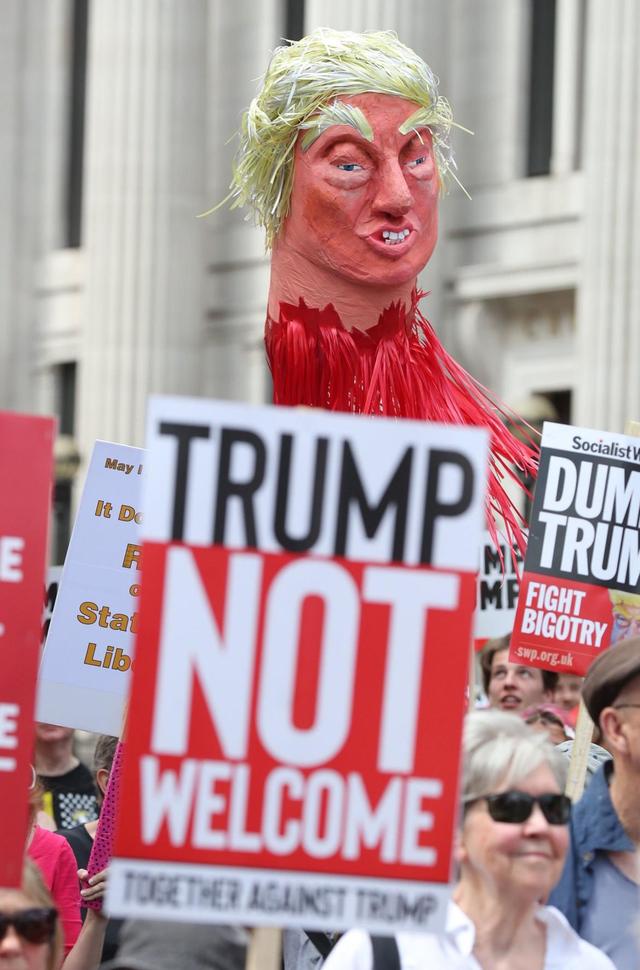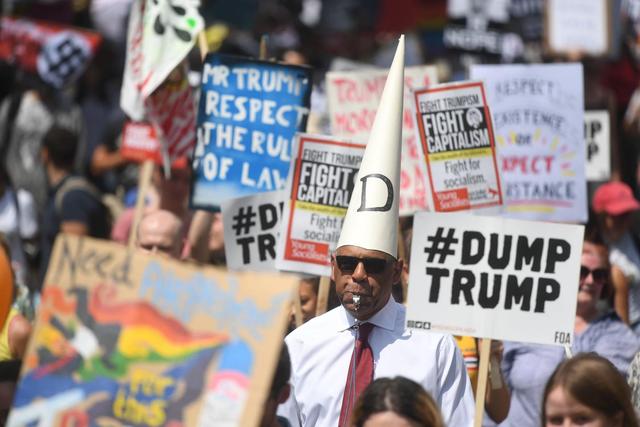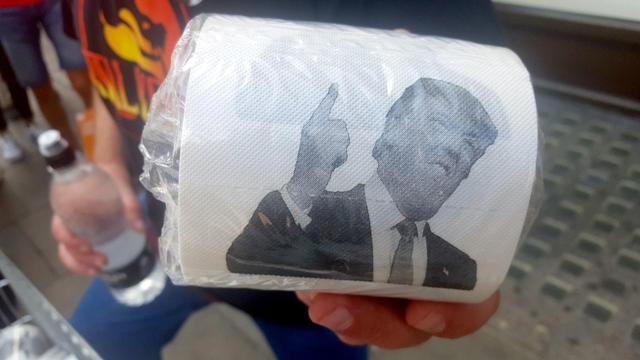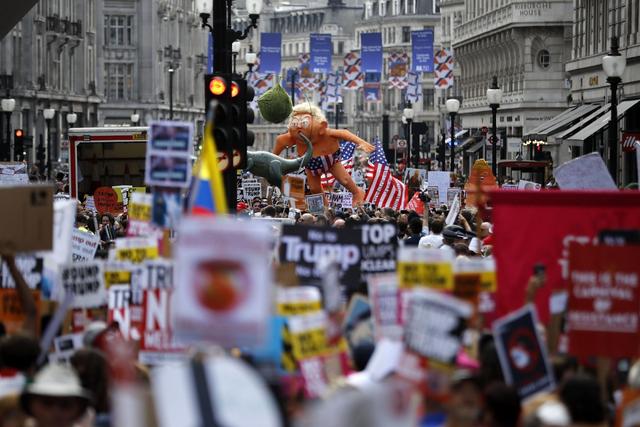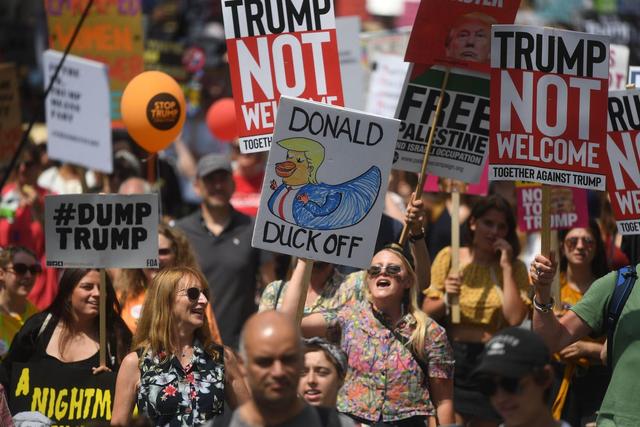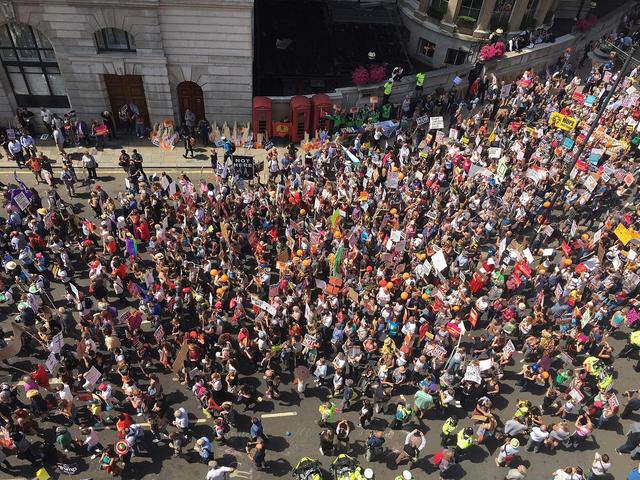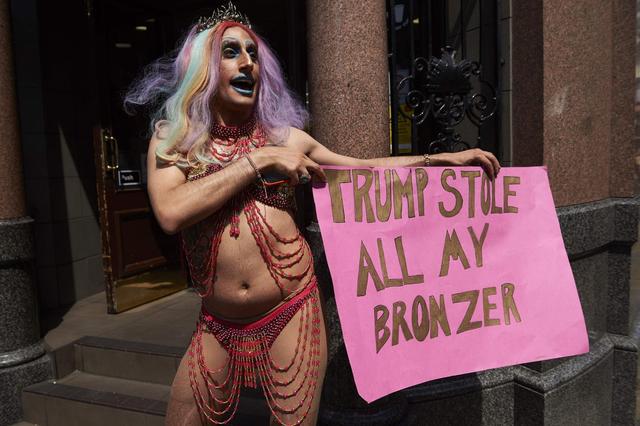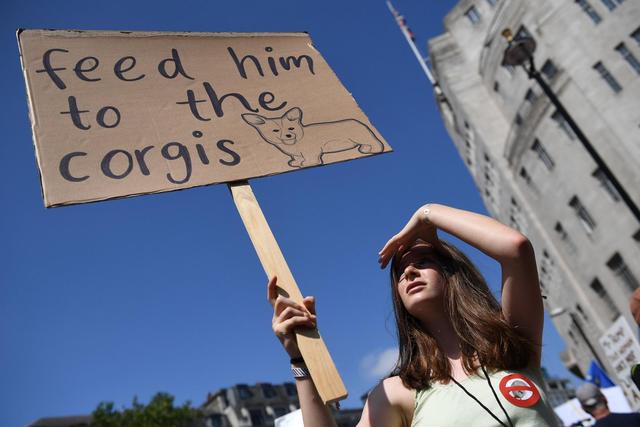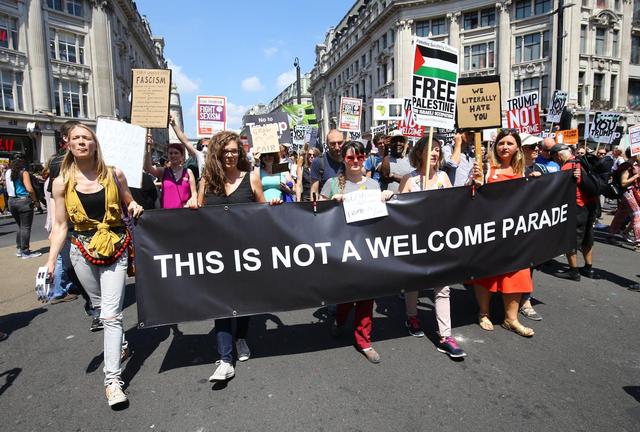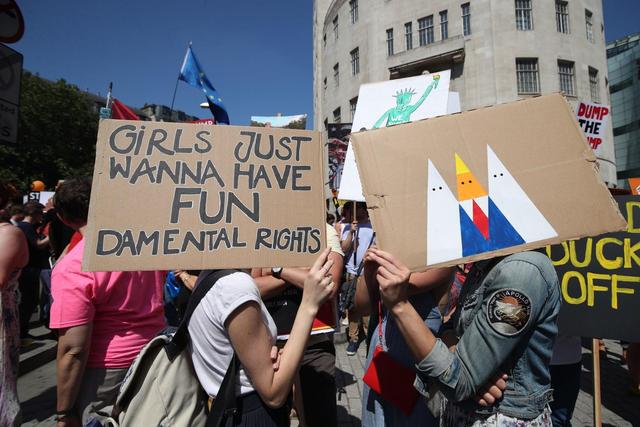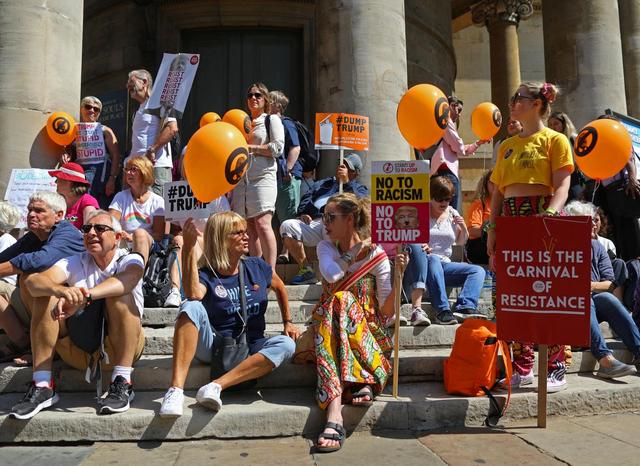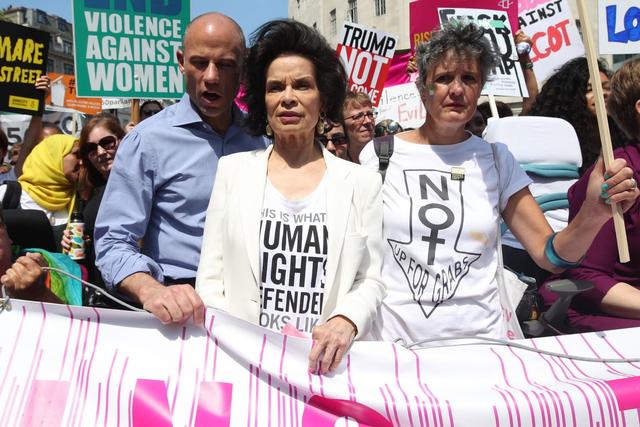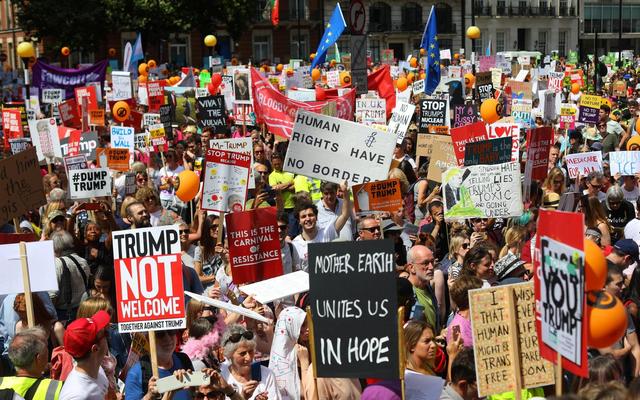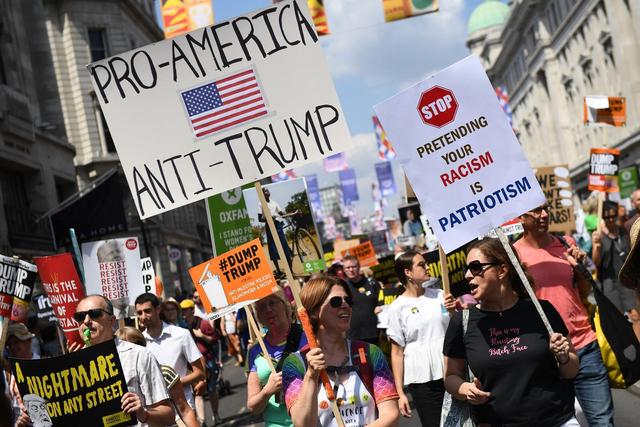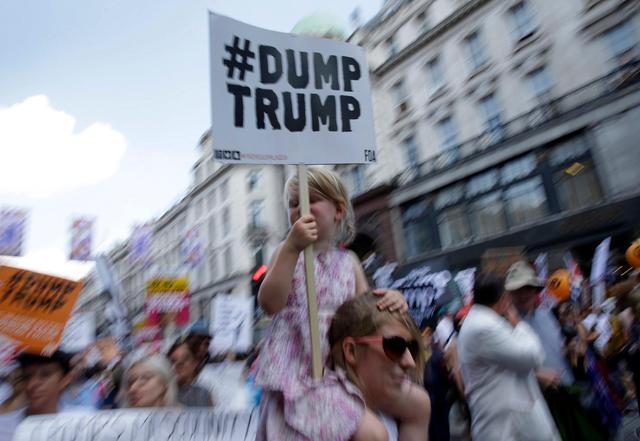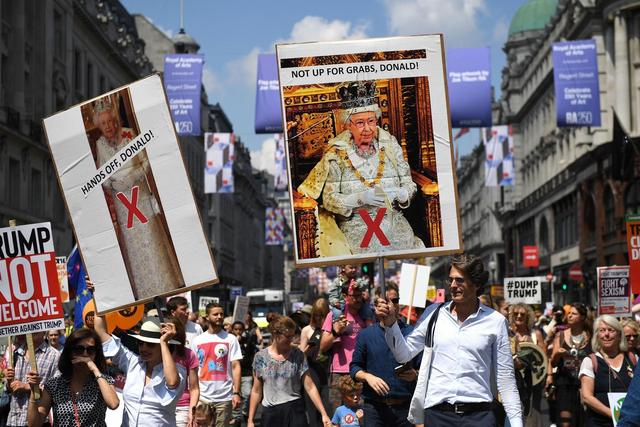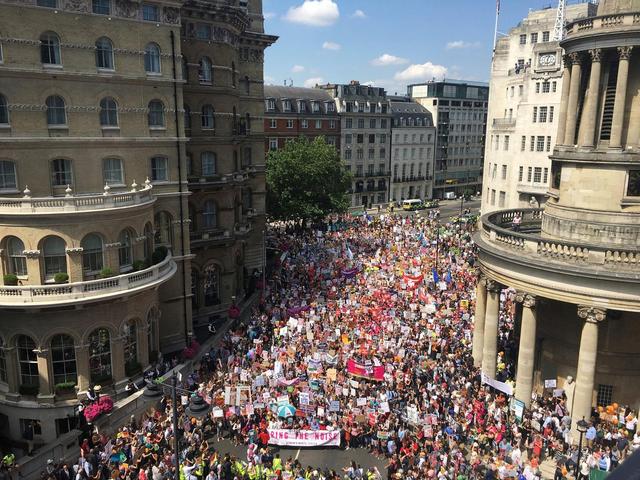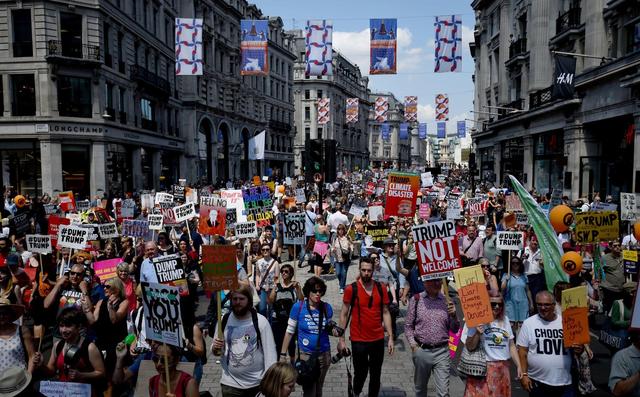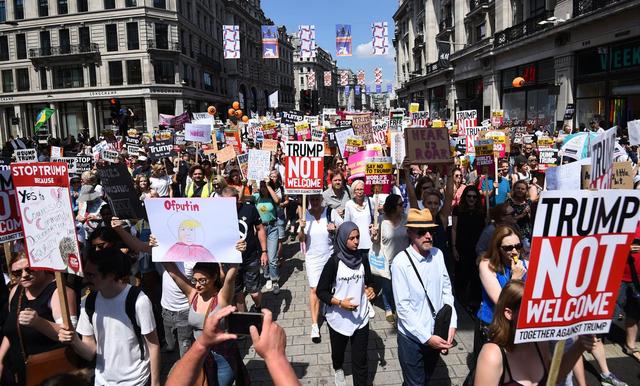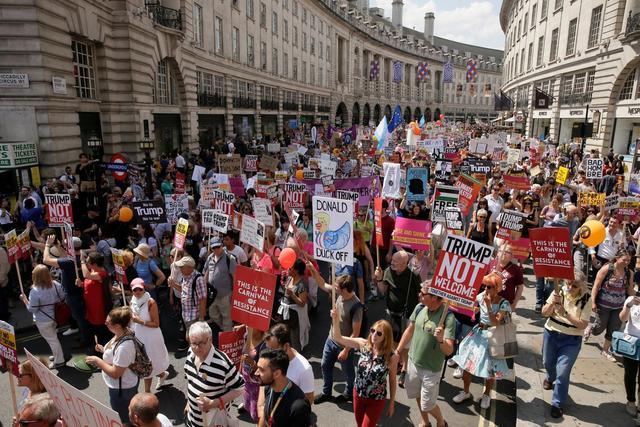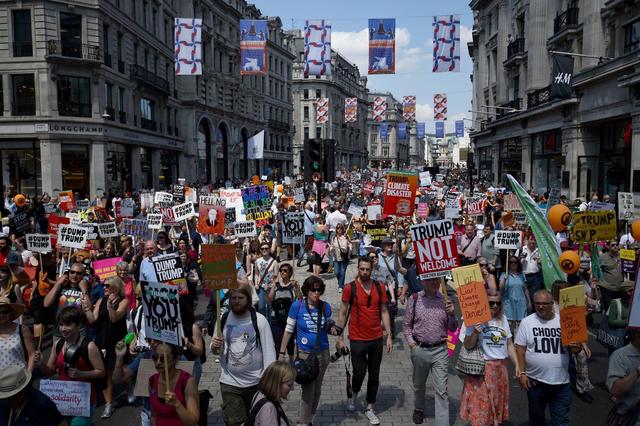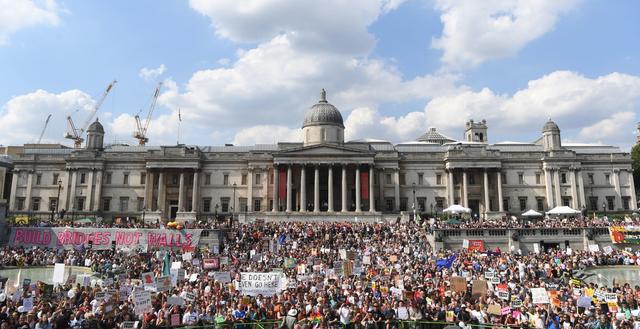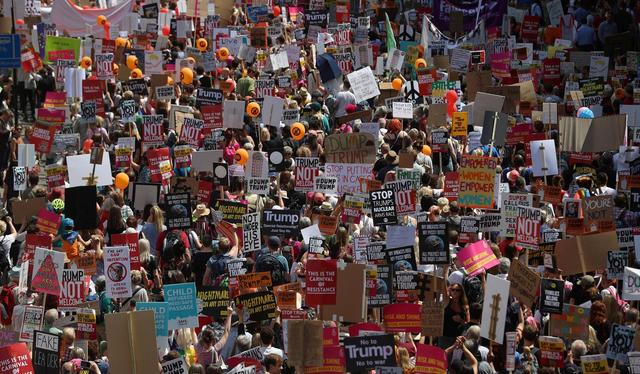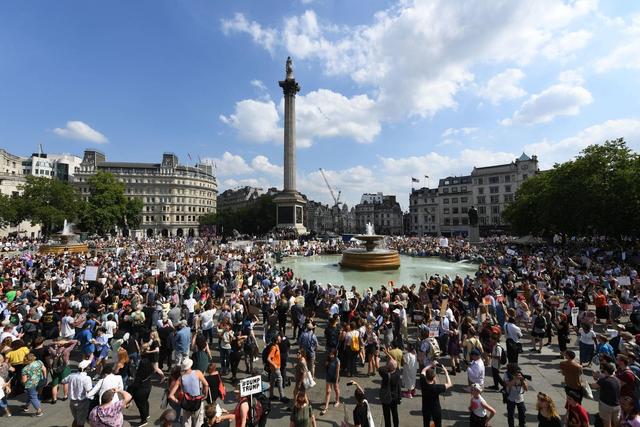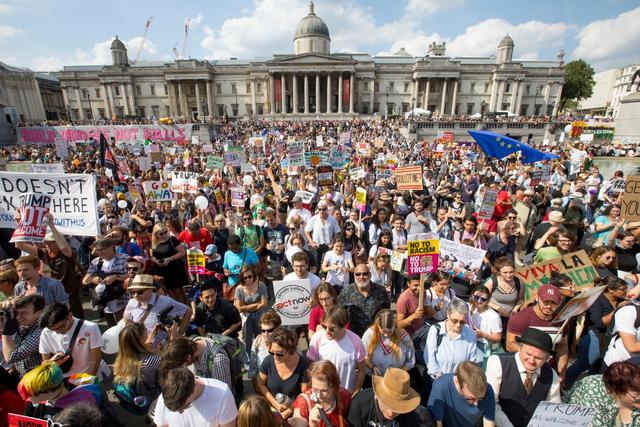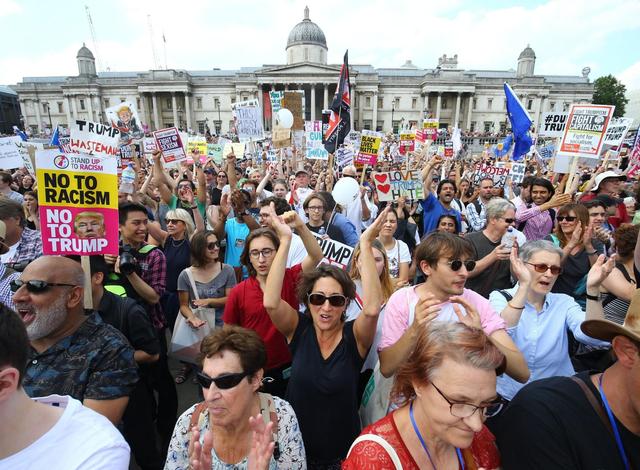 The leaders gave a joint press conference in which they stood side-by-side to shore up the relationship between the UK and the US. It came after Mr Trump, in an interview with The Sun newspaper, launched into an extraordinary criticism of the Prime Minister which overshadowed the second day of his UK visit.
The president savaged Mr May's Brexit proposals and warned they would likely kill off any chance of a future trade deal with the US in a bombshell interview. At the press conference, Mr Trump described the interview as "fake news".
Between 3,000 and 8,000 people took part in the initial Women's March which travelled from Portland Place to Parliament Square, arriving there for a rally at 2pm.
Many were seen carrying signs that read "I really care. Do you?" and "Dump Trump."
People were seen banging pots and pans together as they made their way along the protest route.
Chloe Chaplain
Some great banners out here today #WomensMarchLondon
Stormy Daniels' attorney Michael Avenatti attended the London march and told the BBC: "I think it's important to send a message to our brothers and sisters here in the UK and around the world that not all Americans support this president, there's millions of Americans that are outraged by his conduct and by his behaviour."
James O'Brien from County Mayo was spotted selling Trump toilet paper at Oxford Circus station and said a percentage of money raised from the toilet rolls and would go towards mental health awareness.
Later at 2pm, people began lining up in Portland Place for the Stop Trump protest, the largest march.
It's thought that around 100,000 people turned out to march (Reuters)
Vivian Fowle, who has spent decades protesting a number of issues around the world, told the Standard she came today because she "deplores everything Trump stands for."
Listing them, she said: "misogyny, racism, separating parents from their children; interfering in domestic politics, being rude to our own elected politicians. The man is appalling."
Ms Fowle said she is not surprised the president stayed away from London.
"I think he wouldn't come because he would be fearful. He wouldn't want to acknowledge that here are thousands and a thousands of people who object to him. He will want to go back and say 'I was in the UK for four days and didn't see a single protester they all love me'."
Sharon Lake, and her one-and-a-half year old son Felix, garnered a lot of attention due to the fake cage that has been erected around his buggy.
The cage is in reference to Trump's recently retracted immigration policies that saw children separated from their parents at the US border and taken to special detention centres.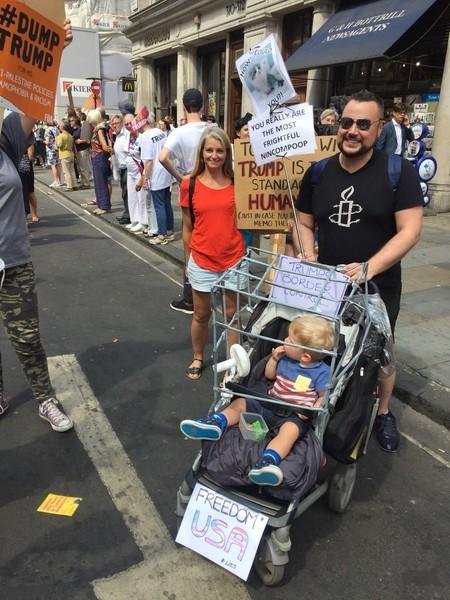 Sharon Lake said it was her son's first protest
"Separating children from their parents is about the most offensive thing you can do ... along with many of the other offensive things he has done."
"We are here because I think you need to say something. It's a friendly protest: we are just saying we don't agree with this man and his politics."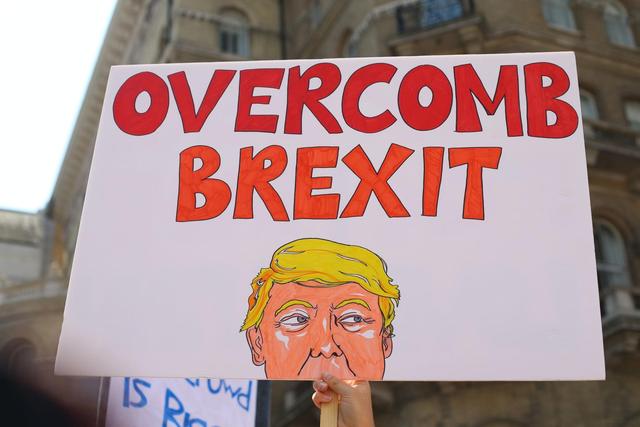 Some of the signs at the protests said "stop Trump" and "Overcomb Brexit" (PA)
Felix, who looked very relaxed in his buggy-cage, has never been to a protest before.
"I think he is mainly enjoying the helicopters," his mum said. "I hope this is his first of many. He needs to be educated as he grows up that he can stand up against things that affect him."
A rally was due to take place in Trafalgar Square between 5pm and 7pm.