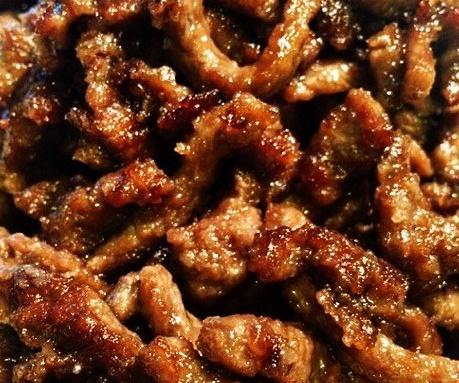 Ingredients
For the meat:
2 lbs. steak
1 1/3 tablespoon liquid aminos or soy sauce (I use Bragg's brand because it's wheat-free)
1 1/3 tablespoon white wine
4 tablespoons cornstarch
4 tablespoons sesame oil
For the Sesame Sauce:
3 TBSP liquid aminos (or soy sauce if you're not gluten free)
1 1/2 TBSP water
2 TBSP white vinegar (or rice wine vinegar)
2/3 TBSP sesame oil
2 TBSP packed brown sugar
1 1/3 TBSP ground ginger
3 cloves garlic, minced
2 1/2 TBSP honey
1 1/3 TBSP sriracha (or to taste)
For the noodles:
1 Package of rice noodles (I used pad thai noodle for this recipe)
Water and a pot to boil them in
Salt
For the Garnish:
green onions and toasted sesame seeds
How to cook
Slice meat while mostly frozen into 1/4 inch strips and place in a large bowl.
Add the liquid aminos, white wine, and cornstarch and mix until meat is covered.
Place sesame oil in a large skillet and set on medium heat.
Combine all ingredients for sesame sauce together in a small bowl, set aside.
Make your rice or rice noodles.
Sauté the meat in small batches, just covering the bottom of the skillet, and cook for 1-2 minutes per side. Remove to a paper towel lined plate.
Once your noodles are ready, toss them in the skillet the meat cooked in and add the meat and sauce. Cook for an additional minute until everything is warm.
Garnish with green onion and toasted sesame seeds.