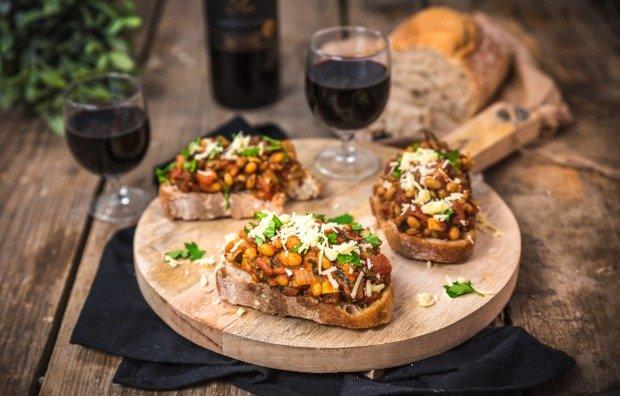 Ingredients:
Whole-grain bread - 4 slices
Beans white boiled - 400 g
Garlic - 4 cloves
Onion medium - 1 pc.
Paprika - 1 tsp.
Cumin in powder - 1 tsp.
Balsamic vinegar - 1 tbsp. l.
Tomatoes in own juice (peeled) - 400 g
Coriander a few twigs
Cheese grated to taste
Olive oil - 3 tbsp. l.
Salt, pepper to taste
Cooking method:
1. Heat the frying pan with olive oil and fry the previously peeled and finely chopped garlic.
2. Peel and finely chop the onion. Add it to the frying pan. Salt, pepper, sprinkle with paprika and cumin. Add the vinegar and cook for 3-4 minutes.
3. Then add boiled beans and sliced ​​tomatoes without juice. Stir and cook for about 5 minutes. Additionally salt and pepper.
4. Put the beans on a baking tray and cover with foil. Cook in preheated to 160 C oven for 40-45 minutes.
5. Fry the slices of bread in the toaster, and then sprinkle them with olive oil. Put on the slices of bread beans, sprinkle with grated cheese and decorate with greens.