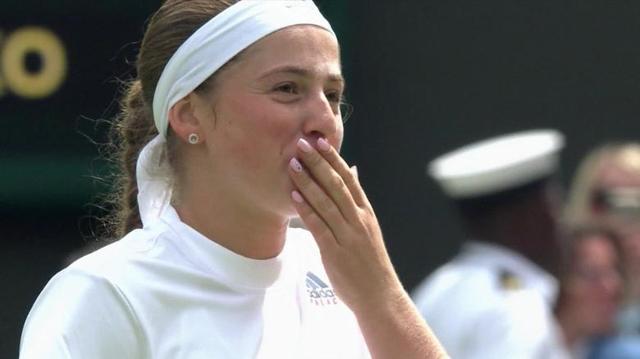 Roger Federer loses to Kevin Anderson in Wimbledon quarterfinals
Eight-time champion goes down 2-6 6-7 (5-7) 7-5 6-4 13-11
Novak Djokovic advances with win over Kei Nishikori
In unfamiliar surroundings at Wimbledon, Roger Federer suffered an unfamiliar defeat Wednesday against a big server who just didn't flinch.
Federer blew a match point and two-set lead to Kevin Anderson, 2-6 6-7 (5-7) 7-5 6-4 13-11, in a four-hour, 14-minute quarterfinal played away from his backyard of Centre Court.
"It's disappointing losing the next two sets after winning the first two and having match points," Federer told reporters. "I've been there before. I know what kind of energy I need to bring to the fifth. I was able to bring that.
"I didn't feel mental fatigue. Now I feel horribly fatigued and just awful. It's just terrible. But that's how it goes. Credit to him."
It was Federer's first loss at SW19 since the 2016 semifinal against Milos Raonic. That one, too, went to five sets. And not since 2011 against Jo-Wilfried Tsonga had Federer fallen from two sets up in southwest London.
Federer shut down his season due to knee problems after that loss, and given some of the Swiss' errors Wednesday, one had to wonder if the 36-year-old was feeling something physically. Federer did slip in the second set after engineering a stunning lob.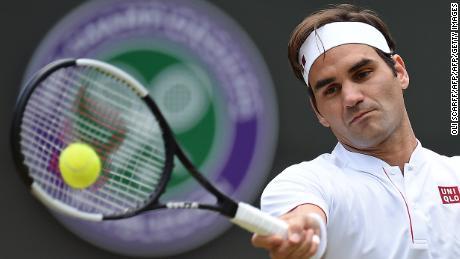 Roger Federer leans into a forehand in his match with Kevin Anderson.
He didn't mention an injury post match but said simply that he was "average," a word not really associated with Federer.
"It's just not one of my best days, but they don't happen very often either," said Federer. "It's one of those average days you have to try to win the match, and I just couldn't get it done today."
The marathon contest took place on Court 1, the first time the eight-time champion played at Wimbledon outside Centre Court since 2015 when he was in the midst of a four-and-a-half year grand slam drought.
There were no such issues for the evergreen Federer entering Wimbledon this year.
He had won three of the last four grand slams he contested to lift his tally to 20 overall and was the favorite to add to that haul come Sunday evening, especially since the world No. 2 hadn't dropped a set through four rounds -- or even his serve.
The fifth-set score was reminiscent of the 2009 Wimbledon final which Federer claimed it 16-14 in the final set over the unfortunate Andy Roddick.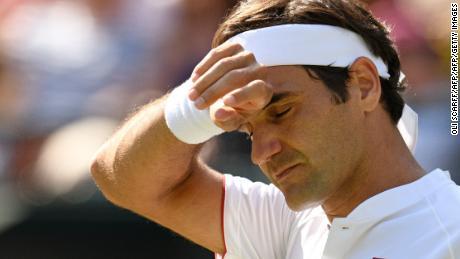 Roger Federer puts his hand to his brow.
Roddick was only broken once that day.
Anderson wasn't as prolific on serve but the US Open finalist wasn't broken in the final three sets. He saved his lone break point of the fifth at 3-4 with a potent delivery and finished with 28 aces.
He broke through at 11-11, aided by a Federer double fault at 30-all.
In the past the eighth seed has sometimes struggled to close out matches but there was no issue Wednesday. From 0-15, he held firm.
Anderson will now face either Raonic or John Isner in what will be a battle of two big servers. Isner -- into his first Wimbledon quarterfinal -- leads the event in aces, followed by Raonic.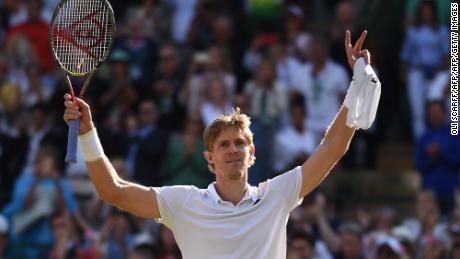 Kevin Anderson celebrates after beating Roger Federer.
Fed starts strong
When Federer broke Anderson in the first game, there were flashes of the 2014 semifinal against Raonic when he did the same. It set the tone.
Breaking for a second time to end the set in 25 minutes, no one could have forecast the drama that was to come.
"First set, felt great," said Federer. "Reading the serve. He wasn't getting many aces. When I was on, I was making him play. From the baseline I felt like I could mix it up, play aggressive.
"There was a lot going on.
"As the match went on, I couldn't surprise him any more. That's a bad feeling to have."
Anderson broke for 2-0 in the second set, becoming the first player since Tomas Berdych in last year's semifinal to take the Federer serve at Wimbledon.
But aided by a majestic defensive lob that turned into a winner right in the corner, Federer broke back for 2-3 and to add to Anderson's frustration, he sent a forehand into the net on break point in the sixth game.
How costly was the fall, though? Federer didn't say.
Winning the tiebreak, Federer appeared to be on his way to victory. Holding match point at 5-4 in the third on Anderson's serve, a penetrating ground stroke from Anderson forced a backhand passing error from the top seed.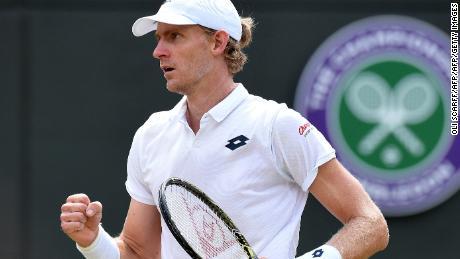 South Africa's Kevin Anderson at Wimbledon.
Federer, atypically, got rattled. He was broken for 5-6 and failed to take advantage of 0-40 on the Anderson serve in the ensuing game. It was becoming a struggle for Federer and even more so when he was broken at 4-4 in the fourth.
Anderson was looking rock solid on serve and earned a set point, only for Federer to save it with a forehand winner.
As the drama heightened, Anderson had to save a break point with a sizzling backhand but eventually closed out the fourth with a rocketed backhand.
Federer left the court for a toilet break and a nervy fifth set followed. They each held serve from 0-30 in the seventh and eighth games and Anderson -- serving second -- dug out of a 0-30 hole at 5-6.
Anderson finally broke through at 11-11 and hung on for the biggest win of his career.
For Federer, defeat marked only the fifth time he had been ousted at a slam after holding a match point.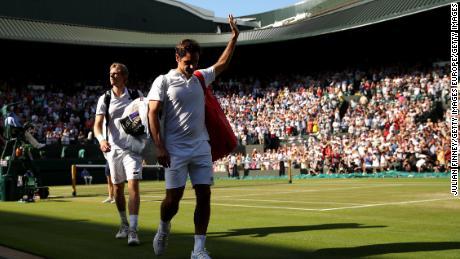 Roger Federer thanks the Wimbledon crowd after losing to Kevin Anderson.
Djokovic revival continues
Novak Djokovic told Serbian media he requested a slot on Centre Court -- having played once on the main stage this fortnight -- and the three-time champ got his wish.
The Serb continued his renaissance by topping Kei Nishikori 6-3 3-6 6-2 6-2 to improve to 14-2 against the flashy 2014 US Open finalist. He will next encounter 17-time grand slam winner Rafael Nadal or the injury-hit 2009 US Open winner, Juan Martin del Potro.
The turning point? Perhaps when Djokovic escaped while serving at 2-2, 0-30 in the third set.
"I was glad and grateful I was scheduled today on the Centre Court, playing first match," said Djokovic, who has often been scheduled last on his court this Wimbledon. "Obviously that helps knowing what time you get out on the court."
Nishikori, bidding to become the first Japanese man to make the semis at Wimbledon since Jiro Satoh in 1933, never recovered.