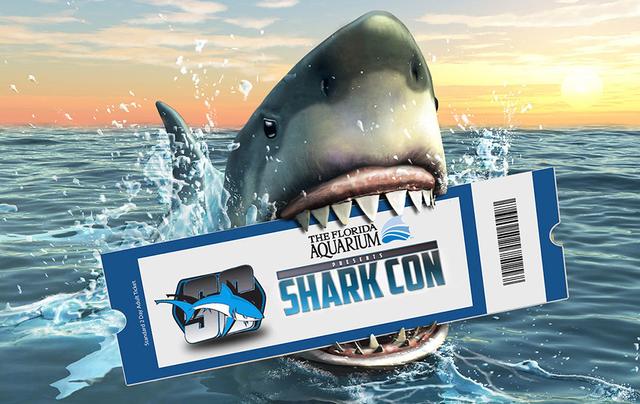 SharkCon, Tampa's annual convention for shark lovers, is back with more bite than ever.
SharkCon 5, which will be held on June 14 and 15 at the Florida State Fairgrounds, will again feature an All-Star offering of shark researchers, biologists and shark-centric celebrities from pop culture. Along with the speakers and panels, SharkCon will also feature a variety of educational exhibits and vendors dedicated to the fascinating apex predators of the ocean.
SharkCon founder Spencer Steward said that this year's iteration is the culmination of five years worth of work.
"When I first started the event, I knew what I was working toward. This year represents the original concept," he said. "When I started I had no idea what I was doing. I reached out to other conventions, but they weren't willing to help what they perceived as competition. Year one, all I had to pitch was a concept and my intentions. Luckily, I found those who believed in the cause, like my presenting sponsor The Florida Aquarium."
Among the highlights of this year's speaker schedule include a Jaws-related panel featuring actor Richard Dreyfuss, who played shark biologist Matt Hooper in the seminal piece of cinema, and a Sharknado panel featuring series stars Ian Ziering, Cassie Scerbo, Gena Lee Nolan and Julie McCullough.
"People probably wonder why I would bring in celebrities from movies that don't portray sharks in the best light," Steward said. "People who watch those movies are drawn to sharks, even if they are frightened of them. If we can reach those people and have them come in to the event and hear a speaker like Jim Abernethy, then we can give them an actual portrayal of sharks and their importance.
"It gives us a chance to turn that fear into fascination, educate them, and hopefully start to inspire a love of the ocean and it's inhabitants."
Among the educational speakers for this year's event include shark scientists Jillian Morris Brake, Dominique Keller and Eric Hovland, and photographers and filmmakers like Abernathy, Stuart Cove, and Ken Kiefer.
As well as the speakers, this year's event will include a variety of educational activities throughout the convention center, many of which are suitable for the whole family, including a trio of touch tanks, bounce houses and rides, interactive exhibits and vendors specializing in shark-related goods. For those that are ready to see the world from a shark's perspective, there will be a 30-foot, 15,000-gallon pool set up for those that are interested in learning some of the basics of SCUBA diving alongside certified instructors.
"I always want to service shark and ocean-loving people, but I want to expand that audience," Steward said. "People protect what they love. The more people that love sharks and the ocean, the better chance we have of preserving it.
For more information and a complete schedule of speakers and events, go to http://shark-con.com