Once a little skateboarding shop in New York, Supreme has become an international luxury phenomenon. Their red and white box logo has become one of the most coveted symbols in fashion, whether it's on the front of a plain white T-shirt or emblazoned on the side of a miniature motorbike. In fact, some argue Supreme's success calls for a widespread return of logo'd fashion in general.
The label proved its power Wednesday at an auction in Paris titled C.R.E.A.M. (Cash Rules Everything Around Me), after the Wu-Tang Clan's 1993 single. The 145 lots had price estimates ranging from €200 to €100,000 ($236 to $118,020), allowing collectors to grab rare items they may have missed the first time around. Supreme has retained its shine by keeping its products ruthlessly exclusive. Collections are all limited-edition and released in occasional "drops," leading to snaking lines whenever new items hit store shelves. Street-wear lovers bought into the hype.
So did investors. In 2017, the Carlyle Group, one of the world's largest private equity firms, bought a 50 percent stake in Supreme for $500 million, valuing the company at $1 billion. With the hefty cash injection, Supreme now has its sights set on expansion abroad in an effort to became a more global luxury label.
French auction house Artcurial held the event at its Paris headquarters and simultaneously online on its website. Fabien Naudan, the house's vice chairman, spent three years gathering the Supreme pieces from various private collections for the auction, which was themed after New York street culture. Some non-Supreme items were mixed in, such as sculptures by street artist Kaws and prints from Todd James. Naudan plans to hold a series of auctions in other cities, dedicated to each of their unique undergrounds.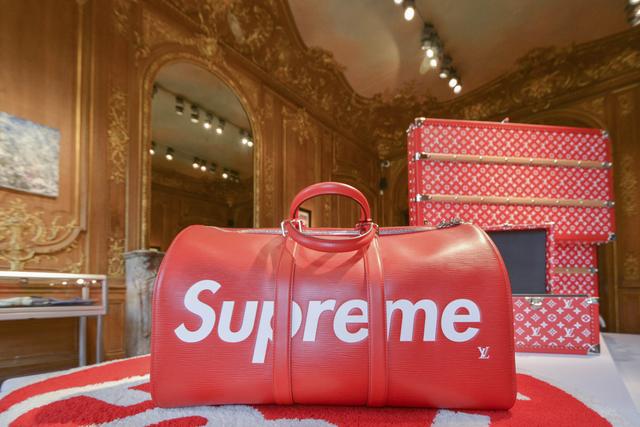 In 2017, Supreme collaborated with Louis Vuitton for a particularly high-end collection that was sold out of pop-up stores in major cities. Buyers spent €88,400 on the larger trunk and €62,400 on the smaller one. The satchel went for €13,650.
Photographer: Maximilien SPORSCHILL
Founded by James Jebbia in 1994, Supreme is notorious for its willingness to put its name on all sorts of strange things (it once sold a Supreme brick–yes, a brick), so there were plenty of decorative oddities on which to bid. And a few blew away their estimates.
A punching bag, made in collaboration with boxing brand Everlast, went for €20,150, including the 30 percent buyer's premium. A pair of boxing gloves was sold for €8,450. Other Supreme collaborations at the auction included a Fender Stratocaster guitar (€5,200), a Coleman chair (€3,250), and a pocketknife from Buck Knives (€2,080). A 3-foot by 1-foot painted sign sold for €54,600, a baffling eight times more than its €7,000 high estimate.
The biggest-ticket items were a pair of signature Louis Vuitton x Supreme trunks. The French fashion house considered its partnership with Supreme so significant that it included the collaboration alongside historic pieces from the past century-and-a-half at its limited-run exhibition in Manhattan late last year. One trunk sold for €88,400; the other, a smaller version, for skateboards, was snapped up for €62,400.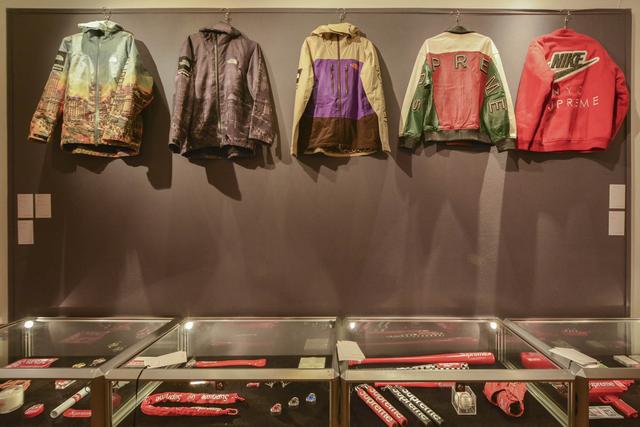 Various Supreme jackets were available to bid on, and they were bought for between €1,040 to €2,730. All sorts of Supreme rarities were on the block too, including nunchaku (€1,300), a multitool (€845) and a squirt gun (€260).
Photographer: Maximilien SPORSCHILL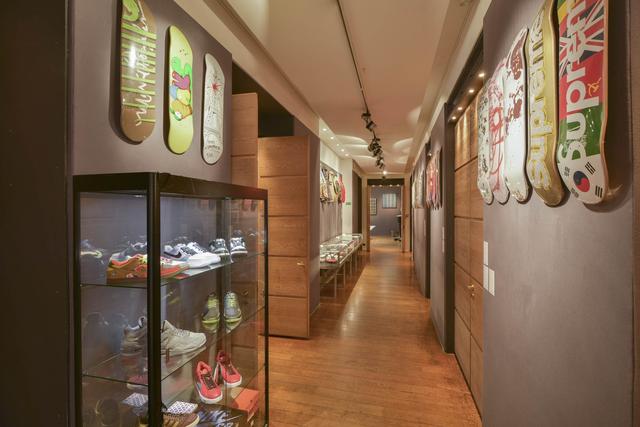 Supreme skater origins were on full display, and collectors were all about the skateboard decks. A set of three, done in collaboration with artist George Condo, went for €13,000.
Photographer: Maximilien SPORSCHILL
Photographer: Maximilien SPORSCHILL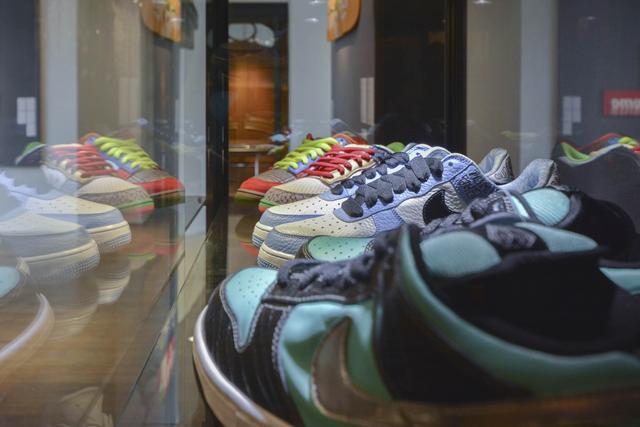 Supreme has done tons of highly-coveted sneaker collaborations with Nike. Air Force Ones and SB Dunks sold for up to €3,900 at auction.
Photographer: Maximilien SPORSCHILL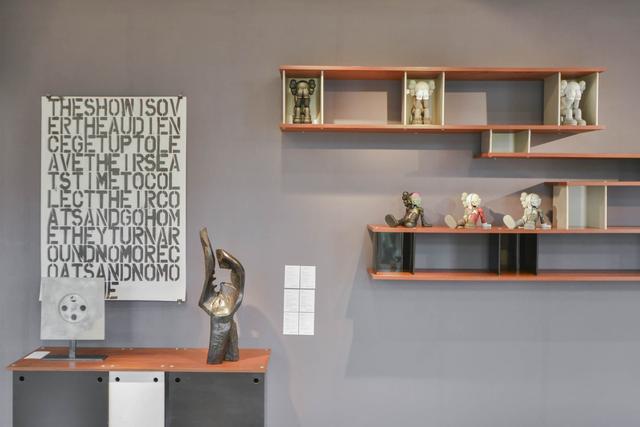 The little figurines from Original Fake sold in sets of three for €7,020 and €5,200.
Photographer: Maximilien SPORSCHILL