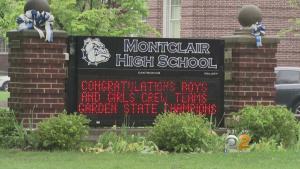 MONTCLAIR, N.J. (CBSNewYork) – Police in Montclair are investigating an alleged sexual assault in a gender neutral bathroom.
In an email sent out to parents Wednesday morning, the Montclair High School principal wrote that there's an "ongoing investigation regarding an alleged sexual assault in the all gender restroom."
"This could happen to any of our kids," said parent Jeanette Cruz-Perez. "That's what I'm worried about."
The all gender was established at the school two years ago.
"I don't think the fact that it happened in an all gender bathroom makes any difference," said parent Betsy Tessler. "I think an assault can happen anywhere unfortunately."
Right now, there aren't many details about who is involved or what exactly happened.
Montclair Police tell CBS2's Alice Gainer the alleged incident involving two juvenile students was reported to them Monday afternoon.
The Essex County prosecutor is also involved.
In that email, the principal also wrote that security has been stepped up at the school.
When Gainer arrived at the school Wednesday afternoon, a police patrol car was out front.
As for how the school is handling it?
"I think it's fine the way they're communicating," one father said. "They're pretty good about it."
Some are hoping for a follow up.
"What steps are going to be taken moving forward to avoid this situation?" said Cruz-Perez.
So far, neither the school principal nor superintendent has returned CBS2's messages for comment.