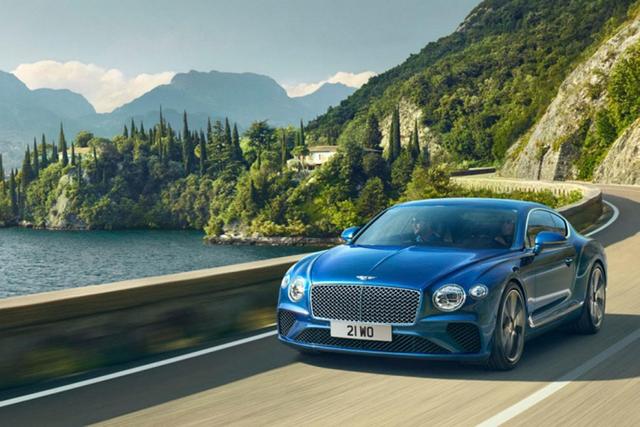 When Bentley introduced the first Continental GT 15 years ago, it was a game-changer. In terms of style, speed and sheer presence, it was a highly impressive six-litre W12 high-performance cruiser.
Now, the third generation of this elegant coupe has been unveiled, and it is a huge step forward.
Still instantly recognisable as a Continental GT – after all, its DNA goes back to the stunning R-Type Continental of 1952 – its all-aluminium body is sleeker, and the car is faster and more refined than before.
The same powerful haunches above the rear wheel arches remain, but it looks as if the entire wheelbase, now 120mm longer than before, has been shifted forward, so its front overhang is much smaller, rear overhang larger and the front wheelarch goes much higher up the bodyline.
The overall effect looks pretty aggressive – at the car's launch in Austria, lesser cars seemed to cower and get out of the way as the Bentley loomed in their mirrors.
The rear styling has also been drastically revised, with large twin oval tailpipes echoing the shape of the rear lights, and there is a new scooped-out look for the rear panel.
Inside the cabin, things can look as traditional or as gaudy as the customer chooses. Our test car, with its diamond quilted leather-covered door cards and diamond knurling on just about every metal surface, looked a bit too bling for my taste.
Star of the show in the new cabin is a three-sided dashboard panel which rotates at the touch of a button, displaying either three beautiful analogue dials, a 12.3-inch sat-nav touchscreen or a perfectly aligned piece of wood veneer for when the car is parked.
Press and starter and the engine – a completely new 6-litre W12 with 635PS and 900 Nm of torque – springs into life with a deep and satisfying woofle.
Progress is smooth, stately and effortless until greater acceleration is required. Floor the throttle and the car sling-shots forward with a kick like a mule on steroids. From rest, 60mph arrives in just 3.6 seconds and the top speed is 207mph.
The steel brakes (420mm diameter at the front, 380mm at the rear) are the largest ever fitted to a production car and are smooth and progressive as well as highly effective.
Bentley claims fuel consumption is 16 per cent better than before, partly because the car can trickle along using only six of its 12 cylinders while wafting, and it can cover up to 500 miles between trips to the petrol pump.
Despite riding on 22-inch rims – not usually the recipe for a fine ride – the Bentley irons out bumps and ripples beautifully, and always feel securely nailed to the Tarmac.
Three main things strike you when you drive this new Bentley. Effortlessness, sparkling performance and astonishing attention to detail. Examine the headlamps and their interiors look to be made from cut glass. The cabin's ambient lighting – hidden beneath a fine chrome strip in daylight – echoes the powerful styling creases of the car's exterior. Luxury touches which most car-makers simply cannot afford to do.
Which brings us to the price. £159,100 before you start ticking options boxes, seems like a great deal of cash. But for a car this well made, with this level of performance, style and luxury, the more you learn about what it can do, the more it looks like a very reasonable price.
Details: Bentley Continental GT
Top speed: 207mph
Combined mpg: 23.2 claimed
0-60mph: 3.6 secs
CO2: 278g/km