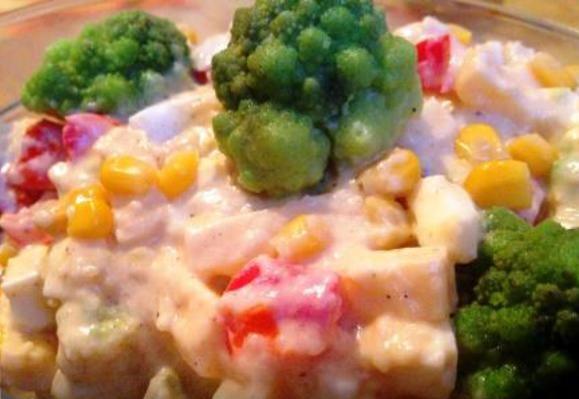 INGREDIENTS
/ main /
broccoli fresh -1 kg
pepper bulgarian red -2 pcs.
pepper red hot -1 PC.
bulb onions -1 PC.
eggs of chicken -2 pcs.
cheese -200 g
salt -taste
/sauce/
boiled potatoes -100 g
garlic -1 denticle
black pepper powder -taste
horseradish -1 tsp.
White wine vinegar -3 tbsp. l.
natural yoghurt -2 tbsp. l.
cream -4 tbsp. l.
olive oil -3 tbsp. l.
STEP 1
Wash cabbage, divide into inflorescences, cook in salty water for 8-10 minutes. Take out, cool.
STEP 2
Eggs, onion, peppers, cut into small cubes, cut the cheese into strips.
STEP 3
Boiled potatoes grate on a fine grater, squeeze out the garlic, add horseradish, yogurt, cream, vinegar, olive oil, season and mix everything.
STEP 4
Combine all the main ingredients, pour sauce, mix and leave to stand, minimum, 15 min. Pleasant!