Cocktail for weight loss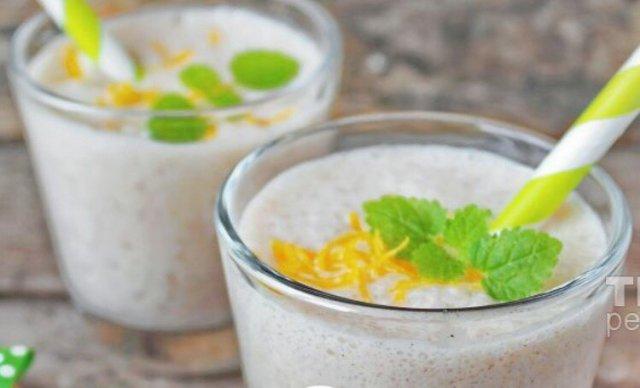 Ingredients:
Fresh ginger (root) 30 g
Cinnamon 1 tbsp. l.
Orange 1 pc.
Peppermint fresh to taste
Kefir fat-free 500 g
Description of the recipe - Cocktail for weight loss:
1 Remove the zest from the orange and squeeze the juice.
2 Ginger root, clean, grate on medium grater, gauze or strainer to squeeze ginger juice.
3 Mix both kinds of juices.
4 Add orange and ginger juice to kefir.
5 Add the ground cinnamon to the cocktail and shake well.
6 Pour out the slimming cocktail into glasses, sprinkle with orange peel, decorate with mint and immediately serve.
Recipe "Cocktail for weight loss" is ready, a pleasant appetite;)
Cocktail for weight loss: composition, calories and nutritional value per 100 grams
Proteins 2,98 g
Fat 0.72 g
Carbohydrates 7.71 g
In this cocktail for weight loss - the perfect combination of flavors and flavors. Low-fat kefir saturates and works great for comfortable digestion. The orange heals with its aromatic oils, and ginger actively burns fats, releasing a good portion of energy for creation and optimism. And yes! Cinnamon is also a queen, because without sugar it is a powerful "vacuum cleaner" for our blood vessels, and the level of sugar is kept under strict control. In general, for athletes, as well as lovers of "sitting" on delicious diets, a cup of kefir God himself prescribed. How divine nectar!