Driving along Ireland's Wild Atlantic Way, it seems as if there are castles and ruins around every corner, yet perhaps none so spectacular as Ashford Castle.
Located on the banks of Lough Corrib, Ashford Castle - which recently featured on BBC2's 'Most Amazing Hotels' - has boasted a number of celebrity guests over the years. From Julia Roberts to Brad Pitt - Pierce Brosnan and his wife Keely even got married there in 2001.
Yet, it is the recently opened Lodge at Ashford Castle that caught our eye. Just up the road from Ashford Castle, the Lodge sits on the top of a hill overlooking Lough Corrib and is the perfect place to stay during your west coast getaway.
Where is it?
Situated in County Cong on Ireland's west coast, The Lodge at Ashford Castle is nestled on a magnificent 350 acre estate.
An hour's drive from Galway or a three-hour drive from Dublin, the Lodge is the perfect place to explore the Irish countryside.
Style
The Lodge has a country house vibe, but with a more relaxed feel. In the lobby there are a number of sitting areas with ornate chairs, overflowing bookshelves and quirky artwork where guests can relax and unwind while sipping on a tea or a cheeky Irish coffee from the bar.
Expect eye-catching interior design throughout the hotel that will surprise and delight, with wicker chairs, yellow walls and beams of sun streaming through skylights.
Which room?
Each room of the Lodge has been individually designed so no two stays will be the same. Expect rich deep pile carpets, super king beds with goose down duvets and pillows, a TV and chic, modern furniture - plus all your creature comforts.
(The Lodge at Ashford Castle)
Our pick for the room would be one of the Lake View Suites - which dutifully remind you how serene the Irish countryside is with views over Lough Corrib.
Food & Drink
The Lodge at Ashford Castle is home to Wilde's Restaurant - a fine dining restaurant that offers an indulgent seven-course dinner menu. John Keane, one of Ireland's most exciting chefs, heads up the restaurant which draws in foodies both local and from afar.
Looking over the Lough, you can watch nature's colours change with the setting sun while you dine - the scallop starter and halibut main are particularly mouth-watering but there is an extensive range of local Irish cuisine to choose from. And at €65 (£56), it is worth every penny.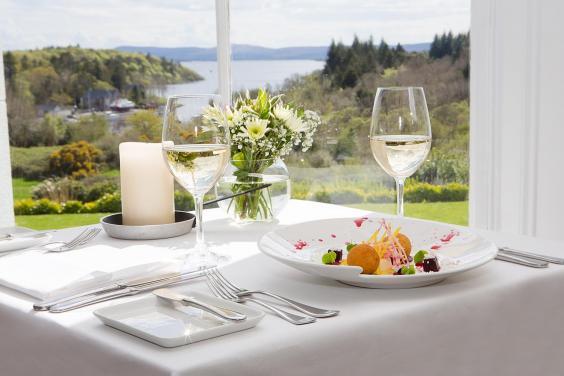 (The Lodge at Ashford Castle)
In the morning this turns into a breakfast buffet, complete with gammon you can slice yourself, an array of cheese, muesli with a plethora of toppings and everything you need for a classic Irish breakfast. Don't miss out on the black and white puddings.
Extracurriculars
A short walk from the Lodge, and through the ground of Ashford Castle, you will find Ireland's School of Falconry (falconry.ie/). The oldest falconry school in Ireland offers an hour-long 'Hawk Walk' where you have the chance to walk around the grounds of Ashford Castle with hawks on your arm.
This was the unexpected highlight of my recent trip to Ireland. As soon as we met out instructor, Joe, we could tell how passionate he was about these birds - and the soft spot he had for the birds we flew. Joe gave us a short demonstration on how to hold our arms when the hawks were perched upon them and then we were off. It was a truly wonderful afternoon, watching the hawks swoop in and out of the trees before flying back to your arms. If there's one thing you do while on Ireland's west coast, let it be this.
Me with my falcon, Chewy (Laura Hampson/Supplied)
Hawk Walks begin at €50 (£44) per person.
Every morning at 11am, a charter boat docked next to Ashford Castle goes for an hour-long cruise around the Lough, explaining the rich history of the area - including the discovery of fossilised Viking ships at the bottom of the Lough. A perfect way to spend your morning and will give you unparalleled views of the castle as you pull away.
When to go
The Lodge is best enjoyed any time of year, but summer is when late spring and summer is when it truly shines.
Best for ...
The romantic nature of the Lodge means it is perfect for couples who want a weekend away, but it is also a great place to visit with friends.
How to get there
The easiest way to get to The Lodge is by car, either from Dublin or Shannon airport. Or, you can fly into Cork and take the Wild Atlantic Way up through past the Cliffs of Moher and through Galway for a more scenic route.
Details
Rooms from £105 per room per night, including breakfast. thelodgeac.com