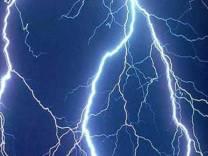 There is a type of rumor in the area when the thunderbolt becomes magnetized. Because of this, many times the body is expected to steal. " Know, the real mystery of the body thief thunder thunder.



Click here to view the video
Another such incident was reported in late April last year in Natore's Lalpur upazila. Due to theft of the body of a young man killed in lightning, his family did not buried him in the graveyard and buried the body beside the groom's room inside the house courtyard.

Inspector of Walia village of Lalpur upazila, Md. Selim confirmed that there was a 'myth' among the locals. Such panic is not new to rural areas of Bangladesh. Newspapers and newspapers reported that the skeleton of the body of the deceased woman or the man who was killed in lightning from the grave was also reported.

In Bangladesh, many people have died due to lightning in the last few years. With the rain in the year, thunderstorm is also very large. But what is the reason behind stealing the body?

Sohail Mahmud, head of Forensic Department of Dhaka Medical College Hospital, said, "Because of this, it is a false belief." Sohel Mahmud said, "Many people think that there is a lot of valuable things created in the bodies of lightning killed in lightning. They may think that if electrification passes through iron (if flowing), iron magnet becomes something like this. But this is totally blind faith. "

For these reasons, many times people try to steal the body. Many villagers think that such a body of corpse or ozha is a bone of corpse for work, and since such prejudice, many people think that the idea of ​​stealing this body is coming.

Sohel Mahmud said, the body of the deceased is exactly the same as the body of the body, such as lightning when the person dies after consuming electric shock. There is no difference.