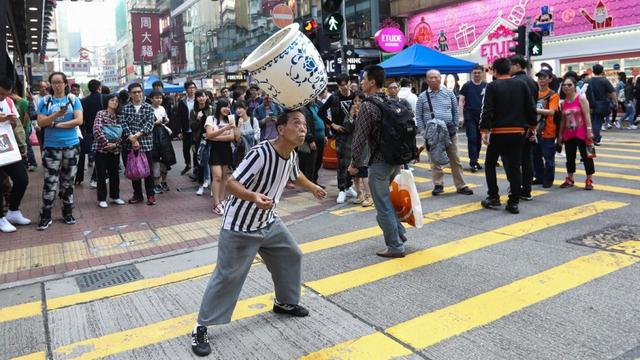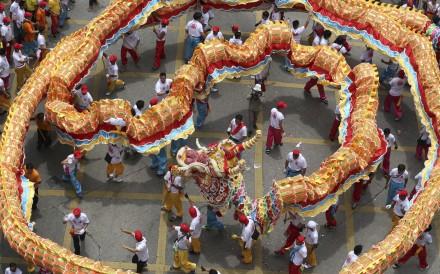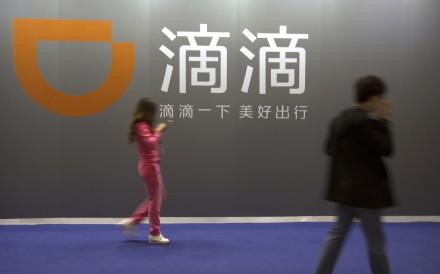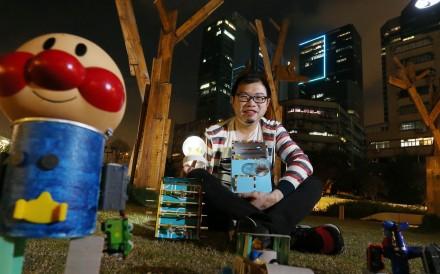 Sai Yeung Choi Street South in Mong Kok was once a vibrant performing ground for Hong Kong's unknown artists and street performers. The iconic strip stretches from Prince Edward to Yau Ma Tei, boasting a variety of acts from acrobatics to magic and music.
But these days, a turf war between buskers has broken out, sparked by what some say is a lack of proper government planning. This has raised concerns about noise pollution and crowd control.
Busker Alva Leung Lok-hei, 27, a member of music group 3jammers, says: "Finding a spot here is almost impossible and when you do succeed, there's often a continuous fight with others to draw crowds by trying to be the loudest."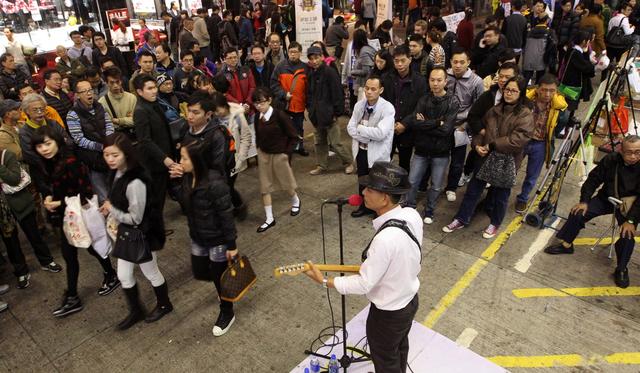 Amid the constraints, buskers also say the stretch has been hijacked by amateur karaoke singers, drowning out other acts with a cacophony of vocals – some melodious, others unabashedly tone-deaf.
But don't blame the performers, says Alanstair Lau Siu-yu, 25, who works in the neighbourhood.
"It's a lack of policy to mitigate the potential nuisances caused by their acts. The artists aren't doing anything wrong legally so they should not be judged or even penalised based on their artistic abilities."
The artists aren't doing anything wrong legally so they should not be penalised
Alanstair Lau, Mong Kok pedestrian
Busking in Hong Kong is legal, with or without a permit, as long as the noise isn't a nuisance or the act doesn't cause an obstruction.
And competition for space in Mong Kok has become more intense since 2014, when officials ended a scheme that closed off the zone to traffic in the evenings from Mondays to Saturdays. The arrangement previously gave singers and other artists more room to perform.
Last Monday, the court dismissed a legal challenge by a street musician to review the government decision, effectively dashing any hope of performers craving a bigger window to strut their stuff. Currently, the roads in the popular shopping area are only closed off for performers and pedestrians from noon to 10pm on weekends and general holidays.
Lau's comments echo the findings of a recent report by independent think tank Civic Exchange.
In the study, released in April, the group says rising noise pollution from buskers are the result of a lack of coherent street management policies and outdated regulations.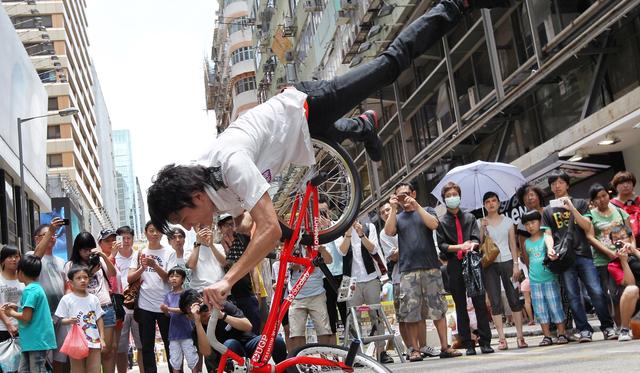 The group's urban planning researcher Carine Lai Man-yin cites the Summary Offences Ordinance – enacted in 1960 – which states that while street performers need police permission to play an instrument, it is unenforceable.
"There was a case back in 2011 when a busker was charged for not having a permit but the judge found that the act was not illegal and should only be classified as such when the performance is causing a nuisance or obstruction," she explains.
You often see police merely standing around because there isn't much they can do
Carine Lai, Civic Exchange
"What happens is that police would show up and warn them to turn down the volume, but as soon as officers leave, they'll turn the volume back up. This just keeps happening over and over again because the performers know they would only be charged if they refuse to cooperate," Lai adds.
"This is why you often see police merely standing around because there isn't much they can do other than occasionally asking the groups to lower their volume."
The report, titled Managing Vibrant Streets, points out another obstacle to the effective management of pedestrian zones. Nine different government departments are involved, but none view it as their priority.
"The approach denies the flexibility needed for creating local neighbourhood solutions," Lai says. "In a city of 7.4 million people and with one of the highest daily walking rates in the world, we need to rebalance the use of space by vehicles and pedestrians."
The group has called on the government to take back control of Hong Kong's noisy and polluted streets, while simultaneously promoting the city's famously vibrant street life.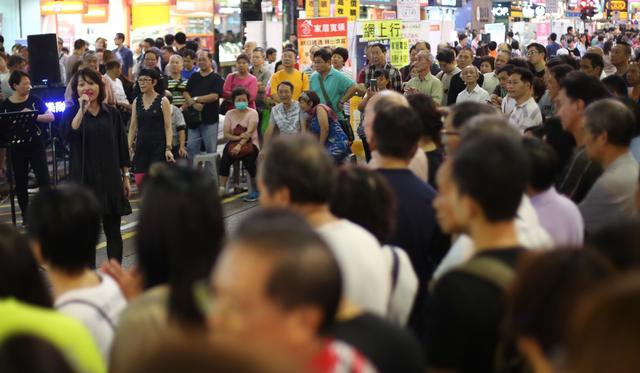 Narrow streets, narrow minds
In an ideal world, Mong Kok regular Alanstair Lau would like to get to work in the area without having to navigate through "an obstacle course" every day. "I used to enjoy strolling through Sai Yeung Choi Street South because it was full of lively and eye-catching performances, but now I would rather take a detour because it has become too crowded and noisy," he says.
Because of the squeeze, Lau often finds himself edging through throngs of pedestrians glued to their mobile phones or having to dodge deliverymen barrelling through the crowd with trolleys.
He wants to see the streets transformed into a well-planned outdoor theatre with a variety of performances to take in.
In late 2015, the first-ever census on Hong Kong street performers was conducted by Chinese University's department of psychology. The report found there were an estimated 300 street entertainers across the city.
According to the census, more than 95 per cent of these artists were local residents. Among all the performers surveyed, 90 per cent of them specialised in music performances, 7 per cent in dance, 2 per cent in acrobatics and 1 per cent in theatre.
"There were times when I would see other people look down on the performers, which would make me feel upset. I think we should really appreciate their courage and effort, no matter what form of art it is," Lau says, adding he believes there is a lack of openness towards street artists.
Busker Alva Leung says: "I see that street performers aren't really appreciated, especially in Hong Kong. I do believe it's because locals aren't open-minded enough."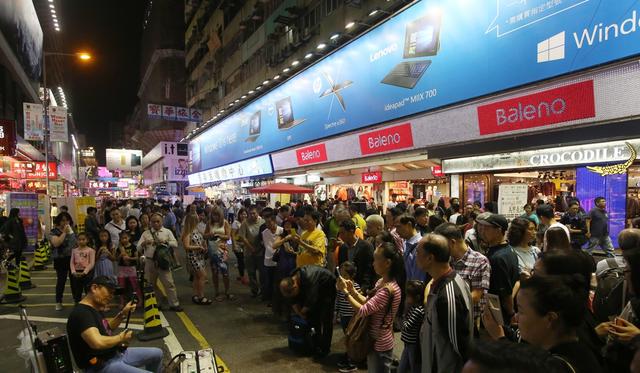 He recalls an unpleasant experience in which he was asked by security to vacate an area in the middle of a performance. He complied out of courtesy. "Even if only one person complains about our volume being too high or just the fact that we are causing a bit of a disturbance in any way, we are asked to leave. It just shows you how one-sided and unfair the situation can be."
Just because we have decided to perform on the street doesn't make us beggars
Alva Leung, busker
The singer hopes the public can understand and appreciate that most buskers take to the streets because of their love of music and art.
"The public needs to know that learning to play music comes with a price and just because we have decided to perform on the street doesn't make us beggars," Leung says.
Better management of relevant space
To better appreciate the culture of busking, make good use of public space and promote the city's unique street vibes, the West Kowloon Cultural District Authority launched a street performance scheme three years ago.
The programme requires applicants to pass auditions before getting a permit to perform in the open spaces of the West Kowloon Cultural District. Successful acts can perform from 10am to 10pm every day along the waterfront promenade.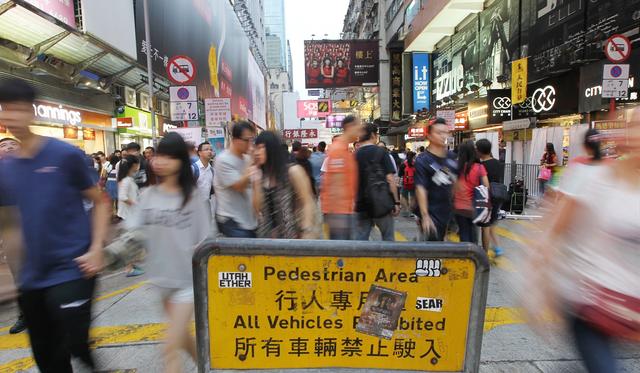 However, Leung remains pessimistic about the scheme, which he describes as too rigid.
"It is no more than window dressing that won't actually get to the root of the problem. One of the factors we consider when we go busking is mobility and whether we would be able to draw crowds. So designating a fixed location for us to perform won't work at all, especially when it's in the cultural district where it's logistically quite inconvenient," he says.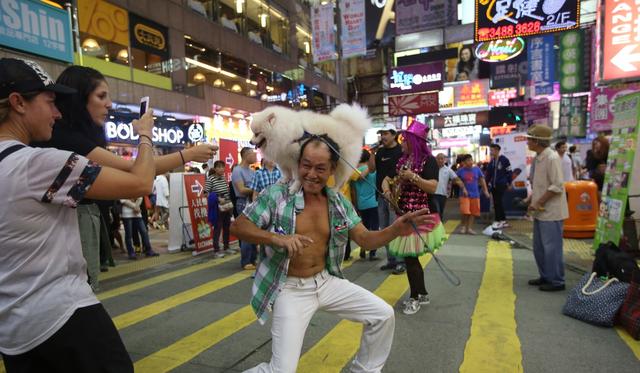 Carine Lai of Civic Exchange suggests that the government look into better use of space.
"To manage the use of public spaces, Hong Kong can learn from the experience of Times Square in New York in which they limit the number of street performers at any given time, on the street or in designated activity zones."