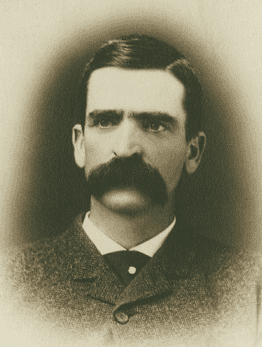 If you were a fan of the HBO series Deadwood, you may recall the character of Sheriff Seth Bullock, portrayed by Timothy Olyphant. Bullock was one of the most celebrated citizens of Deadwood, the infamous gold rush town that was home to frontier legends such as Wild Bill Hickok and Calamity Jane.
Bullock instilled much needed law and order in a town run by men like Al Swearengen, a brothel owner who had the town's most powerful citizens in his back pocket. You may remember him from Deadwood, as well - "the slimy Limey" played by Ian McShane.
So, let's explore the Deadwood years of Sheriff Seth Bullock, the Canadian-American who first came to Deadwood with the intention of starting a hardware store.
1. He sets up shop in Deadwood in August 1876.
Bullock had originally immigrated to Montana from present day Windsor, Ontario, where he suffered at the hands of a physically brutal father. He had run away periodically starting from the age of 13, but he permanently relocated to Montana after turning 18.
In 1873, he became the Sheriff of Lewis and Clark County, Montana. During his tenure, he killed his first felon, a horse thief named Clell Watson. However, it wasn't in a gunfight, as you might expect. Watson was about to be hanged, but an angry mob scared off the executioner.
Bullock stepped in and pulled the lever, sending Watson to his death. He then held off the mob with a shotgun, which was recreated in an episode of Deadwood.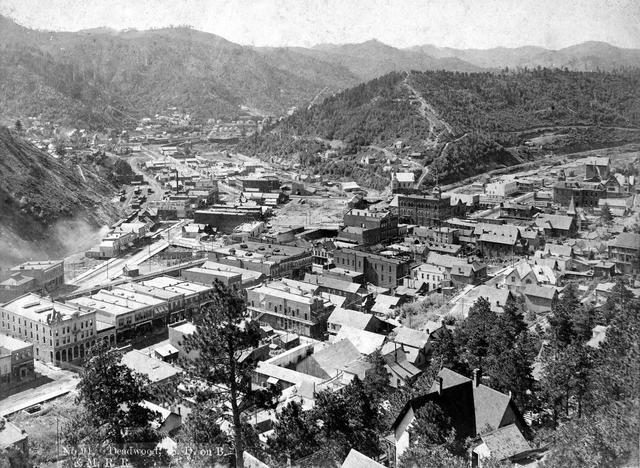 As a result, Bullock earned a reputation as a calm, fearless lawman even before he arrived in Deadwood. That would occur in 1876, primarily as a business decision. He knew that Deadwood had an untapped market for hardware - a necessity in a mining town.
He and business partner, Sol Star purchased a lot and set up in a tent, and later in a building. However, Bullock's interest would change from business to law enforcement as he quickly realized the level of corruption and violence that ruled Deadwood.
For example, Wild Bill Hickok was senselessly murdered the day after Bullock's arrival. The murderer, Jack McCall, was heated over a poker game, during which he lost heavily to Hickok. Apparently, what pushed him over the edge was Hickok's offer to give him some money for breakfast.
McCall saw the gesture as an insult, and shot Hickok in the back of the head as he continued to play cards. Incredibly, McCall was acquitted after being tried by an informal jury of miners and local businessmen. Afterwards, the demand for law enforcement grew, and Bullock was a natural candidate for sheriff.
2. He has a man-to-man talk with Wyatt Earp.
One of the more interesting, yet mysterious incidents that occurred right after Bullock's appointment as sheriff was his encounter with Wyatt Earp. Political appointments were very tenuous in the Old West, so Bullock would need to confront competitors head on.
Wyatt had been the assistant marshal of Dodge City, but he and brother, Morgan had come to Deadwood along with many others who were hoping to profit during the gold rush. Morgan went back to Dodge City after finding that all the land had been claimed, but Wyatt stuck around for professional reasons.
Though he made a tidy profit hauling firewood to the mining camps, Wyatt was equally interested in the sheriff's position. After Bullock's appointment, he likely hoped to become undersheriff, or perhaps replace Bullock should he fail to exert control over the unruly residents.
We know that Wyatt and Bullock met, and Bullock seems to have made it clear that Wyatt's services would not be needed. While it's not known exactly what they said to each other, Wyatt left for Dodge City about a week after their meeting.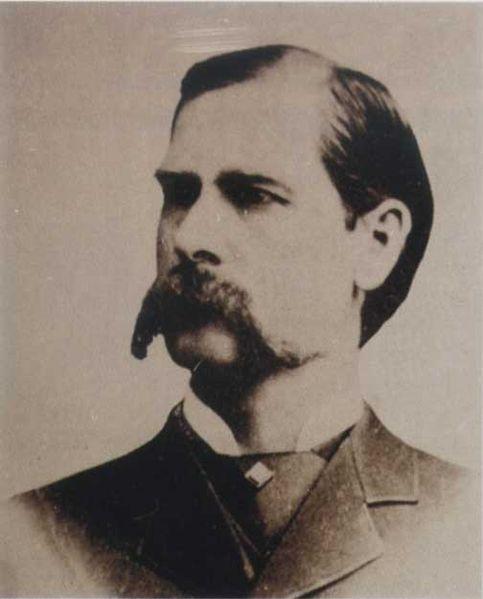 3. He sets about restoring law and order.
As sheriff, Bullock immediately set about deputizing residents and civilizing the mining camps. While he was known to have an uncompromising nature, he always managed to diffuse situations without killing anyone.
That doesn't mean he didn't have numerous close calls. One of his long-term enemies would be the aforementioned Al Swearengen, owner of the Gem Theater. In spite of its name, the Gem was actually a "sporting house", and Swearengen was a known trafficker of females that he put to work in his establishments.
Some ladies, including Calamity Jane, worked there voluntarily when they needed some extra cash. She was one of his first dancers at the Gem, and it's believed she may have procured some girls for him from Sidney, Nebraska.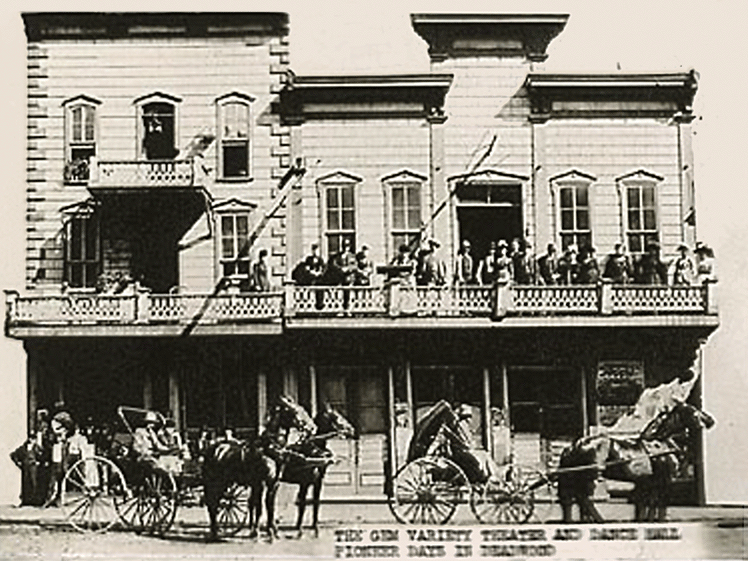 Swearengen ended up being so rich and powerful, it proved impossible for Bullock to ever bring him to justice. But he did manage to bring order to the mining camps, which helped to turn Deadwood into a fully functioning, financially viable town.
The town's financial growth created a market for other industries, such as alfalfa farming, which Bullock is credited with introducing to South Dakota in 1881.
4. He co-founds the town of Belle Fourche.
Though his career as a lawman was going well, Bullock never forgot his business ambitions. He and business partner, Sol Star opened Deadwood's first flour mill in the early 1880s, and expanded their interests out into the neighboring towns of Spearfish, Sturgis, and Custer.
In 1890, he and Star founded the town of Belle Fourche by offering free lots to anyone who was willing to move there from the town of Minnesela. Eventually, Belle Fourche would become the largest railroad stop for livestock, and replace Minnesela as the county seat.
In 1894, Bullock became a hotelier when his hardware store in Deadwood was destroyed in a fire. Rather than rebuilding the store, he and Star set up a glamorous, 3 story hotel with luxurious amenities such as steam heating and indoor bathrooms.
The hotel continues to operate today, with the addition of a casino. Here's a photo of the Bullock Hotel from 2015.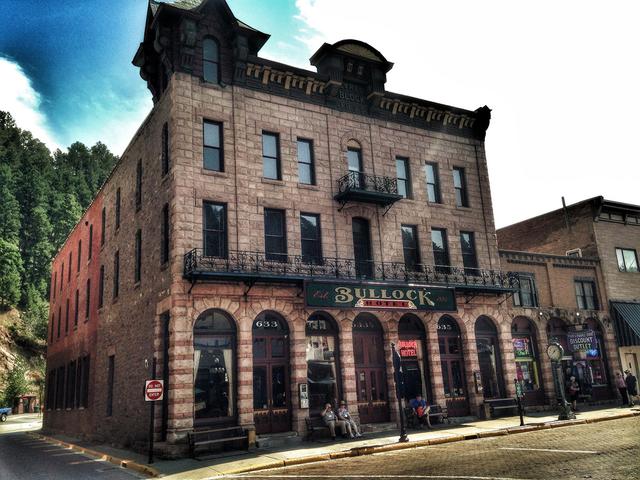 5. He becomes a Captain in Grigsby's Cowboy Regiment.
This was a regiment similar to Theodore Roosevelt's Rough Riders. the voluntary regiment that fought in the Spanish-American War. Bullock got the appointment with help from Roosevelt, with whom he developed a close friendship while pursuing a Dakota Territory horse thief known as Crazy Steve.
However, the Cowboy Regiment would never see action, nor would Bullock's other volunteer regiment, the Black Hills Reserve. Even so, Bullock was a local celebrity, and continued to remain a notable figure of the Old West right up until his death.
Bullock died on September 23, 1919 at the age of 70 from colon cancer. His obituary in The Evening World quoted Theodore Roosevelt, who described Bullock as the "last of the pioneers.... a clean American of a type which has made the West what is it...."
He is buried at Mount Moriah Cemetery, where you can also find the graves of Wild Bill and Calamity Jane.