Bank of Canada Governor Stephen Poloz's cautious approach to interest rates is about to be challenged.
While the central banker is expected to hold off from raising borrowing costs for a second straight policy decision on Wednesday, and retain a degree of prudence in his rhetoric, Poloz will probably face mounting pressure to return to the rate hike path soon, with inflation and growth beginning to pick up.
Economists predict inflation will move well above the Bank of Canada's 2 percent target in the coming months, while growth should also return to an above-2 percent pace after a recent slump. It would mark the first time since 2014 that both exceed that level simultaneously.
"What makes the Bank of Canada uncomfortable is inflation that is north of target at a time where growth isn't necessarily that different from trend," Ian Pollick, head of rates strategy at Canadian Imperial Bank of Commerce, said by phone from Toronto. "That's an environment where they'll be forced to do something."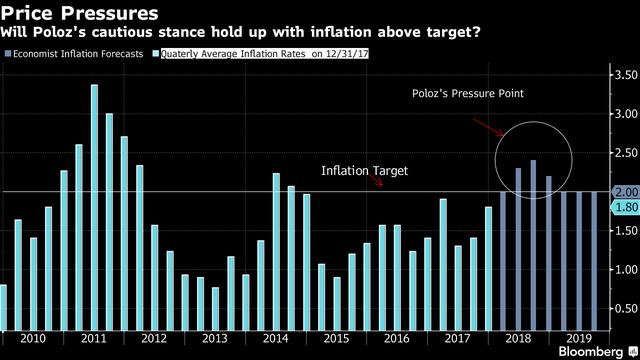 Poloz has played the cautious card for months, an easy tack to take so long as the numbers backed him up, which they have. Inflation averaged just 1.6 percent last year, and the economy entered a soft spot in the second half that spilled over into the early part of 2018.

But the backdrop is changing. Economists surveyed last week predict inflation will average 2.3 percent in the second quarter and 2.4 percent in the third -- the highest levels since 2011. And with oil prices marching higher, the risks are tilted to the upside.

'Outer Edges'

Royal Bank of Canada now projects inflation will average 2.9 percent in the third quarter, at the upper end of the central bank's 1 percent to 3 percent target range.

"There is some sort of sensitivity when you get to the outer edges of the band," said Mark Chandler, head of fixed income research at RBC Capital Markets. "It sharpens the debate a little bit."

Growth, meanwhile, is expected to remain above potential over much of the next two years, starting with a strong rebound this quarter.

When at full capacity, the theory goes, Canada's economy can't grow much beyond its potential -- estimated by the central bank at 1.6 percent -- without fueling price pressures and prompting rate increases. And borrowing costs in Canada are still highly stimulative, almost two percentage points below what the Bank of Canada estimates is their "neutral" rate.

But Poloz has indicated he's in no rush to get there -- mainly because, he says, the economy isn't yet firing on all cylinders. Even with the unemployment rate at the lowest in four decades, Canada still has plenty of untapped potential, such as underemployment among youth and female workers, the governor says. There's more capacity that needs to be absorbed and the economy can continue to grow above potential, he contends.

Because of this extra capacity, the inflation spike this year -- largely the result of an inflation soft patch a year ago -- will be temporary, eventually returning to the 2 percent target, according to the central bank's assumptions.

Bought In

For the time being, Poloz can rest easy that economists and investors seem to have bought into his cautious narrative.

Most investors have interpreted this as a preference on the central bank's part for waiting. Markets are assigning just a 20 percent chance of an increase at the April 18 decision, and only two hikes for 2018 -- in July and October.

If he becomes unsettled by the inflation and growth numbers, another option for Poloz would be to move more rapidly over the next 12 months, but stop before he gets to the neutral rate. This is what RBC's Chandler expects. Still cautious, but more active in the near term.

"It's easy to make an argument that rates need to go higher," Jean-Francois Perrault, chief economist at Bank of Nova Scotia, said in an interview. "It's just a matter of the governor feeling confident enough to pull the trigger."

— With assistance by Catarina Saraiva