Volkswagen AG is speeding up preparations for its heavy commercial-vehicle division to sell stock or debt on its own as the unit expands to compete with global leaders Daimler AG and Volvo AB.

As part of that push, the Volkswagen Truck & Bus business is cutting costs across its MAN, Scania and Brazilian VW commercial-vehicle operations through joint procurement and development of parts, the company said Monday in a statement. Capital-market preparations will take 12 months, and the MAN Diesel & Turbo engines unit will be shifted to the parent company.

"This comprehensive project will accelerate the transformation of our company" into "a true global champion, and will quickly make it ready for the capital markets," division head Andreas Renschler said at a press conference in Munich. He reiterated that no decision has been made on an initial public offering yet.

Bigger Payload

Revenue at Scania was up 13% in 2017, while MAN gained 8.6% and the Brazil unit jumped 33%

Source: Volkswagen Truck & Bus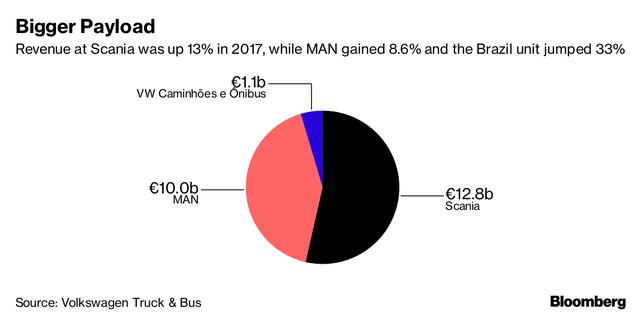 A stock sale by the heavy-vehicle division, which Evercore ISI estimates has as much as 30 billion euros ($37 billion) in assets, would mark the most significant structural shift so far for Volkswagen as the world's biggest carmaker retools for massive change across its industry. The German manufacturer appointed Herbert Diess, head of its namesake auto brand, as its new chief executive officer last week, and he pledged to accelerate decision-making across the group to adapt to rapid shifts in technology and competition.

An IPO for the truck and bus unit "is just one of the options" the division is considering to gain financing, Renschler said in an interview, adding that another would be to sell only bonds. "It's ultimately a decision for our shareholders."

VW Chairman Hans Dieter Poetsch told reporters on Friday the auto manufacturer will retain a controlling stake in the commercial-vehicle business and that a share sale might not happen until 2019, as it still requires final approval.

Andreas Renschler

Photographer: Kiyoshi Ota/Bloomberg

Compared to Daimler, which owns the Freightliner truck brand, or Volvo, which builds Mack models, the Volkswagen division has only recently gained a foothold in North America, with the purchase two years ago of a 17 percent stake in U.S. peer Navistar International Corp. Renschler also plans to boost revenue by selling engines to new customers like agriculture-equipment makers.

Changing Volkswagen Truck & Bus's legal status from a limited-liability company into a joint-stock corporation will help the unit avoid "wasting time once we have a decision by our shareholders," Renschler said.

Volkswagen shares were down 1 percent at 175.48 euros as of 12:26 p.m. in Frankfurt trading in the first decline in a week. That pared the stock's gain this year to 5.4 percent.

An IPO of VW Truck & Bus would mark the next major corporate transaction in Germany after Siemens Healthineers AG raised 4.2 billion euros in the country's second-biggest public offering in almost two decades.

Global Expansion

Renschler joined Volkswagen in 2015 after almost a decade of running Daimler's truck unit, the world's biggest commercial-vehicle manufacturer by revenue. He set about breaking down resistance to cooperation among Scania, MAN and the Brazilian business. That strategy has included expanding the unit's global presence. The division boosted both deliveries and revenue last year by 12 percent, while operating profit excluding special items surged 27 percent.

The unit signed a cooperation agreement with Toyota Motor Corp.'s Hino division last week, and Renschler said the German company is "very satisfied with the development at Navistar." He's now looking to increase Volkswagen Truck & Bus's sales in China and other markets.

VW's second-largest shareholder, the German state of Lower Saxony, has voiced its support for a deal, with local Economy Minister Bernd Althusmann -- who represents the state on VW's supervisory board -- saying he is "confident the stock listing will be successful."

With Daimler rumored to be preparing its trucks unit for an IPO, VW may first have to address a pending legal dispute with minority shareholders at the MAN SE subsidiary if it wants to beat Renschler's previous employer to a share sale.

Beyond vehicles, Renschler plans to generate extra revenue by selling more engines to other customers, such as agriculture-equipment makers.

"The off-highway business is very important for us as it enables us to sell commercial vehicle engines with very few changes to our partners," Renschler said.