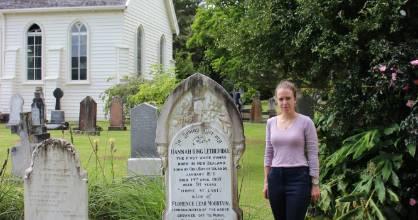 Bayley Moor discovered a link to the very origins of the township of Russell, and argues it deserves the title of New Zealand's most historic town.
OPINION: Growing up a short distance inland from the Bay of Islands, Russell was a mere hop, skip and a jump across the ferry for an ice cream or two in the summer months.
As I learned, while taking a walk through the township with its museum curator, there's a lot more to one of the North's most popular tourist towns.
Kororāreka, Russell's original name, is famed for Māori chief Hone Heke felling the flagpole several times, the grand old Duke of Marlborough Hotel, and is often referred to as the former Hell Hole of the Pacific.
There's a number of New Zealand's oldest buildings and sites of major historic events, meaning Arrowtown can't hold a torch to claiming the title of New Zealand's most historic town.
READ MORE:
* Tekapo vs Taupō for most 'Instagrammable' town
I even discovered a personal connection to Russell; Hannah King Letheridge, one of the first European woman born in New Zealand, who I have a family link to - is buried there.
Hannah was born across the water from Kororāreka at Hohi in January 1817 - I can't imagine she was able to pop over to Russell whenever she felt like it for an icy treat.
She was baptised at the same time as Dinah Hall, the first white woman born in the fledgling nation. However Hall moved to Australia, while Hannah remained for most of her life in NZ, which perhaps led to the common misconception of Hannah being the first born.
While Hannah never attended school, she was said to speak English as her first language and also be fluent in te reo Māori, which I began learning last year.
Hannah married her third husband George Mountain (my mother's maiden name) and they settled on the Purerua Peninsula, until she died in 1907, aged 90.
Arriving via passenger ferry from Paihia, Russell, appears a sleepy village. It's hard to imagine it was once the location of the battles, fires and debauchery that earned it the title of "hell hole of the Pacific".
You can walk along the main waterfront in about 15 minutes. But most people stop to take in Pompallier Mission - with a printery which stands as New Zealand's oldest industrial building - the Duke of Marlborough which holds NZ's first liquor licence, and look out across the water to imagine the waka, Naval ships and whaling boats which once anchored there.
The inner historic precinct of Russell also features Christ Church, the oldest in New Zealand. But despite these famous landmarks, there are a few misconceptions about Kororāreka.
Perhaps the most common is that Russell was New Zealand's first capital. It was actually at nearby Okiato and when Governor William Hobson moved the capital south to Auckland in 1841, it caused great insult to relationships that had been forming between Māori and Europeans.
Museum curator Kate Martin has spent "30 or 40 years" researching what she calls the epicentre of the Bay of Islands and describes Kororāreka as "multi-dimensional, multi-denominational, and multi-cultural".
"To me it is one of the most significant places in New Zealand."
Standing atop Maiki Hill, the site of the often talked about flagstaff, you can take in a number of the great peaks of Ngāpuhi, the Waitangi Treaty Grounds and Rakaumangamanga, which is said to be New Zealand's point in the 'polynesian triangle'.
The flagstaff is often only referred to in terms of Hone Heke and his men felling it four times, after the British placed their flag on it thus triggering the Battle of Kororareka which lead to the Northern War.
Renowned rangatira and peacemaker Maihi Kawiti resurrected the flagstaff for the final time, and called it whakakotahitanga - a symbol of unity between Māori and the Crown.
Martin describes the sites as one of the most significant of New Zealand's " dual heritage and our shared future".
Given Russell was the location of any number of key interactions between Māori and the Crown, there's no doubt it's earned its spot as New Zealand's most historic town.
Martin says the 'hell hole' tag is an exaggeration.
The village's 'hell hole' past is embraced dramatically every anniversary weekend in January when missionaries, priests, merchants and temperance women, play out scenes in the streets and lock sometimes bewildered passersby in stocks for 'misdemeanours'.
As the southern hemisphere's largest whaling port, it has been described as a town rife with brawling men, grog, and prostitution.
But Martin says with most of the whalers being Quakers - it's unlikely the town was really such a godforsaken place.
There's more to Russell than people think and it's well worth a lengthy visit - you may discover your own personal connection just as I did.
ARROWTOWN EMBRACES ITS PAST, writes Debbie Jamieson
While Russell might be shying away from its past reputation as the debaucherous "hell hole of the Pacific", Arrowtown embraces its colourful past where the "nights were mad with screaming and fighting", as it was described during its gold rush heyday.
Arrowtown is so proud of the unsavoury aspects of its history that one of the most recently restored historic buildings was the town gaol, used for 19th century gold miners and as recently as 1987 when police used it to lock up New Year's revellers.
Yes, Arrowtown likes a good shindig and the visitors know it. Recent arrivals have included Katy Perry and Justin Bieber, who famously danced shirtless with a senior citizen. Beat that Russell, with your Elle Macpherson shots of sunsets and beaches.
Neighbour Queenstown may have usurped the title of party town of the south. But Arrowtown is New Zealand's best historic town because its past has been preserved and developed and grown and made the town more desirable than ever. In 25 years the population has grown from 800 people to about 2600. In only six years annual visitor numbers have grown from 450,000 to 750,000.
The growth does present challenges to the preservation of the town's unique story. At the core of recent efforts is David Clarke - Lakes District Museum director and former council representative - who says community workshops held every ten years have endorsed and reinforced a desire to keep Arrowtown a small and quaint village.
"We've been the masters of our destiny to some extent. It hasn't come without huge hours of volunteer input by loads of people and a bit of abuse. But I recognise, from extensive travel, that the places that work the best are the places that have the history."
Arrowtown now has about 70 features and buildings that remain from the late gold rush period including a Chinese village, gold mining huts, the post office, post office master's house, three churches, the gaol, part of a school established by an Australian nun who became a saint (seriously) and lots of businesses operating out of heritage shops and homes.
So the original buildings remain but now house cafes, pubs, shops, a boutique picture theatre and holiday homes, which are now highly sought after.
That is largely due to the work of the Arrowtown Planning Advisory Group, of which Clarke is the chairman, which stands as the keeper of the rules which everyone must adhere to before they can alter, rebuild or develop.
Once the gold miners moved out of the area, the farmers moved in. Not many of them. The population was about 120 a century ago.
Their legacy also lives on with the magnificent, deciduous Oak, Sycamore, Cork, Elm, Ash and Rowan trees that now line the streets of Arrowtown and form the backdrop to the famous Arrowtown Autumn Festival.
It lives on through the great outdoors that are only a step away from town. Young people still leap and paddle in the Arrow River in summer and the Wakatipu Trails Trust has developed a network of trails that links Arrowtown with the wider Wakatipu Basin for hard-core cycling or a zip through to Gibbston to sample the famous pinot noir.
It lives on through three incredible golf course on the outskirts of the town, which host the New Zealand Open, and Mahu Whenua, a 52,000ha block of private land protected by covenants and opened once a year for the massive Motatapu cycle and running events.
It lives on through its magnificent seasons. Temperatures may drop as low as -16C in winter, but it is only a short SUV drive to some of New Zealand's best ski fields. Yes, it hits over 30C in summer but you can keep your humidity, Russell – we prefer our environment free of ants and cockroaches.
Arrowtown has become such a rich depository of history and nature it was recently given Landmark status under the Landmarks Whenua Tohunga programme - a joint initiative between the Ministry for Culture and Heritage, Heritage New Zealand, and the Department of Conservation.
And while tourists may be the new gold in Arrowtown, the old stuff is still there to be found.
In 2006 Southland man Henry Geerlings found a 275g (8 ounce) nugget, in a spot he declined to reveal. He later sold it for $15,000. Yes, there is still gold to be found, says Clarke.
"If we all knew where the gold was, we'd all be up in the hills."  
TALE OF THE TAPE
Population Russell 820, Arrowtown 2910
Population growth (since 1996) Russell 2.5%, Arrowtown 98%
Number of dwellings Russell 591, Arrowtown 1362
Businesses Russell 174, Arrowtown 459
Oldest church Russell Christ Church 1835/6, Arrowtown St Paul's 1871
SOURCE: Figure.NZ