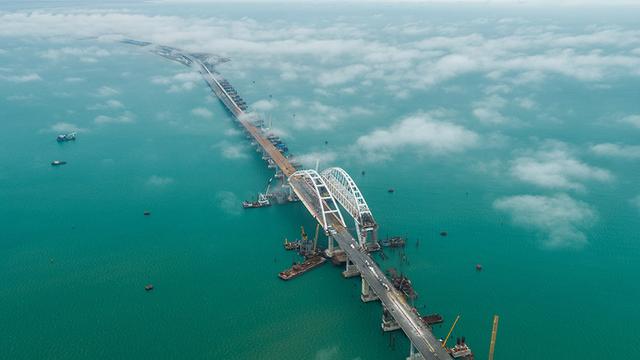 The bridge connecting mainland Russia to the Crimean Peninsula will open to automobiles in May, six months ahead of schedule.
Vehicle crossing will be opened in two stages. Cars and buses will be allowed from May, while trucks will be allowed to cross the bridge in December.
At 19km, the span across the Kerch Strait is the longest bridge in Europe. Its capacity will be 40,000 cars, with 14 million passengers and 13 million tons of cargo per year. The bridge will also have a railway section, which is scheduled to open in early 2019.
The infrastructure has three segments. The first 7km section spans from the Taman Peninsula to Tuzla Spit; a 6.5km section spans across Tuzla Island; and the last section of 5.5km from Tuzla Island to the Crimean Peninsula.
The link became vital after Crimea voted to rejoin Russia in 2014, as the peninsula's only land border is with Ukraine. Currently, regular passenger and cargo deliveries are organized by direct flights and ferries from ports in southern Russia.
Photos of the bridge are available on its site.
For more stories on economy & finance visit RT's business section