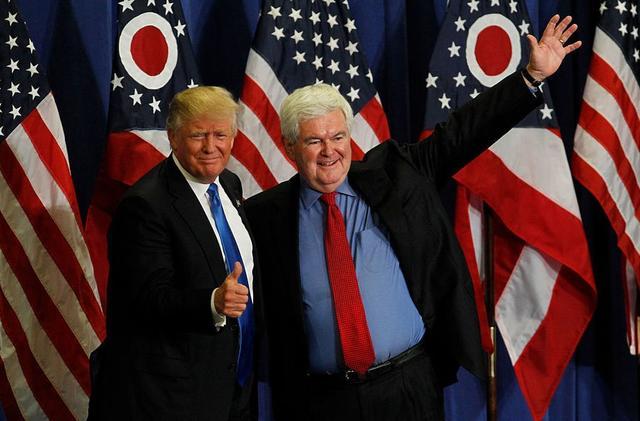 "Cleaning" the State Department. Trump and Newt Gingrich.
If there's anything good that comes out of this foul Administration, it's the lessons in civics that Americans are being forced to relearn.
Since the Vietnam War (remember that one?) there has been a process that the State Department that diplomats and their staff around the world use to confidentially voice their dissent about the policies being pursued by their government's foreign policy decisions. It's called the "Dissent Channel." Under this Administration that channel has been extraordinarily active:
Under the current administration, diplomats have used that channel more than ever before, sending in cables signed by hundreds of federal employees protesting President Trump's travel ban, refugee restrictions and other moves. The Trump administration has also openly expressed its distaste for the Dissent Channel, with then-Press Secretary Sean Spicer saying of diplomats who dissented with the travel ban: "They should either get with the program or they can go."
From Talking Points Memo, it appears that this Administration Trump has hired two Trump sycophants to ensure that the Administration's efforts to sell out our country to Vladimir Putin and anyone else who Trump is beholden to will no longer have any voice or opportunity to object.
Two State Department officials involved in an effort to sideline a civil servant suspected of disloyalty to the President also oversee an internal communications channel that allows department employees to question the administration's policy decisions.
The two officials' management of the channel likely gives them access to the names of U.S. diplomats and other agency employees who openly disagree with administration policy — information that independent watchdogs and members of Congress fear could be used in the effort to marginalize those deemed insufficiently loyal.
The two people the Administration has tapped to oversee that "Dissent Channel " are Brian Hook and his Deputy, Edward Lacey. Hook is a former Bush Administration apparatchik and Lacey has been on staff since 2003. Both were previously implicated working paw in hand with right wing media Breitbart and conservative outside "thinkers" such as Newt Gingrich and former John Bolton "advisor" David Wurmser to conduct a "cleaning" of State Department officials deemed not sufficiently loyal to Trump's "agenda." In the process they characterized these targeted State Department employees as "turncoats,", "leakers" and "troublemakers," which led to the employees reassignment (read: demotions) within the Department.
The hiring and firing of employees based on their political affiliations is illegal.
Under federal laws dating back to the late 1800s, government workers can only be hired or fired based on their merit and work performance. It's illegal to make those decisions based on political affiliations or patronage. Additional laws passed in the wake of Watergate and President Nixon's Saturday Night Massacre strengthened those protections, mandating that supervisors show cause for firing any federal worker and setting up the Merit Systems Protection Board for employees to appeal their cases.
While past Administrations have sought to bypass, "push out" or reassign Department employees who were deemed insufficiently "with the program," this Administration has apparently taken these efforts to a wholly new level, as evidenced by emails obtained by the Congressional Committee tasked with oversight of the Department's activities:
"Over the past year, we have heard many reports of political attacks on career employees at the State Department, but we had not seen evidence of how extensive, blunt, and inappropriate these attacks were until now," said Reps. Elijah Cummings (D-MD) and Eliot Engel (D-NY), the top Democrats on the House Oversight and Foreign Affairs committees.
And Hook and Lacey have been at the forefront of those efforts:.
[Their} involvement was detailed in emails recently obtained by Democrats on the House Oversight committee. The emails suggest that Hook and Lacey were involved in undermining a career State Department employee who had been the target of attacks by right-wing media outlets over her perceived opposition to Trump, and who ultimately was pushed out of the policy planning office.
Placing these two individuals in charge of overseeing the Dissent Channel is obviously intended to impose a "chilling effect," intimidating and threatening those who dissent from the Administration's misguided policies, at a time when those who actually have experience in handling foreign policy are loudly sounding the alarm:
"It is supposed to be, in principle, a lively, engaged, internal debate. It's not something you're supposed to be afraid to do," she said. "It's also supposed to be a method of last resort when you have exercised all other options. So the fact that there seem to be more and more [people using the Dissent Channel] suggests the normal operating procedures are not effective."
This Administration's "foreign policy" is little more than an incoherent amalgamation of right-wing screeds and mindless nationalism. While that may be satisfactory enough for Trump's ignorant base, when a crisis hits—and history suggests it will--we will all end up suffering the consequences. At that point, in the confusion and chaos, there will be no shortage of efforts to place the blame.
So we might as well establish that now.