Boys will be boys and girls will be girls, right? Pfttt… You go right ahead and draw your own conclusions on that. But in the modern-day world of "Me Too" and "Time's Up," you best decide exactly what behavioral norms you assign to boys versus the one's you assign to girls. If you are stuck in the old mindset that girls play with dolls and boys play with dirt, you will have to contend with an army of people who beg to differ; an army of truly galactical proportions!
A recent Twitter post by N.J. Simmons, mom of a 7-year-old-girl, unexpectedly found herself posting on Twitter about gender biases among the elementary-age crowd (who we all know inherit most of their biases from their parents). Simmons' daughter simply wanted to wear her favorite shirt to school the next day. No problem there, right? But that favorite shirt happened to be a "Star Wars" shirt (gasp!). If you didn't gasp, thank you. You're living in the correct century. If you did gasp, you're the reason this innocent little 7-year-old girl was crying. She was afraid of the negative attention she would get for wearing a "boy" shirt. Seriously.

That Tweet caught the eye of a galaxy full of people. Messages were pouring in with support from other kids, Star Wars Fans (some sent pictures of themselves dressed in costume), and parents. There was little room for argument on this no-brainer of little girl worrying for no reason.

And then there was this response by Holly aka Leia (a.k.a. @absolutspacegrl on Twitter)
But somehow one Mr. Mark Hamill (yes, THE Mark Hamill and Luke Skywalker himself) also saw the tweet put out by the mom and offered his two cents: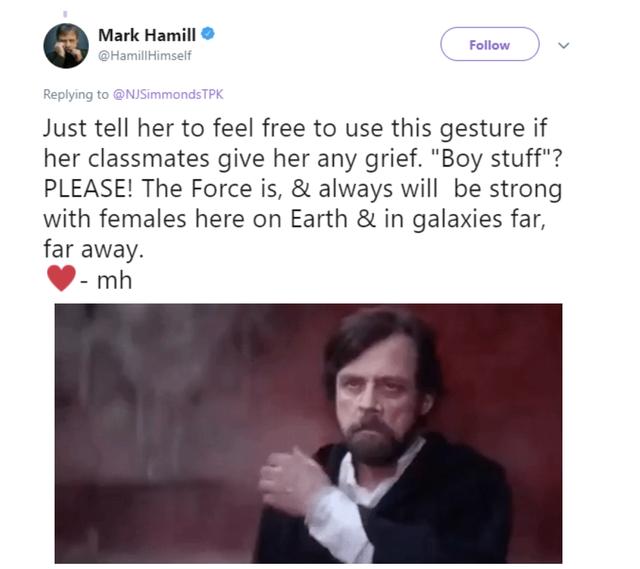 The moral of the story? When Luke Skywalker and other galaxy travelers come to your defense on Twitter, they got your back and you've got nothing to worry about. In fact, that little girl may just wear a Star Wars shirt every day for the rest of the school year now! And, of course, Simmonds could not have been more grateful for the support, too.