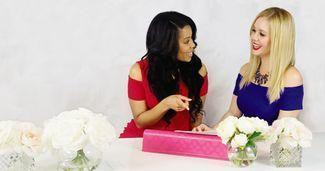 Chemistry is important to Brit and Leiah—on and off the air.

Photo: Brit and Leiah

Brit and Leiah began working together one year ago, as the co-hosts of a Washington, DC, radio show, Good Things DC. The two were originally invited on air as panelists, but they hit it off so well, they were asked to take over hosting. They have a lot in common: On the first day of work, they realized they had both signed up to compete in their first pageant earlier in the year. But there is one big difference between the now-best buds: Leiah is a devoted "dog mom," and Brit is a mother of two boys, Jace, 8, and Logan, 3. Brit occasionally runs late because of her sons, and Leiah wishes Brit would reach out when she needs a hand. Can these two learn to lean on each other more?

Brit's Side

"Leiah's big on being on time. I hate to use my kids as an excuse, but that's my reality. I can plan ahead and give myself plenty of time to make sure I'm not late, and then one of my kids will have a total meltdown and he doesn't want Dad, he wants only Mom.

"One morning, I found my son's homework on the kitchen counter, so I drove to his school to drop it off because I knew he had a test, and I wanted the teacher to know he was prepared. Our last show started 10 minutes behind schedule because I was late to the studio. I feel bad. We're never waiting on Leiah.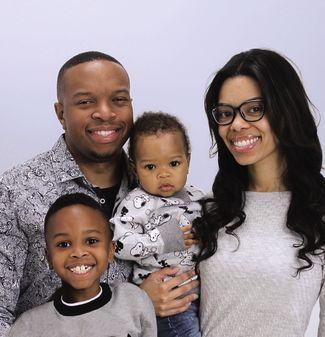 A Virginia native, Brit is mom to Jace, 8, and Logan, 3, and wife to Bryan.

"Leiah loves her dog, and she should. But she doesn't understand the difference between being a dog mom and an actual mom. Kids are more complex. If I need to leave for anything (no matter how brief ) and my husband has his own obligations, I can't just pop out and be back in time to let my kids out for a walk. I have to entrust them to someone else. It takes time, money and emotional energy! It's not the same as finding a kennel for Monkey.

"Because Leiah doesn't have kids, she wakes up at 5:30 a.m. to work out, and she says, 'You should come to my gym with me!' I'll tell her, 'I need to sleep!' If I'm up working out, it's in my building, where I can get back home before my kids are up. I love her, but sometimes I think, 'Girl, you don't even know what you're asking.'

"My kids love Leiah, though. If they're around when we're recording, they don't care about me at all. 'Can I sit on Leiah's lap?' 'Can I Snapchat with her?' She has created such a strong bond with everybody in such a short span of time."

Leiah's Side

"Both Brit and our boss have children, and I don't. It's challenging to be the one without kids. Sometimes they'll say, 'You don't understand because you don't have kids' or 'You don't even know what tired is.'

"And Brit sometimes cancels plans because something comes up with the boys. For example, we had an end-of-summer barbecue for our show, with a live taping, and Brit showed up an hour-and-a-half after I got there. I understand that life as a mom is chaotic, but we had planned the event four weeks earlier. I'm sure she will probably say that I don't understand because I don't have kids—and it's true.

"I'm vocal with Brit. She's been late only a couple of times, but when she's late, our show starts late, which looks terrible to our listeners. Thankfully, Brit is open to constructive criticism. I'm just a big no-excuses person. I think everyone can use something as a crutch, and for moms, it can be their kids. I am guilty of it too. Brit said I once went home early from a party to let my dog out.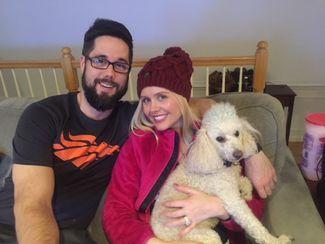 Leiah and her husband, Jay, are proud parents to their rescue poodle, Monkey.

"But I feel like my commitments are viewed as less valid since I don't have kids. If a parent says, 'I have to go home and relieve the babysitter,' no one questions that. If I say, 'My dog has been locked up for eight hours,' almost everyone says, 'He will be fine; he's just a dog.' Moms without pets cannot fully understand the love I have for my fur baby. Being a dog mom is full-time, just like having kids. Yes, we can leave our pets alone for periods of time, but we feel similar guilt about it. Both dogs and kids get sad when you leave.

"I also know it's tough for Brit because she doesn't have family in the area. She doesn't trust a lot of people with her kids, and I don't blame her because the world is not a nice place. I wish my mom friends like Brit would reach out more when they need help. I think they think the child-free life is so cool. They don't realize I'm at home making cookies with my dog, and I would love to come over and bake cookies with their kids."

Hearing Each Other

Brit wasn't surprised that Leiah is annoyed when she's late. "Obviously, it's not intentional. I would love to be on time. But my reality is, sometimes I can't." She did come up with a potential solution: handing more responsibility to her husband. "I will make sure that when something comes up, I'm not the only one fixing it."

Leiah also suggests Brit perform mental triage when emergencies arise. "I know Brit's a perfectionist and wants to tackle problems immediately. But maybe she can ask herself, 'Does it have to be done right now?'"

Admits Brit, "That's a good point."

Both Brit and Leiah agree that honesty is key to handling scheduling dilemmas as they arise—and promise to keep the lines of communication open. Leiah pledges to be patient, and Brit vows to reach out for help—even though it can be hard to do.

"I know Leiah would take great care of my kids and they would have so much fun. But it's not something I even think of. I'm so used to taking care of everything myself," Brit acknowledges.

"It's difficult for anyone to say, 'I'm overwhelmed and need help,'" Leiah says. "But if you want to get stuff done at home, I'm happy to come and distract the boys for an hour-and-a-half."

As for Leiah feeling like her commitments—like Monkey—are less valid, Brit says: "I don't think Leiah's things that can throw a schedule for a loop are 'less than.' In a perfect world, we should all value the things in life that are important to us, free of judgment."

While Brit can't promise her schedule won't hit another snafu, and Leiah knows it's hard for her to understand what it's like to be a working mom, they are going to be generous and accepting of one another—differences included. "When you're compassionate and considerate of whatever people are going through, even when you stumble through mistakes and differences of perspective, you can always come back to a good place because you care about the other person," Brit notes.

Leiah agrees. "There is enough success and money and happiness for everybody. Too often women try to compete with one another when we are on the same team."

Brit's response? "Amen, sister."