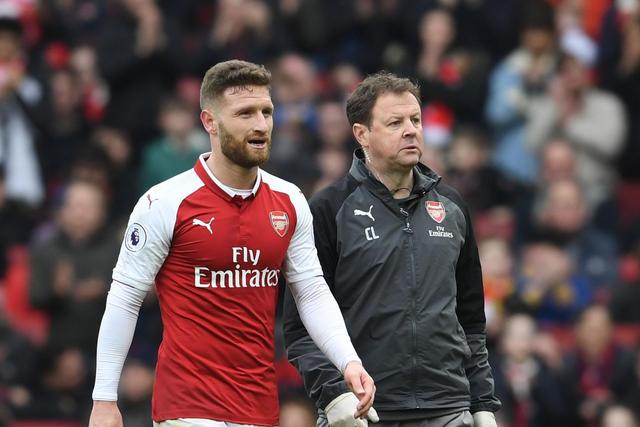 Arsenal will assess Shkodran Mustafi's groin injury on Monday as the defender faces a race to prove his fitness ahead of Thursday's Europa League return leg with AC Milan.
Mustafi was forced off in the 73rd minute of Sunday's 3-0 Premier League win over Watford, a bruising match in which he scored the opener but engaged in an intense duel with Troy Deeney throughout.
Wenger, speaking afterwards, confirmed the injury would require further assessment. Centre-back partner Laurent Koscielny, who suffers from a long-standing Achilles problem, was rested for the game.
In more positive news, Arsenal's defensive numbers are set to swell with the return of Spanish full-backs Hector Bellerin (knee) and Nacho Monreal (back), both of whom missed the wins over Milan and Watford.
http://players.brightcove.net/1348423965/default_default/index.html?videoId=5749339773001
Arsenal 3-0 Watford | Standard Sport Analysis
"Bellerin is in quite a good way. He could be available for Thursday. Monreal as well," Wenger said.
Mesut Ozil took a painful blow to the ankle in the first half of the Emirates Stadium win but Wenger said the Arsenal playmaker was "alright" after completing 90 minutes.