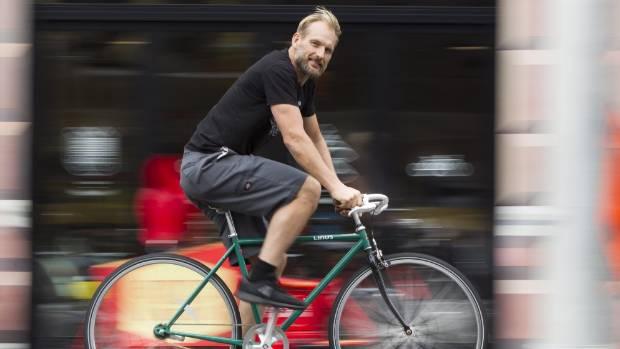 Despite having been the law for almost a quarter of a century, thousands of cyclists are thumbing their nose at wearing a helmet.
Figures provided under the Official Information Act show 29,399 fines have been issued to cyclists for failing to wear their helmet over the past four years.
But the annual number of fines had plummeted steadily over those years, from 11,310 to 4413.
On Saturday, a group of riders will be riding through Wellington in a day of protest against blanket helmet laws.
READ MORE:
* Cyclists cop $400k in fines
Cycling proponent Tim Gummer and his new group Choice Biking has organised the event to coincide with similar rides held across Australia.
Helmets will be optional for those on the ride, which Gummer said had the goal of illustrating that things had changed since the helmet law was introduced in 1994.
"It was a well-meaning law. But we're starting to see the rollout of the sort of infrastructure that's comparable to that in Europe, where millions of people cycle safely without helmets," he said.
"One in ten Kiwis already ignore the law, which is arbitrarily enforced. Some conscientious objectors have never been fined - others have paid thousands.
"It's time to stop penalising the victims of a car-centric society, scaring away would-be riders, and encourage people on bikes to make informed judgements according to cycling style and conditions."
There was a good case to repeal the law, Gummer said. But in the first instance the group was seeking reform.
"In general, we're asking that adults be allowed to choose whether to wear a helmet or not."
New Zealand, Australia and the United Arab Emirates were the only countries in the world to enforce a mandatory helmet law.
Kiwis face a $55 fine for not wearing a helmet or not having their helmet securely fastened.
Gummer was hopeful the new Government, particularly the pro-cycling Associate Transport Minister Julie Anne Genter, would see the sense in changing the law.
Cycle Action Network NZ project manager Patrick Morgan said the decline in fines reflected the fact that police had higher priorities and were rightly focussing on crimes that did put people's lives at risk.
"Our policy has been for some years that the law needs reviewing but it's not a top priority for cycling in New Zealand right now," Morgan said.
"I think that will change as more cycle paths are built and the logic of the helmet law starts to break down when there's no traffic around."
Evidence showed helmets did not make people safer, he said.
"They tend to depress the number of people cycling, and there is a health cost to that. New Zealand and Australia are the only countries with these laws, so we're outliers," he said.
"We need more people on bikes more often and reviewing the law would help that."
Genter was abroad and could not be reached for comment.
Inspector Gini Welch, the police's road safety partnership co-director, said police had not analysed the helmet data, so could not comment on what was behind the declining number of fines.
"Police does note that cyclist fatalities are fortunately extremely small in number, relatively speaking, and as a proportion of all fatalities have been decreasing."
In 2016, five cyclists were fatal crash victims, comprising 1.5 per cent of the total number of road deaths.
"Approved cycle helmets provide a good degree of protection from head injuries in the event of a crash, and given that cyclist fatality rates are low and have decreased, this may suggest that helmet wearing compliance is high," Welch said.
* Saturday's ride, which starts at Wellington's Civic Square at 2pm, will be "a simple leisurely ride" taking in the waterfront and Parliament. Helmets are optional.
Comments have been closed.