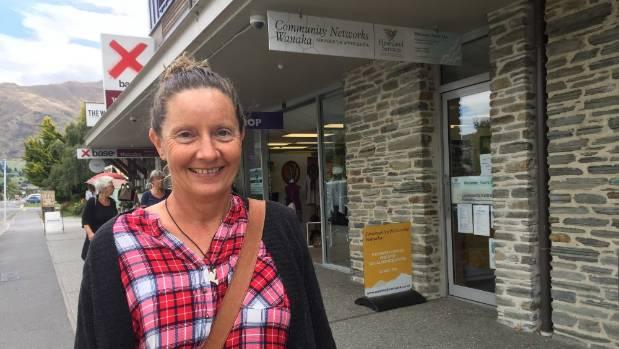 A year after encouraging seasick swimmers to keep going in a relay down the length of Lake Wanaka, Wanaka's Fi Fairbairn has decided to go it alone.
Fairbairn will start a 45km solo swim early on March 30 to raise funds for a Wanaka children's counselling charity.
The Wanaka swim coach set up the Darryl Fairbairn Memorial Fund more than 10 years ago, to counsel children and families who have experienced grief and trauma.
Over time, she has raised more than $15,000 for the fund, which is administered by Community Networks.
Her late husband Darryl Fairbairn committed suicide when their son, Finn, was just six years old.
READ MORE
Finn, now 21, will be kayaking next to his mother during her swim and supported her two previous fundraising lake relays in 2007 and 2017.
The 2007 relay went ahead in calm conditions but the weather was rough for the 2017 reprise.
The Fairbairn duo were the only ones not to suffer from seasickness last year, but they got a taste of what might be in store them during a 10km training mission in 25 knot winds last Sunday.
"I was bashing through waves . . . arguing with Finn, saying, is there not anywhere sheltered we could be. I had my head down, swearing away and then thought, hmm, this is not his choice to be out here. You chose to do this. Get over yourself," Fairbairn said.
"That was quite funny. It proved to me again how psychological it is. Physically you have to be fit and strong but it all comes down to psychology," she said.
Fairbairn decided just under three months ago she was ready for a solo bid and has swum about 500km in training since then.
She has gradually built her weekly training goals up from about 25km a week to 63km this week and begins a two week taper next week.
The supported marathon lake swim starts at the mouth of the Makarora River about 5am on March 30, and may finish in Roys Bay about 8pm. Fairbairn will swim in a wetsuit.
Warbirds Over Wanaka plans an afternoon lakeside event over Roys Bay from 4.30pm on Good Friday but Fairbairn expected she would be further up the lake during the show.
"If it happens I have had a huge nor-west behind me and am doing 5km an hour, I will stop and watch the show, and then come in. I love the Warbirds," she said.
HOW TO SUPPORT: Go to Fairbairn's Givealittle page.
WHERE TO GET HELP:
Lifeline: 0800 543 354 - Provides 24 hour telephone counselling
Youthline: 0800 376 633 or free text 234 - Provides 24 hour telephone and text counselling services for young people
Samaritans: 0800 726 666 - Provides 24 hour telephone counselling.
Tautoko: 0508 828 865 - provides support, information and resources to people at risk of suicide, and their family, whānau and friends.
Whatsup: 0800 942 8787 (noon to 11pm)
Kidsline: 0800 543 754 (4pm - 6pm weekdays)
The Lowdown: thelowdown.co.nz - website for young people aged 12 to 19.
National Depression Initiative - depression.org.nz (for adults), 0800 111 757 - 24 hour service
If it is an emergency or you feel you or someone you know is at risk, please call 111
For information about suicide prevention, see www.mentalhealth.org.nz/suicideprevention.