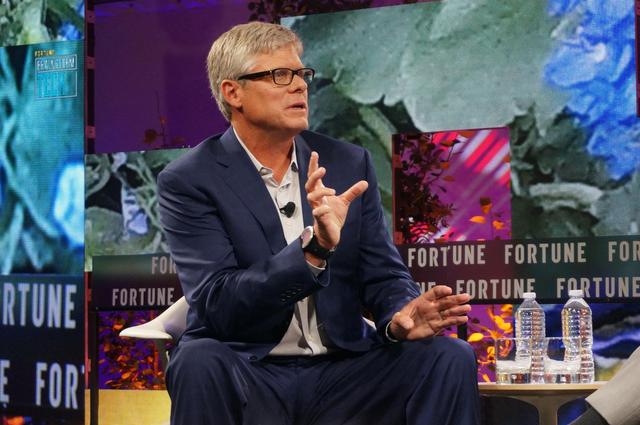 Good morning, Cyber Saturday readers.

What's happening in the chip industry is more sensational than a soap opera.

This week the U.S. Treasury asked Qualcomm to postpone by 30 days an annual shareholder meeting that could have resulted in the company's hostile takeover by Broadcom, a Singapore-based rival. The Committee on Foreign Investment in the United States is now investigating whether Broadcom's $117 billion conquest attempt could have national security consequences, given Qualcomm's sensitive government work and the role it plays in developing technology behind next-generation 5G telecom infrastructure. Should the U.S. allow a foreign force to snap up a domestic concern so seemingly vital to its future?

The situation gets more complicated. The U.S. committee is less concerned about the firms' geographies and more about their investment strategies. (Broadcom, formerly headquartered in the U.S., is already seeking to repatriate.) The big issue for the committee is Broadcom's "private equity"-style approach to management which, the regulatory body said in a letter, could mean reduced R&D investments in favor of "short term profitability." Broadcom has attempted to assuage concerns by promising to fund innovation.

Broadcom's case is not helped, however, by its LBO-like raiding tactics. The firm, which has vied for months to consummate its proposed deal, is leading an effort to replace six members of Qualcomm's 11-person board of directors—a move that, if successful, may as well seal the tie-up. They are, one could argue, acting like barbarians at the logic gate.

Qualcomm's management team, meanwhile, prefers to maintain its independence and pursue a $44 billion purchase of NXP Semiconductors, a Dutch chipmaker. And Intel, the big chip kahuna, isn't sitting idly by either. Threatened by the prospect of a combined Broad-Qual, the company is said to be waiting in the wings, ready to swoop in and make a bid for Broadcom if the Qualcomm coup looks likely to succeed. This is the stuff that corporate sagas are made of.

The subtext of all this is the U.S.'s fear of ceding power to China. The deal-reviewing committee has warned that foreign titans like Huawei and ZTE Corp. are poised to take the lead in 5G unless the U.S. takes steps to defend its silicon might. What may seem like arcane corporate infighting has the gravest implications for nation's fortunes.

Tune in next time for more melodrama. Till then, have a great weekend.

Robert Hackett

@rhhackett

robert.hackett@fortune.com

Welcome to the Cyber Saturday edition of Data Sheet, Fortune's daily tech newsletter. Fortune reporter Robert Hackett here. You may reach Robert Hackett via Twitter, Cryptocat, Jabber (see OTR fingerprint on my about.me), PGP encrypted email (see public key on my Keybase.io), Wickr, Signal, or however you (securely) prefer. Feedback welcome.

THREATS

Freeing up freezes. The U.S. Senate is set next month to approve a banking bill that includes a bipartisan measure arising from last year's massive Equifax data breach: free credit freezes. The legislative move would eliminate a source of revenue for the big three credit bureaus, and make it easier for consumers to lock down their lines of credit, helping prevent identity theft. Some consumer advocates argue that the policy doesn't go far enough to limit the operations of the bureaus, which maintain vast stores of personal information without people's consent.

Have fake news, will travel. A new study that examines the flow of information on Twitter has found that people are predisposed to boost the signal of lies. "False news travels faster, farther and deeper through the social network than true news," writes Steve Lohr at The New York Times. Relatedly, Twitter CEO Jack Dorsey says the service wants to lets all users verify their identities. The move could help counter the rise of propaganda bots and other scams.

Heroes and villains. Marcus Hutchins became an instant celebrity last year after stopping WannaCry, a global, business-crippling ransomware attack widely attributed to North Korea. His life turned upside down soon after when U.S. law enforcement arrested him for allegedly creating password-stealing malware. New York Magazine has a compelling profile of the hacker, whose is now living on bail in Los Angeles.

Dark web takedown. In this piece, Wired goes inside last year's international raid on dark web marketplaces. Once Dutch police found the servers of a popular market, Hansa, they plotted to take control of the operation. In coordination with the FBI, which shut down another such market, AlphaBay, the Dutch police seized and ran Hansa for a month, ensnaring its buyers and sellers in a surveillance dragnet. The team is still making arrests based on the trove of data it amassed.

I guess that's why they call it seaweed.

Share today's Data Sheet with a friend:

http://fortune.com/newsletter/datasheet/

Looking for previous Data Sheets? Click here.

ACCESS GRANTED

Blockchain (noun | block·chain | ?bläk-?ch?n): "a digital database containing information (such as records of financial transactions) that can be simultaneously used and shared within a large decentralized, publicly accessible network; also : the technology used to create such a database"

—Merriam-Webster has just added "blockchain" to its dictionary, along with "cryptocurrency," "initial coin offering," and 847 other new words. If you're looking for a more in-depth explanation of blockchain tech, I might be so bold as to recommend Fortune's "Blockchain Mania!" cover story from September 2017, which this week earned an honor from the "Best in Business" journalism awards, administered by the Society of American Business Editors and Writers.

FORTUNE RECON

A Look at the Books of Billion-Dollar Tech Company Tanium, by Robert Hackett

Apple ID Logins on the Dark Web: Here's How Much They Cost, by Don Reisinger

Iceland's 'Big Bitcoin Heist' Leads to 11 Arrests, by David Meyer

Reddit CEO Steve Huffman Acknowledges Users Shared Russia Propaganda, by Jonathan Vanian

Ripple's XRP Could Improve Cross Border Money Exchanges, by Adam Lashinsky

Bitcoin: Coinbase Seeking M&A Deals With LinkedIn Hire, by Jen Wieczner

ONE MORE THING

Astana, we have a problem. An urban explorer broke into a Kazak spaceport to photograph Soviet shuttles left for scrap. The photos are magnificent, capturing the abandoned craft in all their dusty, derelict beauty. (The facility still serves as a launchpad for rockets bound for the International Space Station.) The trespasser says that Russian agents have been on his or her tail since. As they say, don't try this at home, kids.