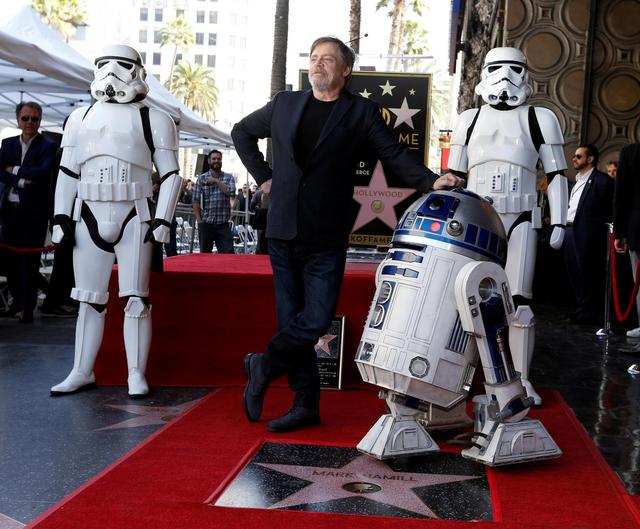 Mark Hamill, who played the ionic Luke Skywalker in the original Star Wars trilogy as well as the recent film The Last Jedi, received his star on the Hollywood Walk of Fame on Thursday.
Co-star Harrison Ford, who played Han Solo in the films, was on hand for the unveiling, joking in his speech for Hamill, "More people showed up when I got my star." Star Wars creator George Lucas was also present for the event and expressed how proud he was of Hamill for getting the honor alongside many of Hollywood's greats. R2-D2 and several stormtroopers also stood by during the presentation but declined to make any remarks.
In recognition of Hamill being awarded a star, Star Wars' Twitter account dubbed the day #JediDay.
Happy #JediDay! Celebrate with us as @HamillHimself gets his star on the Walk of Fame. pic.twitter.com/wOHEPzR7Lg
— Star Wars (@starwars) March 8, 2018
After his star was unveiled, Hamill had just one thing to say: "They spelled it right!"
???????????? @HamillHimself #JediDay pic.twitter.com/gWnT5zUjg1
— Star Wars (@starwars) March 8, 2018
One notable absence from Hamill's star ceremony was costar Carrie Fisher, who died last year. Ford noted the absence of "the other member of our trio" in his speech, followed by saying, "I feel her presence." Carrie's daughter, Billie Lourde, attended the event in the place of her mother.
Both Hamill and Fisher starred in the latest Star Wars film.
Hamill recently made headlines based on a fight with Federal Communications Commission Chairman Ajit Pai over net neutrality. On Twitter, Hamill said the FCC chief was "profoundly unworthy" of wielding a lightsaber, and that "A Jedi acts selflessly for the common man-NOT lie 2 enrich giant corporations."