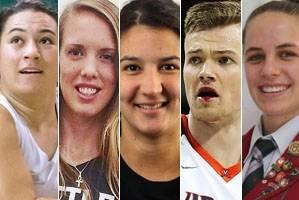 On an historic weekend for Kiwi basketball, five young New Zealanders played in American collegiate conference championship finals, and all five emerged victorious to advance to the NCAA's renowned 'March Madness' tournament.
Christchurch's Tessa Boagni was the standout individual among the Kiwis contending for titles at the end of conference tournament week, producing an MVP-winning effort for Cal State Northridge in the Big West Conference.
All conference tournament champions automatically earn spots in the NCAA's national tournament in the US.
The Matadors senior followed up a 19-point, 11-rebound double-double in the semifinal by going off for 23 points (9/16 FG) and eight rebounds as Cal State Northridge beat UC Davis 63-55 in the championship game.
READ MORE:
* Salt delivers for Virginia
* Adams injures ankle v Spurs
* Horror fall for Celtics' Brown  
Boagni, the daughter of Kiwi women's hoops legend Jane McMeeken and former NBL star Kerry Boagni, was named MVP of the tournament after averaging 19 points and 8.5 rebounds through the four tournament games.
Fellow Kiwi Jacinta Beckley scored three points and grabbed six rebounds as Seattle University Redhawks defeated Cal State Bakersfield 57-54 to claim its first Western Athletic Conference title.
Seattle now heads to the NCAA tournament for the first time in programme history.
New Zealanders Krystal Leger-Walker and Tiarna Clarke featured prominently for Northern Colorado University Bears as they added the Big Sky tournament trophy to the regular season championship with a 91-69 victory over Idaho.
Clarke, a freshman guard, made three of five shots to tally nine points in the Bears' victory, while Leger-Walker chipped in with two points, four rebounds, an assist, three steals and a block. NCU extended their win streak to 13 as they head to the national tournament with a spring in their step.
Across in the men's game, Aucklander Jack Salt continued his stellar player for the nationally No 1-ranked Virginia Cavaliers, coached by former Kiwi NBL standout Tony Bennett.
The Cavaliers also added the ACC tournament title to the regular season championship they had already annexed with a 73-61 win over North Carolina. That also earned them the top overall seed for the looming March Madness national tournament.
As ever, the stats sheet did not do justice to Salt's contribution, with a modest return of four points (on just two shots) and a pair of rebounds in 22 minutes for the Cavs.
But Salt's solid play, high IQ, strong physical presence and excellent screen setting does not go unnoticed by Bennett who recently said: "He's just all heart, and he'll do whatever you ask. That's the way he was raised. And that's how it is probably in New Zealand. You just fight and you don't back down."
With the announcement of the men's NCAA tournament field, two other Kiwis were also confirmed for the annual March Madness extravaganza.
Matt Freeman's Oklahoma were selected as a 10 seed (and will meet Rhode Island in the first round), while Sam Waardenburg's Miami made it as a 6 seed (drawn against Illinois' Loyola).