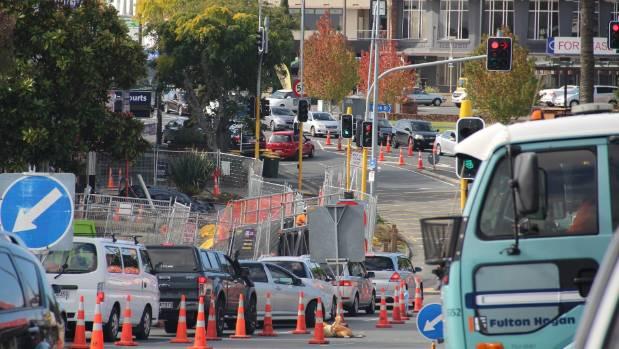 The devastating effects of the flash floods that swept through West Auckland are still visible one year on.
West Auckland bore the brunt of the disaster after Tasman Tempest raged through several suburbs on March 12. 
Flood waters affected more than 200 properties across West Auckland, with water up to waist-deep in some homes.
Just a few weeks later, Cyclone Debbie hit on April 4 and compounded the effects of the flood.
READ MORE:

And despite $9 million worth of repairs and work, a busy section of Great North Rd has been down to three lanes for 11 months - and commuters face a further four-month wait before the road re-opens.
New Lynn retailers say business has declined dramatically and neighbours say bottlenecks on the 200-metre section of road can cause up to 40 minutes in delays. 
Navinesh Singh of Kia Ora Superette said his "livelihood was hanging by a thread".
New Lynn resident Badr Shah said the opening of the Waterview Tunnel had eased congestion, but he still avoided Great North Rd.
"Traffic was crawling there on the weekend," he said.
Auckland Council said the road may not be back to normal until July 2018.
FLOOD DAMAGE
The deluge also saw the closure of West Auckland's only nightclub Club Fia Fia after the building that housed it was declared dangerous and had to be demolished.
The culvert underneath Great North Rd was blocked during flooding causing water to overflow onto the busy route above.
The force of the water caused a section of the footpath and road above to give in, opening up a massive sinkhole.
A section of Great North Rd was closed for a month after the floods due to the extensive damage.
Auckland Council said the New Lynn project was divided in to culvert restoration and upgrades.
Healthy Waters project manager Craig Mountjoy said a new culvert had been installed on top of the old culvert, which had also been repaired since the floods.
He said the project would be completed by July 2018.
Contractors had already completed work on $3.1m repairs, while the upgrade would cost $5.9m.
The upgrade included a new high-capacity culvert, stormwater treatment system and other community amenity upgrades.