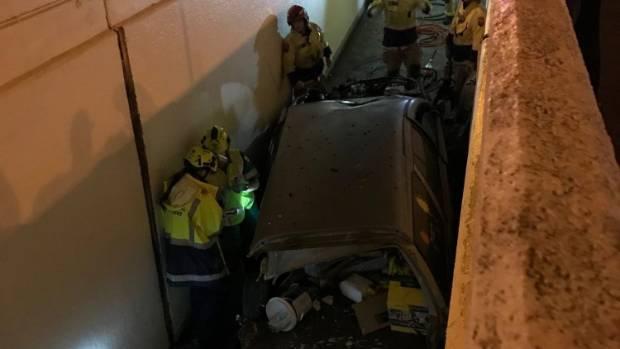 The clean-up has begun near a Lower Hutt railway station after a vehicle ploughed through railings and down the entrance to a subway tunnel.
Police were called to the underground accessway on Oxford Terrace on Saturday after a vehicle drove over a gutter, though a barrier and crashed down an access ramp to a pedestrian tunnel.
The vehicle had been removed by Monday, but debris, bent railings and a twisted steel bicycle rack were still present that morning. They were cleared away by workers later in the day.
Damage to the subway had been assessed by Greater Wellington Regional Council, who was in the process of arranging repairs. A spokesman said it could be a few weeks before repairs were complete.
Hutt City Council, who are responsible for the roadside area, including clean-up of any debris on the street and repairing any broken roadside railings or street signs, had also sent contractors out to ensure the area around the subway was safe.
The council planned on carrying out permanent repairs at the subway, but did not give a timeframe.
Police said at the time of the crash that two people had been in the vehicle. The driver was not injured, abd they did not have any information on the condition of the passenger.
Police have been approached for further comment.