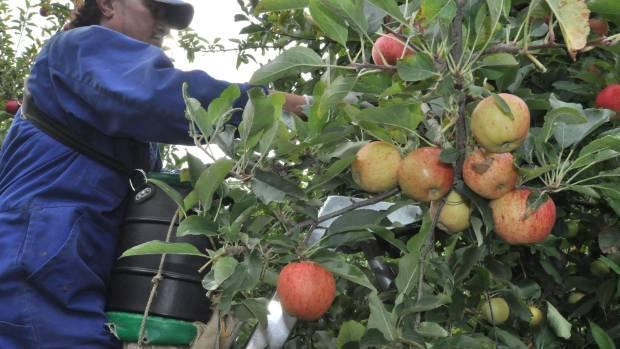 A concerted effort to find fruit pickers in Hawke's Bay saw just 14 people express an interest and has resulted in the declaration of a regional labour shortage.
The Ministry of Social Development made the declaration on Monday.
The declaration would run from March 12 until April 6.
The peak harvest season is expected to be short, running for about 21 days, with a forecast 14 million cartons of apples being packed, a jump of 1.3 million cartons compared to last year.
READ MORE:
Since October, the Ministry had placed 820 jobseekers into the region's horticulture industry.
The last labour shortage declaration for all of Hawke's Bay was made in 2010 when the unemployment rate was at 6.4 per cent. The current rate is 5.6 per cent.
Gary Jones of Pipfruit NZ said the low unemployment rate meant there was strong competition for workers.
"There are at least 350 registered vacancies at the moment. The real number is likely to be higher than that," Jones.
He said a major job recruitment drive across the region over the past few weeks had resulted in just 14 people coming forward.
Monday's declaration means visitors presently in the country who did not have a work visa would be able to apply for a variation to their visitor's visa allowing them to undertake seasonal work in the horticulture/viticulture industries for 6 weeks.
"This will now enable us to access as many available seasonal workers as possible to help harvest our fruit crops in Hawke's Bay. Once the season is over, employers will be looking to offer permanent jobs to suitable New Zealand workers," Jones said.
Jones said pickers were paid "well above the minimum wage" ($15.75 an hour) and the pay for those working in the packhouses depended on experience.
Ministry of Social Development East Coast regional commissioner Annie Aranui said the Ministry would "continue to proactively work alongside the horticultural sector to connect New Zealanders to seasonal work opportunities and refer jobseekers to available vacancies".
"Through Work and Income, we're continuing to identify and place suitable jobseekers into the vacancies, as well as provide work brokerage, training and up skilling support for people who may need these services. Although largely temporary, these roles are an opportunity for people seeking to get back into the workforce and can open the door to other things," she said.